Alabama Had Its Chance at LSU: Please Step Aside Crimson Tide
November 18, 2011
Kevin C. Cox/Getty Images
The scoreboard in Palo Alto may have read Oregon 53, Stanford 30 following last Saturday's showdown for the Pac-12 North Division Championship, but the biggest winner was playing another game more than 2,000 miles to the east.
Alabama recovered from its 9-6 overtime loss to LSU Nov. 5 to defeat Mississippi State, 24-7, and when Stanford's loss to Oregon went final, the Crimson Tide were assured of remaining in the No. 3 slot when the new BCS standings were released the next day.
Now, the chat rooms, blogs and bulletin boards throughout the southeast are going crazy with the potential of an LSU-Alabama rematch in the BCS National Championship Game Jan. 9 in New Orleans.
To many, the math is simple. Oklahoma State loses to Oklahoma (or by some miracle, Iowa State). LSU routs Ole Miss and then takes care of tough challenges from Arkansas and Georgia, the latter in the SEC Championship Game. Alabama disposes of Auburn in the Iron Bowl (come on, like Georgia Southern has a chance to stay within five touchdowns of the Crimson Tide).
I say no. I say Alabama has forfeited any right it has to face LSU in a rematch for the national championship.
The Crimson Tide lost to LSU at Bryant-Denny Stadium. Therein lies a difference from the 2006 controversy, when many in Big Ten country felt Michigan deserved a rematch with top-ranked Ohio State in the championship game. That year, the Buckeyes defeated the Wolverines, 42-39, in Columbus. Michigan didn't deserve a second chance against Ohio State, but it would have been slightly more understandable, since the Wolverines nearly knocked off the No. 1 team on the road.
Ezra Shaw/Getty Images
Alabama has no excuses. It outgained LSU by 56 yards. It drove into LSU territory on all four of its first-half possessions and could realize only three points. It threw two interceptions after its second field goal. The Crimson Tide came into the game favored by 4.5 points, and just about every expert, save Lee Corso, thought Nick Saban's defensive wizardry and the home crowd at Bryant-Denny would be too much for Les Miles and his Tigers to overcome.
But LSU didn't buckle when the chips were down. It made the plays when absolutely necessary, especially Eric Reid's critical interception. In overtime, the Bayou Bengals' defense held the Tide to minus-10 yards before forcing another missed field goal. LSU then did what a No. 1 team does, take the ball and score the winning points.
Alabama had its chance. LSU does not deserve to be penalized in a national championship game by facing a team it defeated during conference play, especially one which did not even win its own division.
LSU has been hosed in a rematch situation before. In 1959, the Tigers defeated Ole Miss, 7-3, thanks to an 89-yard punt return by Billy Cannon, a play which helped Cannon win the Heisman Trophy.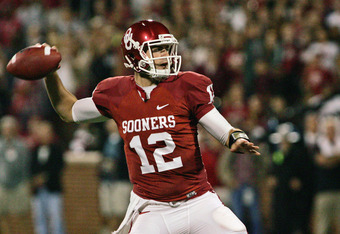 Brett Deering/Getty Images
The Tigers lost their shot at repeating as national champion when they lost to Tennessee the next week, and the Sugar Bowl immediately angled for an LSU-Ole Miss rematch in New Orleans. LSU wanted no part of such a game, but pressure from the Sugar Bowl on LSU athletic director Jim Corbett finally forced coach Paul Dietzel to capitulate.
LSU didn't want to be there, and it showed. The Rebels outgained the Tigers 373-74 and won, 21-0.
There wasn't a national championship on the line in the Orange Bowl following the 1978 season, but Nebraska was rewarded for defeating Oklahoma with a rematch against the Sooners after the Cornhuskers lost the next week to Missouri. The Sooners had no trouble in Miami, winning 31-24 in a game which was not nearly as close as the final score.
Florida State got similar treatment in 1996. The Seminoles defeated Florida, 24-21, in the final regular season game to finish 11-0. Eight days later, FSU learned it would have to beat Florida again to win the national championship, since undefeated Arizona State was bound to the Rose Bowl and Nebraska lost the Big 12 Championship Game to Texas in a major upset.
Florida rolled in the Sugar Bowl, 52-21. The Seminoles had to wonder what might have been against a team not hell-bent on revenge.
The mechanism exists with the BCS to avoid such a problem. Should LSU win out and Oklahoma State stumble, Oregon and Oklahoma (should it beat OSU and win the Big 12) are far more viable options.
Yes, Oregon lost to LSU, 40-27, in the regular season opener at Cowboys Stadium. But if the Ducks don't choke, they will come into their bowl game on a 12-game winning streak, will have gone undefeated in their conference and WON their conference, something Alabama will not be able to claim.
Oklahoma owns road wins over Florida State and Kansas State, a neutral site win over Texas, and can pick up road wins over Baylor and Oklahoma State en route to a Big 12 championship.
Alabama's biggest road win is against Penn State. The Crimson Tide did not play Georgia, played mediocre Florida, Tennessee and Vanderbilt from the eastern divisions, and had its two toughest foes, Arkansas and LSU, at Bryant-Denny. And outside of Penn State, Saban's non-conference schedule--Kent State, North Texas, Georgia Southern--is utterly laughable.
Alabama, start rooting for Arkansas. It's the only way you will be deserving of playing Jan. 9 in New Orleans.