St. Louis Blues: Should Jaroslav Halak or Brian Elliott Be No. 1 in St. Louis?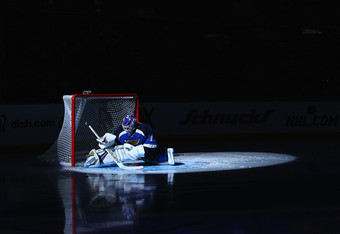 Dilip Vishwanat/Getty Images
Brian Elliott is technically No. 1 already; Jaroslav Halak wears No. 41 on his jersey. But, that's not the question.
The right question is: Should Elliott or Halak be the starting goaltender for the St. Louis Blues?
Since the summer of 2010 when the Blues traded for Jaroslav Halak of the Montreal Canadiens, there has been no question about it, Halak is the go-to guy for this hockey club. However, the Slovakian has never been challenged in St. Louis like he has by newcomer Brian Elliott recently.
The Blues are off to an underwhelming start this year, with an 9-7-1 record, but Elliott has been in net for seven of those wins and has only lost once. His .947 save percentage is among the league's best and he has turned coming up with remarkable saves into a habit.
Halak, on the other hand, holds a record of 2-6-1 and has a save percentage of just .882. He has looked awful at times and doesn't look like the goalie who led the Canadiens to the Eastern Conference Finals in the 2009-10 season.
Even though Elliott is shining and stealing the hearts of Blues fans everywhere, the hockey club has remained loyal to Halak and considers him the top net-minder. When the club brought in new coach Ken Hitchcock, many thought things would change. They haven't. Early into his Blues reign, Hitch has addressed the issue and backs the Slovakian.
It's simple. It's all about the resume.
Both goaltenders are just 26 years old and were drafted in the ninth round of the 2003 NHL Draft, but Halak has a much better history than Elliott. Before this season, there would never be any comparison at all.
Halak burst onto the scene for Montreal during the spring of 2010. After replacing an underachieving Carey Price, the Slovakian was brilliant in the playoffs until being ousted by the Philadelphia Flyers, in the Eastern Conference Finals.
He impressed the Blues so much they traded Lars Eller, their top prospect at the time for his services and quickly signed him to a four-year, $15 million deal.
Elliott has had a different path. He spent his first two seasons with the Ottawa Senators and played well, posting a 45-26 record and a .906 save percentage. However, the 2010-11 season was a disappointing one for him. After an awful start with Ottawa, he was shipped to the Colorado Avalanche for goalie Craig Anderson.
Elliott continued to have troubles in Colorado and was not re-signed. The Blues signed him this summer for $600,000 on a one-year deal and no one could have expected his performance thus far. He has become an All-Star caliber goalie.
For now, the St. Louis Blues must keep giving Elliott playing time. Halak did have a shutout performance against the rival Blackhawks, but more must be seen from him before coach Hitchcock can keep Elliott on the bench.
In order to win and continue the recent success they've been having, the Blues must split starts between the two and let them decide who will come out on top under the arch.
Steven Conklin is a contributing writer for the Bleacher Report and a student at the University of Central Missouri. He joined B/R in October 2011. Any comments, questions or suggestions are more than welcome.

Other Articles by Steven:
Kris Russell a Steal for Blues
Six Most Hated Villains in Sports
This article is
What is the duplicate article?
Why is this article offensive?
Where is this article plagiarized from?
Why is this article poorly edited?

St Louis Blues: Like this team?