Michigan Football: Previewing the Nebraska Game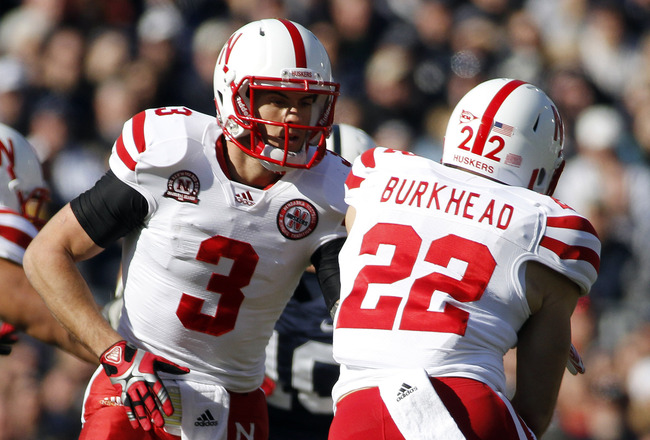 Justin K. Aller/Getty Images
Both Michigan and Nebraska are 8-2 as each team heads into their second-to-last game of the year.
Michigan is undefeated at home this year, and Nebraska has only lost on the road once.
You could definitely make the argument that this is the best game of the weekend. The winner of this one will help their bowl chances tremendously.
Here's a look at five aspects of the game to keep an eye on.
Michigan Rush Offense vs. Nebraska Rush Defense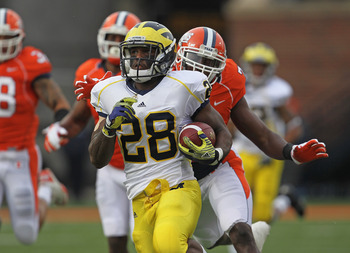 Jonathan Daniel/Getty Images
Fitzgerald Toussaint finally showed signs of being the workhorse running back Al Borges wants when he rushed for 192 yards last week against Illinois.
That is no easy task to do. Illinois has the country's sack leader on their defensive line in Whitney Mercilus.
They also have Michael Buchanan at defensive end, who has been absolutely great this year.
All three of the Illini's linebacker are solid in Ian Thomas, Trulon Henry and Jonathan Brown.
However, Toussaint ran through them like it was nothing.
Will he be able to do that again this week? With Vincent Smith's ankle slowing him down mightily, Toussaint will get every opportunity to carry this offense on Saturday.
Michigan's rushing attack ranks 12th in the country, as they average just over 230 yards a game.
Nebraska's run defense has been surprisingly bad this year, as they rank 66th in the country. Losing Jared Crick obviously was a killer, but there is still no excuse for ranking that low.
Michigan's offensive line played extremely well against Illinois, and it will be interesting to see how they do against the likes of Cameron Meredith and Baker Steinkuhler.
Michigan Pass Offense vs. Nebraska Pass Defense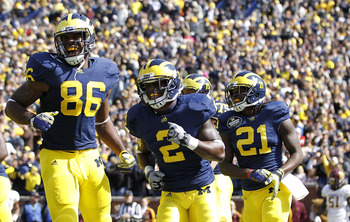 Leon Halip/Getty Images
Michigan's passing offense ranks as one of the worst in the country, and Nebraska's pass defense is one of the best.
That obviously doesn't bode well for Michigan.
As of right now, there is a 50-percent chance of rain for the game, so throwing the ball might not be much of a factor anyway.
It was absolutely great to see Martavious Odoms have the impact he did last week. After what he did through his first three years for Michigan, it was good to see him make an impact again.
Nebraska's secondary is extremely tough, and it would be a surprise if Michigan had much success throwing the ball.
Alfonzo Dennard is a stud at cornerback. Against Penn State last week, we saw Nebraska play both Andrew Green and Ciante Evans at the other corner spot.
Nebraska Rush Offense vs. Michigan Rush Defense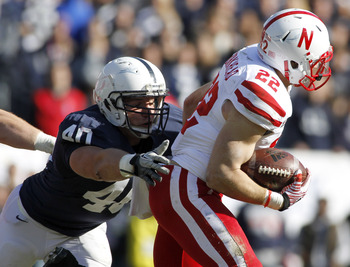 Justin K. Aller/Getty Images
As mentioned earlier, Michigan has one of the best rushing attacks in the country.
But so does Nebraska.
Michigan's rush defense has been average this year, ranking 36th in the country.
The media seems to be giving all of the attention to Taylor Martinez, but Rex Burkhead is the guy that fans need to look out for.
He is averaging over five yards a carry and has already rushed for over 1,000 yards on the year.
Martinez, on the other hand, currently sits at 768 and probably won't reach 1,000.
We may also see Ameer Abdullah in the backfield, a guy that also excels on special teams.
Mike Martin and Ryan Van Bergen had monster games for Michigan last week, and it will be interesting to see if they can have the same kind of success again.
Michigan's linebackers also played very well, and they will need to again stop Nebraska's offense.
If Michigan can shut down Nebraska's running game, that would be absolutely huge in helping their chances of winning.
Nebraska Pass Offense vs. Michigan Pass Defense
Jonathan Daniel/Getty Images
Even though A.J. Jenkins had over 100 receiving yards last week, everybody would agree that Michigan held him in check.
They were a weak 100 yards, as a lot of them came late, when the game was decided.
Even though he's a true freshman, Blake Countess could be considered Michigan's best cornerback, but J.T. Floyd sure stated his case last week against Illinois.
Nebraska's pass offense ranks even lower than Michigan's, as they sit at 101st in the country.
Again, we may not see either team throw the ball a whole lot.
Nebraska spreads the ball out well, as eight different guys have at least nine catches on the year.
Kenny Bell leads the team in both catches and yards. True freshman Jamal Turner is second on the team in yards and is averaging over 16 yards a catch.
Michigan should be able to keep these guys in check. However, one thing that would help would be reaffirming Thomas Gordon as the starter over Troy Woolfolk.
Gordon has simply played better and should never have lost his job in the Iowa game.
Impact Players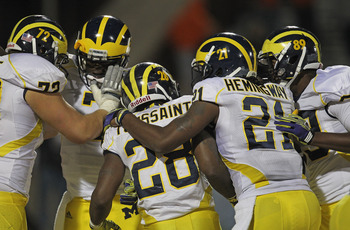 Jonathan Daniel/Getty Images
There will obviously be many players that impact Saturday's game, and here's a look at some of them.
Denard Robinson just has to bounce back. He simply needs to start playing better and has to stop turning the ball over.
Michigan's offensive line will also have a huge impact. Running the ball is going to be key, and the offensive line needs to play well.
Guys like Taylor Lewan and David Molk need to just keep doing what they've been doing, while Patrick Omameh and Mark Huyge need to step up.
When Michigan does throw the ball, Junior Hemingway could be a big target. He has been a big play threat all year, and could have an impact Saturday if big plays are hard to come by.
For Nebraska, Taylor Martinez and Rex Burkhead are obviously huge keys, but so are the tight ends. Kyler Reed, Ben Cotton and Jake Long will all likely see playing time.
Heck, in a game that appears to be this even, fullback Tyler Legate could play a role in Nebraska's rushing attack.
These players mentioned could play a big role in determining the outcome of a game that appears to be a complete tossup.
Keep Reading

Michigan Wolverines Football: Like this team?