Bowl Projections: Who Will Land the 2 At-Large Bids?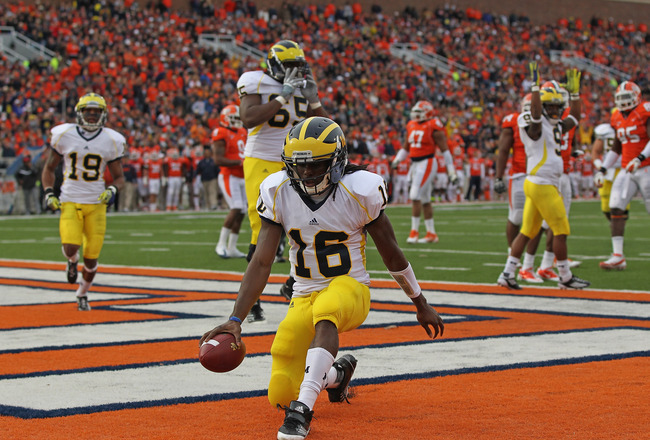 Jonathan Daniel/Getty Images
There are four at-large bids in the BCS process, but the Alabama Crimson Tide and Oklahoma Sooners are all locks to take two of the spots.
Even if Oklahoma were to lose to the Cowboys, they still would likely play in the Fiesta Bowl. Alabama is locked into the Sugar Bowl if they were to win their next two games.
So, the biggest question is to who those two teams play? The Fiesta Bowl gets the first selection which is followed up by the Sugar Bowl.
There are, however, a few teams that nobody is talking about which actually have a decent chance into making a BCS bowl.
Michigan Wolverines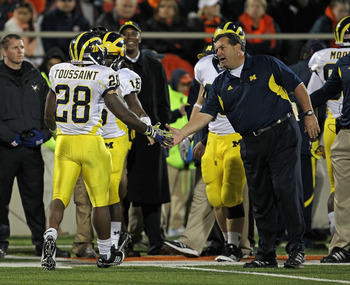 Jonathan Daniel/Getty Images
If the Wolverines knock off Nebraska, they would become the top team along with Stanford for stealing the final BCS at-large bid.
Stanford or Michigan cannot steal a bid from the non-automatic qualifiers since they will likely finish in the Top 16 with the Big East champion likely not even finishing in the Top 20.
Michigan needs to knock off both Nebraska and Ohio State to have any chance of dreaming about a BCS bowl. Remember that Michigan will likely not win their division with Michigan State holding the tiebreaker.
A big reason why they could surpass even a one-loss Stanford team in the Fiesta Bowl is because of the ticket sales edge that Michigan has over the Cardinal. M Go Blue ( Or as I sometimes say Big Blue Crew Nation) travels well and some in the Big Ten would argue that they deserve an at-large bid over the Pac-12.
Stanford Cardinal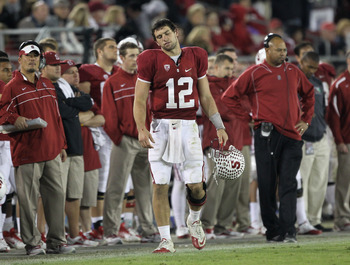 Ezra Shaw/Getty Images
Stanford has Cal and Notre Dame left before they wait to see if they get an at-large bid in the BCS. Everybody is prone to making their opinions heard, but is Stanford deserving at 11-1?
I would not mind seeing Andrew Luck against an SEC defense or in a shootout against the Oklahoma Sooners. However, if they slip up to the Irish there is no doubt they will drop completely out of the BCS. Luck should avoid losing his final home game as a collegiate player.
However, is a one-loss Pac-12 runner-up better than say a two-loss Big Ten team?
Nebraska Cornhuskers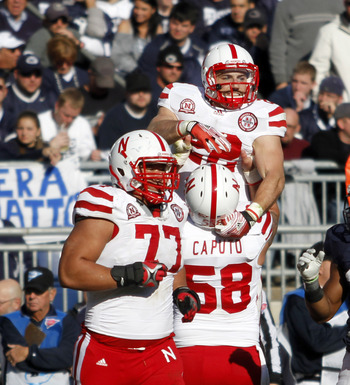 Justin K. Aller/Getty Images
The Huskers have two tough games left on their schedule as well. They must go to the "Big House" and win before they host the Iowa Hawkeyes.
Nebraska has been a bit inconsistent since their offense has had its fair share of issues, but they find ways to win close games.
Ohio State and Penn State had their chances to knock the Huskers off, but all of a sudden Nebraska could find themselves in a BCS bowl despite not even winning their own division.
Houston Cougars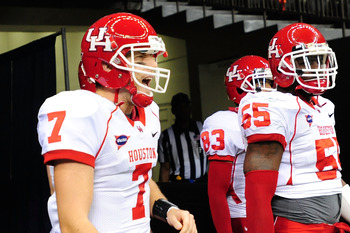 Stacy Revere/Getty Images
All of a sudden, they likely control their own destiny to play in a BCS bowl. With Boise State losing they will not be able to play in a BCS bowl barring TCU loses its final two games.
The BCS can't take a non-automatic qualifier if they do not win their conferences, which is the case for the Broncos. However, the Big East is not likely to finish in the Top 16 which would automatically put one team in the BCS from the Mountain West or C-USA.
Some could argue that Houston is not a Top 10 team from a talent standpoint and that they would get demolished by Alabama if they played them.
That could be relevant if they do end up playing since the SEC has a pretty good track record of destroying non-AQs (see: Hawaii 2008). Yet, they have had some depressing losses such as the 2009 Sugar Bowl, where Alabama lost to Utah, 31-17.
TCU Horned Frogs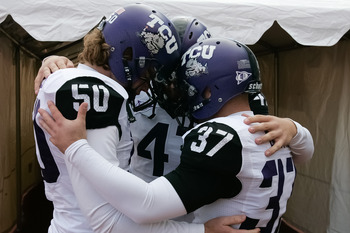 Otto Kitsinger III/Getty Images
Southern Miss falls into the same category as Houston since they are destined to play each other in the Conference USA Championship barring SMU or Tulsa ruin the party for the Cougars.
TCU all of a sudden has a legit chance of crashing the BCS if they win their next two Mountain West games against Colorado State and UNLV.
Gary Patterson once again had the formula for knocking off Boise State (has won two of last three games) and they have an outside chance of playing in a BCS bowl if Houston and Southern Miss were to both lose a game. TCU of course would have to finish ahead of whoever wins that conference, though.
Projected BCS Bowls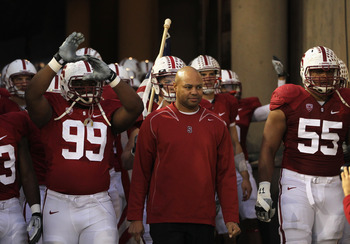 Ezra Shaw/Getty Images
I realize I am due to change these picks since Jesse Palmer happened to pick the exact same selections, but I do think that Houston can easily lose a game. Also, I have nothing against the LSU Tigers but they may very well lose to Arkansas or Georgia.
If that occurs that would throw a huge monkey wrench into the BCS and the great debate would then start on who should play in the BCS National Championship.
BCS Rose Bowl: Oregon Ducks vs. Wisconsin Badgers
BCS Fiesta Bowl: Oklahoma Sooners vs. Stanford Cardinal
BCS Sugar Bowl: Alabama Crimson Tide vs. Houston Cougars
BCS Orange Bowl: Virginia Tech Hokies vs. West Virginia Mountaineers
BCS National Championship: LSU Tigers vs. Oklahoma State Cowboys
Keep Reading

WVU Football: Like this team?