Why Mark Buehrle Is a Perfect Fit for Retooled Boston Red Sox Rotation
November 17, 2011
Ed Zurga/Getty Images
At this juncture, the Boston Red Sox have three rotation spots set with Josh Beckett, Jon Lester and Clay Buchholz.
The Red Sox will undoubtedly scope out the free-agent market to address one if not both of these vacancies in their starting rotation.
C.J. Wilson and, if posted, Yu Darvish are both probably pricier than Boston would like.
Edwin Jackson, Roy Oswalt and Hiroki Kuroda are other available arms, however, only Jackson is on the right side of 30 and is a middling option, at best.
And then there's veteran southpaw Mark Buehrle.
The alarms are already going off in the heads of Red Sox fans: Buehrle turns 33 next March! Why the heck should we sign him?
Mark Buehrle is no John Lackey though.
Buehrle's two best assets are his durability and consistency. Since 2001, Buerhle's made at least 30 starts and thrown at least 200 innings. He's a classic example of a guy who's always good but never great—he's only once received Cy Young votes, finishing fifth in 2005.
Buehrle seldom veers far, in either direction, from his career 3.83 ERA, 1.28 WHIP and 2.48 SO/BB ratio. However he's effective, even perplexingly effective, as FanGraphs' Dave Cameron writes. 
He's no spring chicken, but perhaps Buehrle's got enough juice in his batteries for a few more of his trademark seasons. He's also a contact pitcher, which make him a good fit with Boston's strength in the field.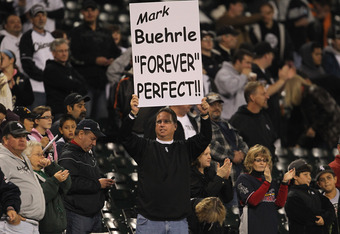 Jonathan Daniel/Getty Images
After a Red Sox season that began in panic (April) and ended in outright hysteria (September), a steady presence like Buehrle's has tremendous appeal.
Perhaps the best case for Buehrle's worth is a looking at the buzz coming out of Chicago. On the South Side there is serious, not just sentimental, anxiety about losing Buerhle. That's a feeling shared by the team, the media and fans. 
Compare that to two years ago, when the Red Sox signed John Lackey and no one in Orange County cared.
Not surprisingly, Buehrle's already commanding attention. The Marlins have made him an offer and his agent, Jeff Berry, has hinted at the Yankees being a good fit for his client.
A bidding war over Buehrle would be foolish. It's not like he's CC Sabathia or Cliff Lee. However, if the price is right, Mark Buehrle would be a perfect fit for a retooled Red Sox rotation.