New Orleans Saints Week 10 Report Card:Grading Each Unit vs. the Atlanta Falcons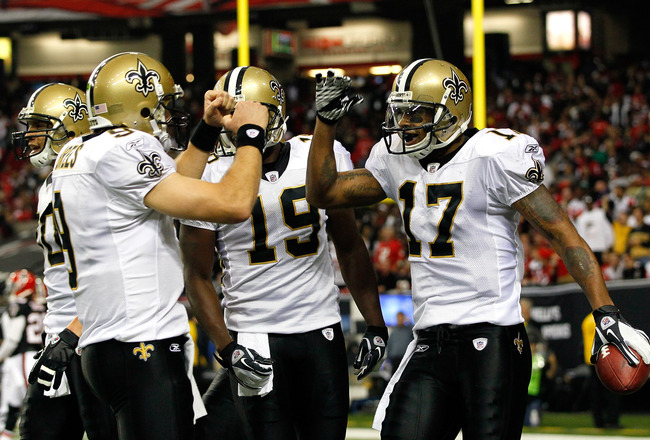 Kevin C. Cox/Getty Images
Sunday's game versus the Atlanta Falcons was a match not so much in wits as it was in grit and determination. At no point were the Saints dominating the game.
Even when the Saints had a 10-point lead in the fourth quarter, something just seemed a bit off. It isn't even that the Saints weren't playing well. They actually were playing really well. But the game just had that feel of a game that would come down to the last snap.
For the Saints to come out on top by a three-point margin in overtime was excruciating for the fan, but exhilarating for the players and coaches.
To come out on top in this game had a lot less to do with the xs and os and much more to do with heart and determination. The Saints have excelled in that regard for the greater part of this year. Sunday heart was exactly the ingredient which the Saints used to win the game.
QB Drew Brees: A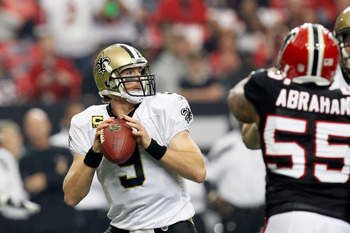 Kevin C. Cox/Getty Images
Brees may have played his finest game all season on Sunday. He didn't throw an interception despite being asked to throw the ball more than 60 percent of the Saints total offensive plays.
He threw for over 300 yards and had two touchdowns. He hit his receivers in stride on just about every throw, and never looked out of sync or rattled. He stayed in control and played within himself to guarantee an exceptional offensive output against a defense who refused to give up the big play.
He even managed to create a couple explosive plays down the field with Robert Meachem. He also maintained confidence in the struggling Jimmy Graham, which enabled the Saints to score a key touchdown in the first half.
Brees played as good a game as he has played all year.
RBs Pierre Thomas, Darren Sproles and Mark Ingram: B-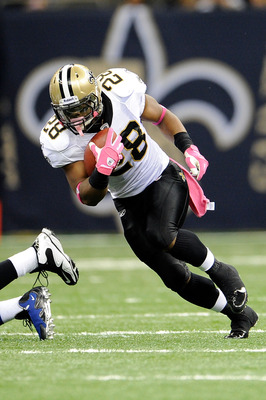 Stacy Revere/Getty Images
Darren Sproles didn't look himself Sunday. Mark Ingram didn't do a lot in his return to the lineup. And yet Pierre Thomas stole the show as a runner. Though he only managed 29 yards on six carries, it was the way Thomas ran both on designed run plays, and as a receiver, that made him the elite ball-carrier on the day.
The Saints plan Sunday included throwing the football a lot. Thomas' lack of yardage is no indictment on his play, but his production despite the emphasis—or lack thereof of a running game made it that much more productive.
Darren Sproles was not particularly effective on his touches, but his presence as a decoy opened up the passing game for the receivers and Jimmy Graham.
Finally, the unit in itself helped seal the game in overtime by running the ball effectively to set up John Kasay's game-winning field goal.
WRs Marques Colston, Lance Moore, Devery Henderson and Robert Meachem: A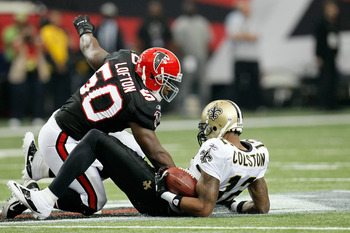 Kevin C. Cox/Getty Images
This was the best game for the receivers in quite a few games. Marques Colston made clutch catch after clutch catch. It seemed like every third down pass was complete to him over the middle or at the sideline.
Robert Meachem also came up with two huge receptions, which went for 69 yards and one huge touchdown in the third quarter. He was the Meachem I've come to expect over the last few seasons.
Lance Moore also had a clutch reception and managed to garner a key pass interference penalty which kept a scoring drive alive.
Unfortunately, Devery Henderson was mostly nonexistent, but with the rest of the unit, did a solid job blocking in the running game.
Tight Ends Jimmy Graham and David Thomas: C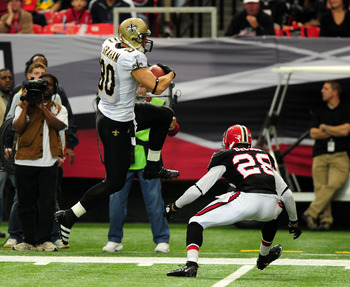 Scott Cunningham/Getty Images
Jimmy Graham dropped two passes and had a key holding penalty on a late field goal attempt which would've pretty much sealed a Saints victory in regulation.
Even so, Graham contributed greatly, catching seven passes for 82 yards and a large touchdown in the first half, which gave the Saints a lead they would build on and keep for much of the game.
In addition to Graham, David Thomas managed to catch a pass in the first quarter—an important one—and did a really nice job in the run game and pass protection.
It was a bit of disappointing game for Graham, but the Saints tight ends did enough to win the football game.
Offensive Line: A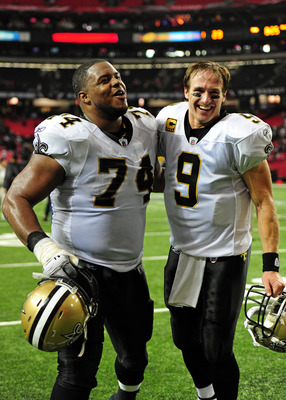 Scott Cunningham/Getty Images
Saints fans know as well as anyone that John Abraham can be a disruptive pass-rusher. Sunday, he was relegated to just another player on the field.
Jermon Bushrod and Co. kept the Falcons pass rush more than at bay. In fact, Drew Brees was only hit or pressured on one throw which I remember. He had a clear pocket on nearly every throw, and never really had to step up or scramble.
Sean Payton had to be happy with the play of this unit in terms of keeping Drew Brees clean and healthy.
And though the running game wasn't featured often Sunday, the unit did a wonderful job of opening holes for the running backs and keeping the offense on schedule.
Defensive Line: B+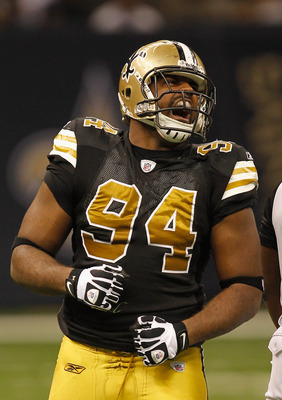 Streeter Lecka/Getty Images
Between Will Smith, Cameron Jordan, Junior Galette and Jeff Charleston, the Saints managed to pressure Matt Ryan just enough to make life tough on him.
They managed to get to him enough to force some poor throws and tipped a few passes, which led to key defensive stops.
In the run game, they did a good enough to set the edge and mostly hold Michael Turner down—only 96 yards on 22 carries (most of those came on two runs).
Was it the unit's best game? No, but it was one of their better efforts thus far in 2011. And I look for the unit to continue to improve through the bye and into the latter half of the season.
Also, want to quickly mention Sedrick Ellis and Aubrayo Franklin both had their best games of the season Sunday against Atlanta.
Linebackers: B+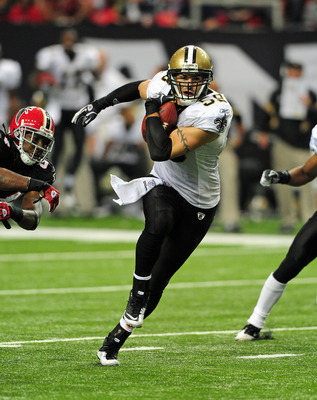 Scott Cunningham/Getty Images
Playing for their third game this season without their leader, Jon Vilma, the linebackers played their best game of 2011. They were more than solid in the run game.
And despite a bad final drive of regulation, overall, they did a good job in coverage. Of course, their failure to even find their matchup with Harry Douglas was concerning.
Nonetheless, Scott Shanle, Jo-Lonn Dunbar and Jonathan Casillas were good in coverage and did a good job when the Falcons decided to run the football.
Scott Shanle's interception was largely due to pressure caused by the defensive line, but a nice result to see from a player who has struggled at times this season.
Cornerbacks Jabari Greer and Tracy Porter: A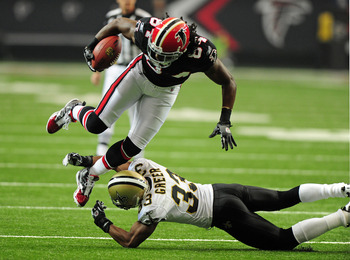 Scott Cunningham/Getty Images
I've been claiming for the better part of this season that Jabari Greer is the most underrated corner in the NFL. Sunday, I think we all saw why.
Greer made play after play on the football, including a pass breakup on a pass that would've won the game in regulation for the Falcons. Greer pretty much Roddy White down and managed to make several other big-time plays.
Additionally, Tracy Porter played really well just one week after suffering what seemed like a major neck injury. He almost intercepted a key pass, and was otherwise solid.
Of course, the Saints struggled at the nickel spot with the loss of Patrick Robinson—who would've ever thought we'd utter those words?
You may think giving up 350 yards passing means the defense or corners didn't play well, but you must keep in mind that the Falcons gained a large percentage of those yards when Harry Douglas was working the slot against either a linebacker or safety.
Safeties Malcolm Jenkins and Roman Harper: B+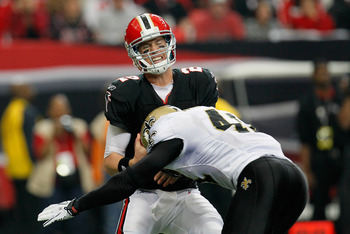 Kevin C. Cox/Getty Images
Tony Siragusa and Daryl Johnston were practically having an orgasm over the play of Roman Harper on Sunday. In truth, Harper was outstanding against the Falcons. His sack against Matt Ryan was one of a number of plays he made.
He was almost always around the football. For that reason, I give the defensive game ball to Roman Harper.
But Malcolm Jenkins almost made a few really nice plays. On a key third down pass, Jenkins matched up with Roddy White and covered him all the way down the field and didn't give White an inch. Ryan's pass fell incomplete.
And on the fourth down play, it was Jenkins who shot the gap and stopped Michael Turner.
Yes, Jenkins struggled at times in deep high safety coverage, but overall, he played a nice game Sunday, as he has all year long.
Special Teams: B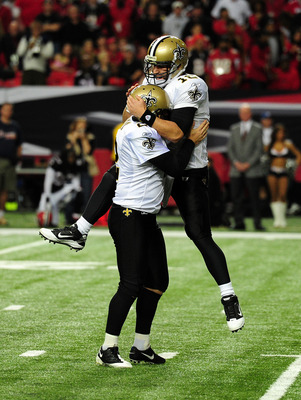 Scott Cunningham/Getty Images
Though Thomas Morstead had one poor punt—a 29-yard effort—he rebounded with a couple punts inside the 20-yard line and several touchbacks on his kickoffs.
John Kasay had a wonderful day overall despite missing a relatively easy 40-yarder in the third quarter. He kicked the winner for the nine millionth time in his career. It really can't get much better than that.
As a returner, Darren Sproles was nearly as ineffective as he was as an offensive player. Nonetheless, he did manage a 40-yard kick return and didn't make any mistakes to hurt the team.
Overall, the special teams—though far from perfectwas the primary reason the Saints won Sunday.
Keep Reading

New Orleans Saints: Like this team?