BCS Rankings: Deserving Teams Sure to Miss out on BCS Bids
November 14, 2011
Stacy Revere/Getty Images
The BCS bowl games are going to miss out on some potentially epic matchups. Both of the following two teams would add excitement and intrigue, but they do not have the resume to make it.
Houston
Houston has not played a ranked opponent yet this season. This fact will keep them from playing in a BCS bowl game, but they deserve a shot and would be entertaining once they got there.
Houston's offense is the most exciting thing in college football. They are first in the nation averaging 54.7 points per game. They have not been held under 35 points all year.
They are also getting better as the season goes on. They have scored 73 points in three out of their last four games.
QB Case Keenum is hitting 74.2 percent of his passes. He has a mind boggling 37 touchdowns to just three interceptions.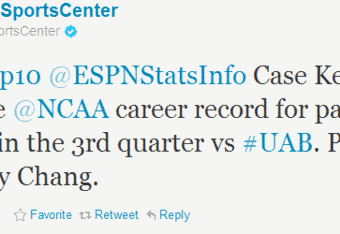 This is not a one-dimensional offense either. They have a potent two-headed rushing attack in Charles Sims and Michael Hayes. Sims has 658 yards and he has done it at 8.8 yards per carry. 
Houston has not been tested against the nation's better defenses, but they deserve a shot. This well-rounded attack could find success against anyone, and it would be fun to watch them try.
Georgia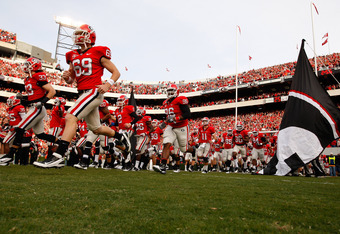 Kevin C. Cox/Getty Images
After losing their first two games Georgia has been unstoppable. They have rattled off eight straight wins, and they are getting better every week.
Their last win was their most impressive. They beat No. 20 Auburn 45-7.
Georgia is a well balanced team. They are 20th in the nation in points scored per game and 12th in points allowed. They have a punishing and consistent running attack.
Lead back Isaiah Crowell has 821 yards and has gained that at 4.8 yards per carry. QB Aaron Murray has thrown for thrown for 27 touchdowns and eight interceptions.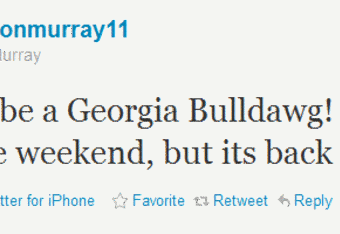 Georgia does not have another game remaining against a ranked opponent and they will not be able to climb into a BCS game.
This is the exact kind of team that highlights the need for a playoff system. They started off slow and have since found themselves. They are peaking at the end of the season, but will not be allowed to show that against the cream of the crop because of a slow start to the season.
Check out the full BCS rankings for Week 12.
| Rank | Team | BCS Average |
| --- | --- | --- |
|  1 |  LSU |  .9933 |
|  2 |  Oklahoma State |  .9642 |
|  3 |  Alabama |  .9099 |
|  4 |  Oregon |  .8755 |
|  5 |  Oklahoma |  .8400 |
|  6 |  Arkansas |  .7974 |
|  7 |  Clemson |  .6935 |
|  8 |  Virginia Tech |  .6755 |
|  9 |  Stanford |  .6747 |
|  10 |  Boise State |  .5959 |
|  11 |  Houston |  .567 |
|  12 |  South Carolina |  .528 |
|  13 |  Kansas State |  .497 |
|  14 |  Georgia |  .453 |
|  15 |  Michigan State |  .439 |
|  16 |  Nebraska |  .382 |
|  17 |  Wisconsin |  .333 |
|  18 |  Michigan |  .295 |
|  19 |  TCU |  .252 |
|  20 |  Southern Mississippi |  .245 |
|  21 |  Penn State |  .230 |
|  22 |  Baylor |  .136 |
|  23 |  Texas |  .120 |
|  24 |  Auburn |  .079 |
|  25 |  Florida State |  .071 |