Lions vs. Bears: Why Detroit Should Be Ashamed of Actions in Fight
November 14, 2011
Jonathan Daniel/Getty Images
The Detroit Lions are still trying to find the line between tough and dirty. Having an edge and a nastiness to your team can be a very valuable asset if it is wielded properly.
After the drubbing delivered by the Chicago Bears, the Detroit Lions gave many of their detractors reason to bemoan the lack of discipline that is becoming apparent on the Lions' sideline.
There is no doubt that the Lions are one of the most exciting and talented young teams in the NFL, but their very reliance on youthful exuberance and confidence is causing huge problems when things do not go their way.
It is one thing to be sore about losing, but it is quite another thing to be a sore loser. The Lions are proving to be the latter.
When things are going well, the Lions are one of the toughest teams in the NFL to run with. They can stretch a lead in a matter of minutes and let their aggressive defense dominate the remainder of the game. 
However, when the wheels start to fall off of the train the team doesn't look to deliver a message through a clean hit that says "you got us this time, but good luck doing it again next time." Instead, they seek to try and intimidate through foolish late hits and cheap shots.
In a surprising turn of events, the Lions devolution into thuggish children on the field against the Bears even managed to make Jay Cutler look like a mature and calm veteran quarterback, which is not the typical characterization of the Bears QB. 
Where does all of this volatility come from? Starting from the top, head coach Jim Schwartz has already had his troubles keeping his cool after a perceived slighting from opposing coach Jim Harbaugh after a tough loss.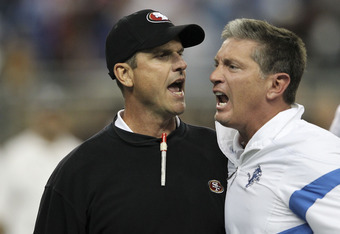 Leon Halip/Getty Images
Star quarterback Matthew Stafford got a little carried away attempting to send a message to Bears defender DJ Moore which was highly unnecessary and don't forget the dirtiest player in the NFL, Ndamukong Suh, doing nothing to refute his claim to that title on a hit delivered to Cutler.
This regression is shocking especially considering the poise and team mentality that the Lions showed in their early season come back victories. Hopefully, the Lions will be the first to tell you that the team who made the improbable comeback against the Dallas Cowboys would be ashamed of the team that finished the game against Chicago today.
Detroit still has a chance to be a force in the NFC playoff picture and is a team that many other NFL teams wouldn't miss come January. In order to keep their train on track however, the Lions need to grow up and do it quickly.