60 of the Most Ripped Wrestlers in History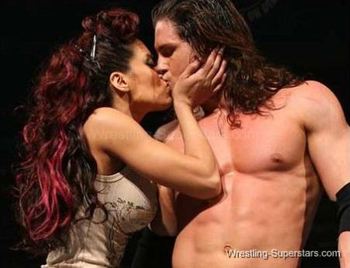 I can admit I am jealous.
Guys who have bodies that make you sick to your stomach for the way they look.
It is just something that goes with the territory of being a professional wrestler.
Most guys in the "real" world can only dream of having muscles upon muscles and a body from hell that drives female fans crazy on a nightly basis.
Yes, I can admit I am jealous. Oh wait, I already said that.
A strong body goes a long way to getting notices and having fans adore you whether you are a face or heel.
Here are 60 of them to either love or hate.
Crimson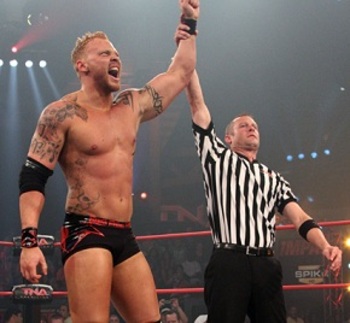 For someone fairly "green" in this business, Tommy Mercer, or "Crimson," is off to a pretty good start.
He is a former military man who got into the sport after the service.
He is tall and ripped and quick for his size.
He is the "future" of TNA wrestling.
Rick and Scott Steiner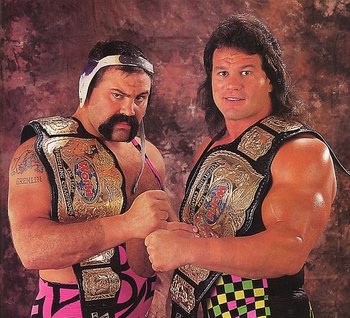 Scott Steiner gets all the publicity for his muscles upon muscles and "proported" steroid use.
But you have to admit when he and the Dog Faced Gremlin got into the ring to wage war, they were pretty muscular to begin with.
They relied on great wrestling technique and were great college standouts at Michigan.
Sean O'Haire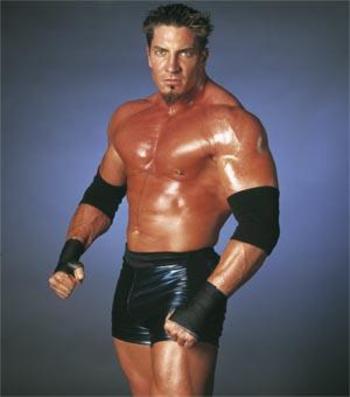 He had a "Lex Luger" look, but did not have the success of his predecessor.
O'Haire looked like he was primed for a huge push in WCW and the WWE when the brand was bought by Vince McMahon.
Injuries curtailed that.
Chuck Palumbo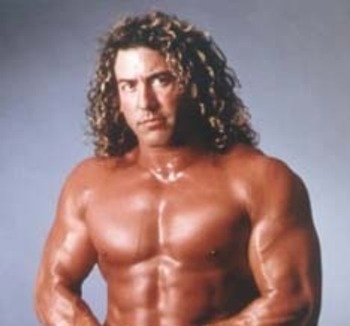 Never got the real push you thought he would get.
Palumbo was mired in mid-level status in WCW and the WWE.
He could have been a star with the "Badass" angle he worked on a motorcycle.
With the right marketing, he may have been able to replace Undertaker.
Evan Bourne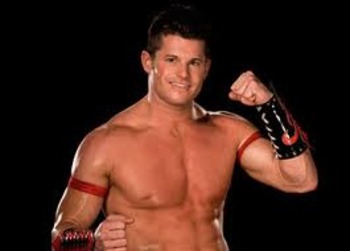 For one of the smallest wrestlers in the business, Bourne is one of the most put together.
Great strength in his legs and upper body. He does things off the ropes many wrestlers only imagine to be able to do.
Drew McIntyre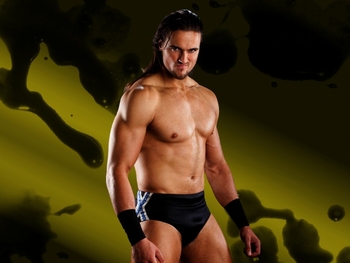 He is so gifted and looks to get in great shape.
So why is he held back by WWE management?
In another time, years ago, McIntyre, like Elijah Burke, would have been a champion already.
Now he is treading water.
Charlie Haas and Shelton Benjamin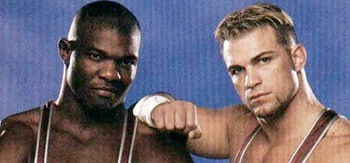 As singles competitors or as tag team champions, no one can deny these guys are pretty solid.
Benjamin could be the best in the business and did not get the fair shake he deserved in the WWE.
Haas is a strong competitor, but really needs someone with him to make him great.
Chris Masters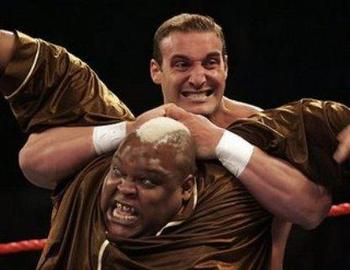 He had so much potential.
I know it is a broken record about many of these guys. But Masters had the look everyone wanted.
He used his strength to put guys out with a full-nelson; one of the most amateur of moves.
But it worked.
Steve and Shaun Simpson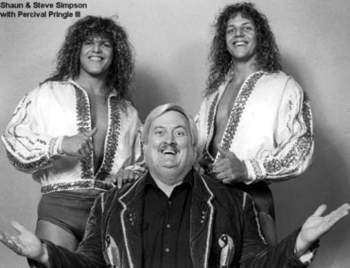 They were mid card wrestlers molded in WCCW by Fritz Von Erich to resemble his boys.
The Austrailian born brothers were a fad, and left the business as fast as they came into it.
Austin Idol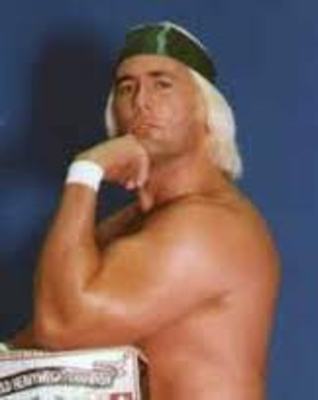 He was one arrogant wrestler.
Love him or hate him, he was popular, ripped and full of himself.
Maybe the "Rick Rude" of wrestling before Ric Rude came along.
Curt Hennig and Scott Hall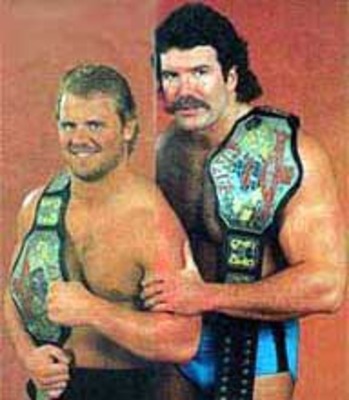 Remember these guys?
As tag team partners, they were fan favorites in the AWA.
Scott Hall was a "face" with a great body and a well spoken tone.
Hennig won the AWA World Title, went to the WWF as Mr. Perfect and then floated over to WCW, where he destroyed the Horsemen.
Petey Williams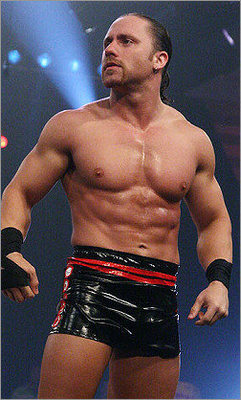 He is the smaller version of Scott Steiner. OK, we hope not.
Williams is one ripped wrestler.
He spent time in TNA as an understudy to Steiner and was very proficient in the X-Division.
Williams is someone TNA sure could use right now.
Ahmed Johnson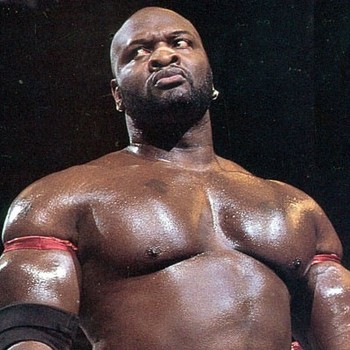 A big hulking man who had muscles upon muscles and went nowhere in the WWF.
He would have been "the next big thing," but he was awful on the microphone and limited in the ring.
Oh, what could have been.
Tori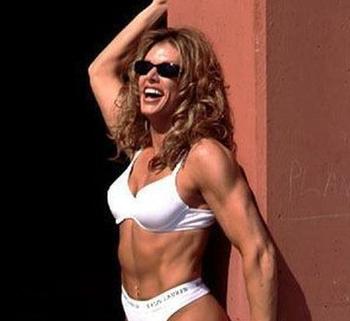 Some have said that Tori had some of the best abs in the business, and that included male wrestlers.
That is a pretty high compliment with all the talent that has come through the doors of the WWE.
Mr. McMahon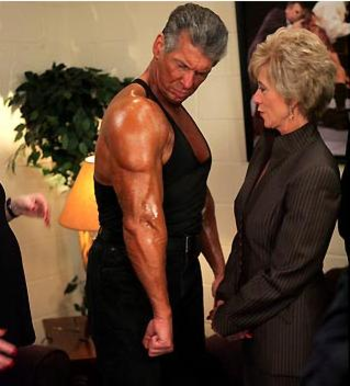 Say what you will about Vince McMahon. But what you cannot say is that he is not in shape.
McMahon is chiseled and has appeared on muscle magazines.
He has been a workout warrior for decades.
I would not want to cross him in an alley.
Ultimate Warrior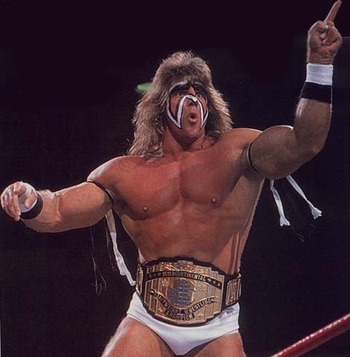 He came into wrestling as a Blade Runner and was super ripped. He wrestled with Sting in the UWF.
He then went to WCCW as the Dingo Warrior and then to the WWF as Warrior and made a name for himself.
To this day, he is still in great shape.
Tyler Reks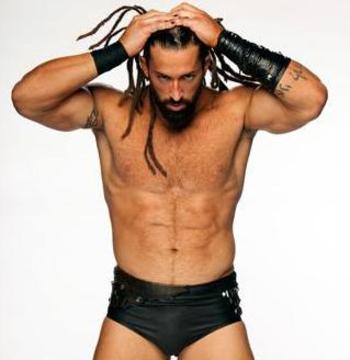 Clan of the Cave Bear meets Land of the Lost.
Reks looks like a shower has been running away from him for years, but he has a great look and needs a push to show what he can do.
He was a champion in FCW, and now it is time to prove he can be a champion in the WWE.
Randy Orton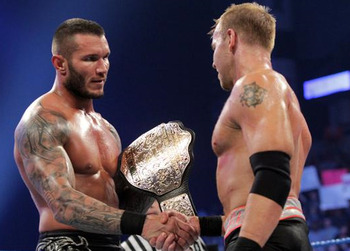 Over the years, Randy has basically grown into his body.
The tattoos give him a darker, more defined look, but it has been Orton who has done his homework to home his body and make it look like it does today.
It is all part of the package he puts out there for fans to see.
Hercules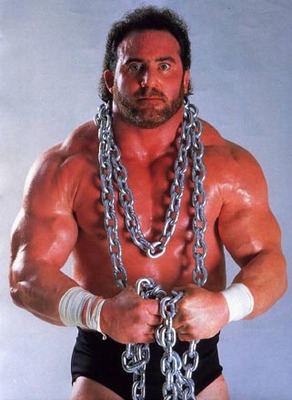 He had a thick next, barrel chest and arms as big as logs.
He was solid and powerful and underrated in the WWF.
He could have been better in other promotions.
Paul Orndorff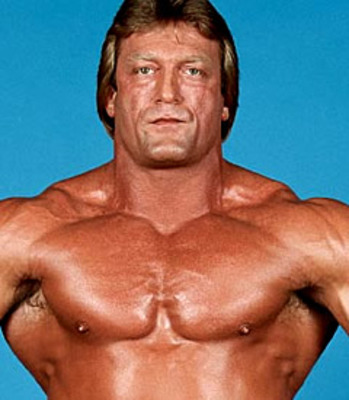 One look at him, and you knew he was a great athlete.
I wonder what would have become of him had he stayed in the NWA?
Orndorff should have been the WWF Champion and never got the opportunity. It is a blemish on a spectacular career.
Kurt Angle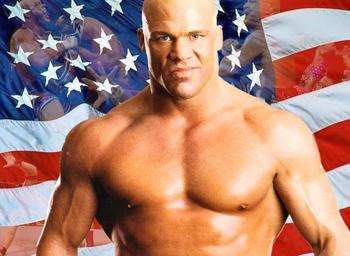 The Olympian is still in tremendous shape.
He looks like he could beat back 20-year-olds.
After losing weight, he may be in the best condition of his life, well before the 1996 Olympics.
DDP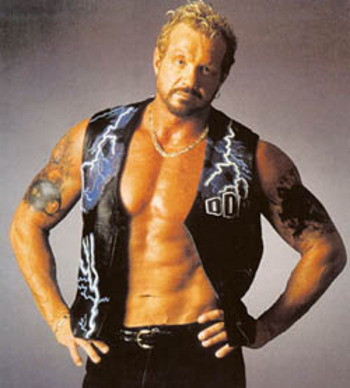 I am not a fan of DDP as well. But Page put together a decent run with WCW. He had a great tattooed and sculpted body he worked hard at.
Page was not the most gifted wrestler, but he was popular, and one move alone, the Diamond Cutter, made him a star.
Rocky Johnson and Tony Atlas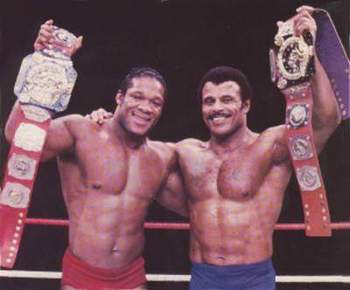 They were powerfully built faces who captured WWF tag team gold as the first African-American tag team to do so.
Johnson (The Rock's dad) and Atlas were trend-setters and very popular faces of the time.
They peaked right before the start of Hulkamania, so they were viewed as a team of two, not the machine that the WWF would soon become.
Jimmy Snuka
He was wildly popular in the WWF. He was toned, muscled and athletic.
And fro his size, he could do things from a top rope that most men feared to think of.
Snuka was a hit in the WWF, but never held gold or titles.
Brock Lesnar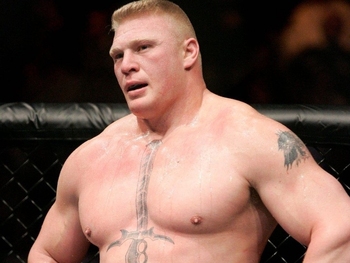 The Incredible Hulk with blond hair.
He came out of college and learned professional wrestling and was immediately successful at it.
The original powerhouse with speed and decent agility.
He will never be replaced.
Superstar Billy Graham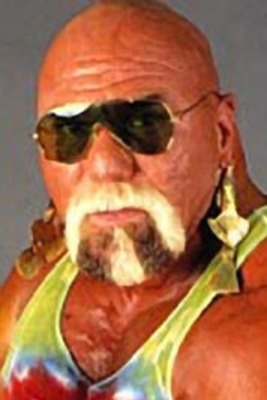 He was Hogan before Hogan was Hogan.
Classic heel from the WWF who was an admitted steroid user. Later in life, the steroids took hold of him and caused major health issues.
When he was at the height of his career, he was the best heel the WWF had to offer.
Perry Saturn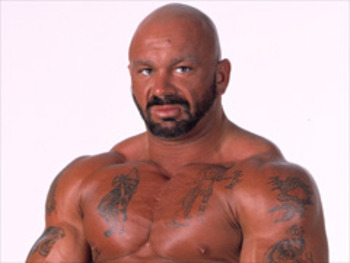 A solid wrestler, but not a superstar.
Saturn was built in a compact style and shined as a member of Raven's Flock and in WWE when WCW was bought.
He had incredible upper body strength.
Marc Mero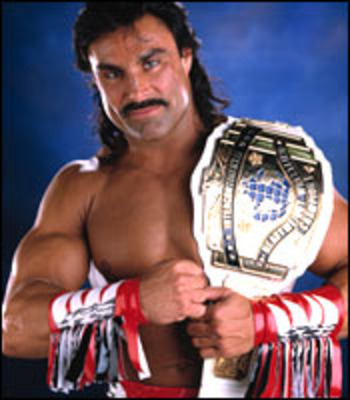 Solid wrestler in WCW and then in WWE. Was married to Sable (good man) and was a mid card performer, but could got get the push to the main event.
He is in great physical shape and owns a body shaping business in Orlando.
Ezekiel Jackson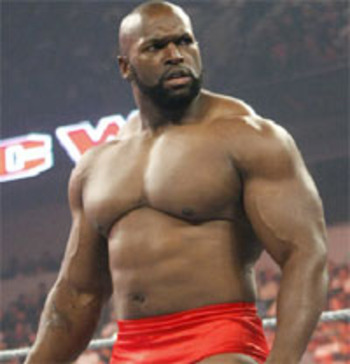 The Big Zeke was the Intercontinental Champion, and then the bottom fell out.
Wow, what a loss for the fans and the WWE.
Zeke is a big, hulking. dominant wrestler who is as stiff as two-day bread. But his power is undeniable.
Buff Bagwell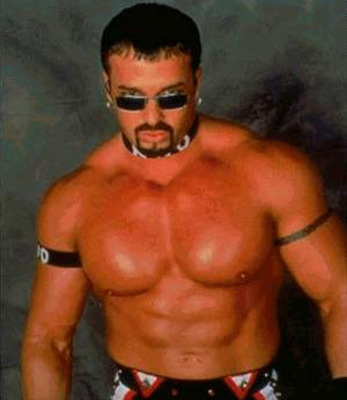 He can thank WCW and the NWO for his success.
This guy was huge and strong. Yes, he was the stuff.
His upper body is just sick!
The Iron Sheik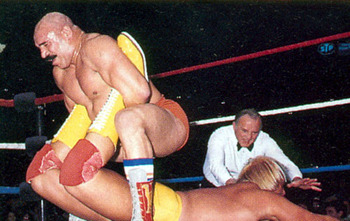 Don't let his look fool you. The Iron Sheik was one bad dude.
He was strong, thick and solid.
He had a huge chest and big arms to beat on his opponents.
He also helped to usher in Hulkamania.
Randy Savage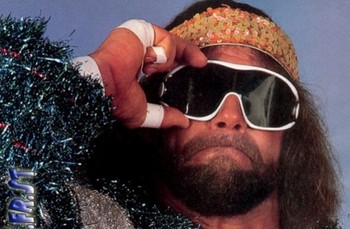 In case no one noticed, Savage was pretty well bulked up and was a great athlete who kept himself in great condition and shape.
He had great cardio endurance and was agile from the ropes.
Savage may have been the complete package.
Mason Ryan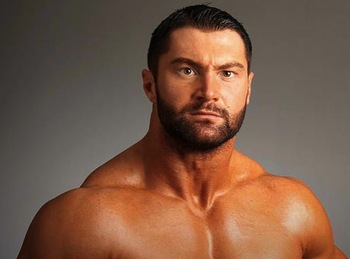 He could be the biggest beast even in the WWE.
A strong Welshman who cannot work on the mic but has an abundance of talent in front of him.
If the creative team can figure out how to market him, he will eventually soar to the top of the WWE mountain.
Scott Norton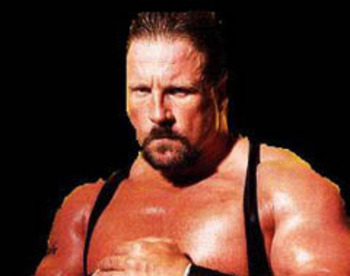 He is just thick all around.
A great competitor and a quiet sort, he could take your head off if given the chance.
John Cena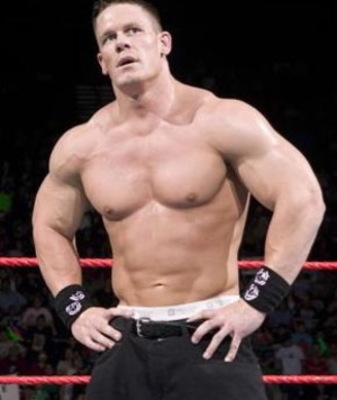 Do you get the feeling he could have done the Marky Mark video or the Calvin Klein thing?
I am not a Cena fan, but I sure have to hand it to him because he is one ripped SOB.
His power and strength is undeniable.
Chyna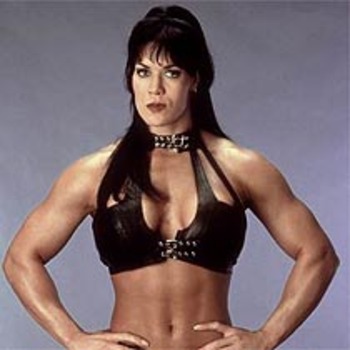 Big, strong, solid, thick. All those monikers are acceptable for the "Ninth" Wonder of the World.
Chyna came in manish and brutish and left more demure and feminine.
But she was still chiseled and strong and powerful.
She is said to be wanting to get back into the ring.
Goldberg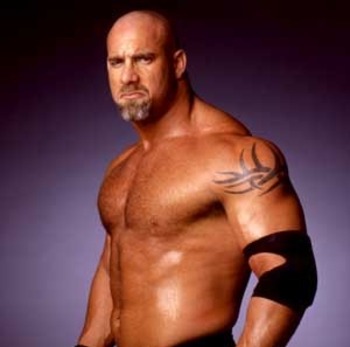 He spit pyro and stomped to the ring like nobody else.
His delts gave him some amazing strength, and his power was brutal.
All he did was run through an opponent.
And all he did was capture the sport and hold onto it for a while, then left when he thought he was through.
Batista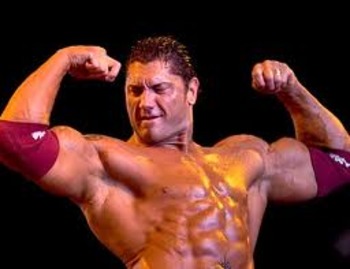 A three way dance between Goldberg, Batista and Brock Lesnar would be something.
Batista was a body builder who got into wrestling and became a star.
The fact he did it later in life than most wrestlers is a testament to his ability.
Don Muraco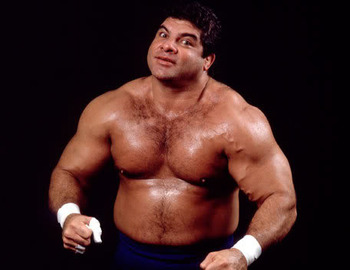 In the late 1970s and early 1980s, Muraco was a beast in the WWF.
He was thick, strong and powerful. He feuded with Bruno Sammartino, Pedro Morales and Tito Santana.
There weren't many wrestlers as solid as the Hawaiian superstar.
Jim Neidhart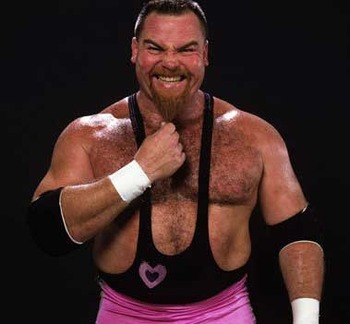 One of the most powerful wrestlers in the 80s in the WWF, Neidhart could have been a heavyweight terror on his own, but formed a pretty good duo with Bret Hart.
His look was scary enough to make you want to run away.
Sting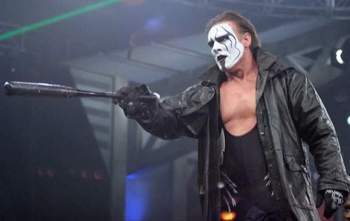 He came into this business as a muscled-up tag team partner of Ultimate Warrior.
And while Warrior had a decent run in the WWF, we think maybe Sting had just a little better career.
That is putting it mildly.
At 265 pounds, Sting still looks good at 52 years old, like he could whip someone's ass if he puts his mind to it.
Lex Luger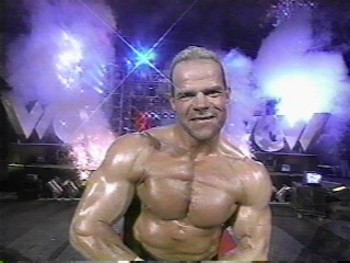 I guess you cannot have Sting without Luger shortly behind him.
Luger had the best body in wrestling in the 1990s and proved that in both the WCW and the WWF.
He slammed Yokozuna and beat Hollywood Hulk Hogan for the WCW Title. Those two feats alone prove he is pretty damn powerful.
Trish Stratus
How about some "Stratusfaction?"
Trish had many "assets" that set her apart from other female wrestlers, but she sure took care of herself, and her body was one of the most athletic of any female to wrestle in our generation.
Thank you for allowing us to witness that.
John Morrison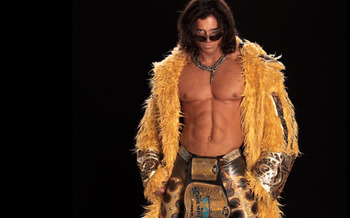 His abs are just sick!
And what he does off the top rope and in the air is sick as well.
Morrison is so athletic and so agile. It make you wonder if he is made of rubber.
But his look is one of hard work and dedication.
The Road Warriors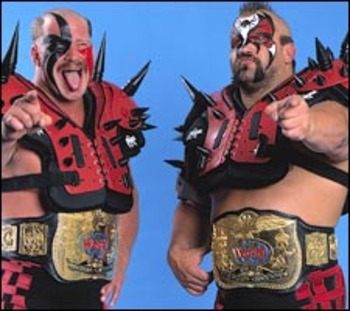 Barrel-chested thugs that ripped their opponents apart.
Who did not love them as big, muscular bullies?
And whether face or heel, they won over and over again.
Lita
All I can say is thank God for Lita.
Not just a pretty face, but a great wrestler with an outstanding body.
I dare anyone to disagree.
Matt Morgan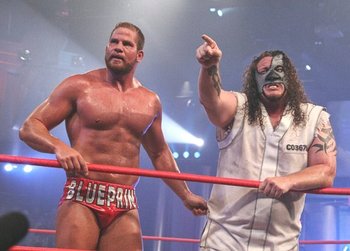 At 7'0" and over 300 pounds, you don't see a lot of big men move the way he does.
But he has so much raw power that he just rips wrestlers apart.
His muscles are well defined, and while they are not as "apparant" as others, he still packs a punch with everything he does.
Hulk Hogan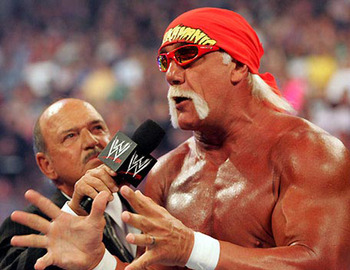 He was one of the best big men in the business.
He was the first of what Vince McMahon has as champion in the WWF.
He represented the big, strong, powerful types that went through opponents.
Triple H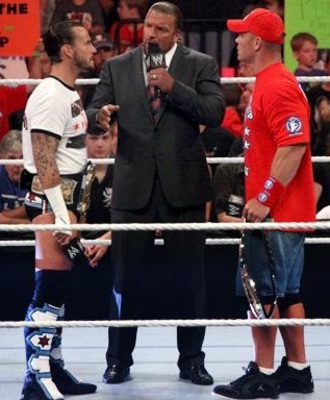 He was a powerlifter before Killer Kowalski got a hold of him.
His body is still in great shape and shows the dedication to being a true professional in the sport.
There aren't many like him that train that hard.
The Rock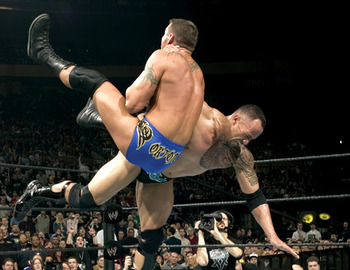 If you smell what The Rock has been cooking, you know it takes a lot of hard work to look like that.
As a football player and then a wrestler, he was dedicated to the gym long before he hit the mat.
My mother still swoons over him.
The British Bulldog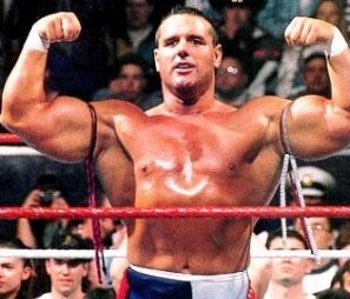 He was as powerful as any wrestler in the 1980s.
Davey Smith was in a class with few peers. He was muscle and mass and could just about anyone in the ring.
He deserved more of a run in the WWF.
Kerry Von Erich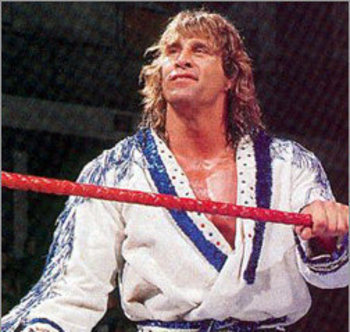 He was a body with a lot of skill.
Maybe the most talented of all the Von Erichs. He was good looking, powerful and as Ric Flair said, the best body in the business before a guy named Luger came along.
They even did workout videos of him on WCCW. That is how much Fritz Von Erich was into promoting his boy.
Torrie Wilson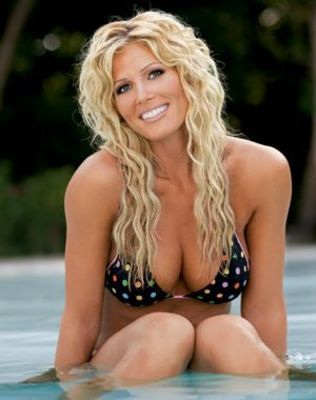 Maybe the most beautiful woman to ever wrestle.
This fitness "freak" has an amazing body and is in better shape than most men in the business.
We all paid attention to her face, smile and assets, but she was really put together.
Rick Rude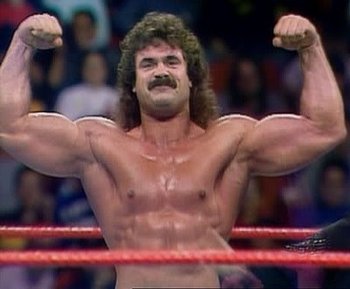 Ripped to the core. If there was ever a sex symbol in wrestling besides The Rock, he was it. Men wanted to be him. Women wanted to be with him.
And he played his role so well. He never played the "face;" always the heel.
And he may be the most underrated wrestler ever in the business.
Keep Reading