Dana White: UFC on FOX a 'Dream Come True'
November 11, 2011
LOS ANGELES – Dana White is a fight promoter. His purpose to sell the public on fight cards and main events are included in that responsibility.
So, with that being the case, the UFC boss is more than willing to tell people why they should care about the UFC on Fox event that takes place this Saturday.
In the main event, heavyweight champ Cain Velasquez will take on No. 1 contender Junior dos Santos. White all but guarantees an exciting fight.
The UFC boss says there were a number of fights he and Zuffa CEO Lorenzo Fertitta thought could headline UFC on Fox. While he's not sharing which potential fights those were, White does admit that nothing made more sense than this heavyweight title fight.
Promoting fights as fight promoters do.
"Lorenzo [Fertitta] and I sat down and we talked about a lot of different fights we can make. This one made sense," White says. "Not only with the heavyweight championship of the world, but the fight between these two athletes. These guys are monsters, man. When have you seen either of these guys in a boring fight that was just horrible? The answer is never."
A great percentage of Velasquez's fans are from a Mexican background. With dos Santos being from Brazil, some have even gone to the extent of making this a fight between countries. Like the Brazilian and Mexican national soccer teams, Velasquez and "JDS" are fighting for the pride of their nations.
However, the UFC president feels this is more than a fight between two countries; this fight is more global.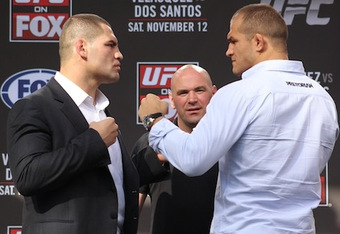 "This isn't one of those fights that's Mexico versus Brazil," says the UFC president. "People from all over the world are watching this fight. On Twitter, on the Internet, people are going crazy.
"This is a global heavyweight fight."
When the network deal with Fox was originally announced, White stated there were several networks in talks with the UFC. Major networks were all in the mix for who would be the first broadcast the Las Vegas-based promotion's fights. Fox won the chase, according to White, and he couldn't be happier.
It's been a long 10-year journey for White and the Fertittas, but things have finally got to the next level. On Saturday night, they'll do what they've been planning to do since purchasing the UFC in 2001; they'll make their dreams become reality.
"It's the biggest night in UFC history this Saturday night," White proclaims. "And this is a dream come true. This is what we've been working for… the perfect deal at the perfect time with the perfect guys."
Erik Fontanez is a senior writer and reporter for MMAWeekly.com.
Follow him on Twitter: @Erik_Fontanez.