Minnesota Vikings: 3 Biggest Mistakes the Front Office Made in 2011
November 11, 2011
Jamie Squire/Getty Images
As it turns out, picking up rookie quarterback Christian Ponder as the 12th pick in the NFL draft is panning out to be a pretty good decision by the Minnesota Vikings' front office.  Re-signing star running back Adrian Peterson was not a bad move either.  
However, if the Vikings record isn't enough to prove it, Minnesota's front office has not been full of good decisions this year.  
Here are three that didn't turn out so well.
Signing Donovan McNabb
Originally signed by the Vikings with hopes to help ease the transition of rookie quarterback Christian Ponder, the Donovan McNabb move did not turn out to be a good one for Minnesota.  McNabb racked up one win and five losses before being replaced by the rookie after six games.
Obviously, the plan was for the veteran quarterback to find new life in Minnesota meanwhile accumulating a couple wins and proving he still had something in the tank, but that plan fell through.
In the long run, maybe this will still be a good thing for the Vikings. Perhaps McNabb's six games allowed Ponder to grow and observe the game on the sideline, and McNabb not panning out gave Ponder the opportunity to adjust to the game and shine on he field sooner.
Not Acquiring a No. 1 Wide Receiver
Donovan McNabb is obviously first on the list of bad offseason acquisitions for the Vikings, but there were a few things which resulted in the Vikings' not-so-good offseason.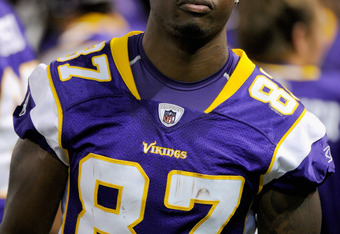 Hannah Foslien/Getty Images
For starters, the Vikings have no No. 1 receiver, and never made a successful attempt to keep or get one.  Sidney Rice left for Seattle after claiming the Vikings didn't try to negotiate with him, and in return they picked up Michael Jenkins who they knew would only serve in a supplementary role.  Instead of fulfilling this spot, they attempted to bring veteran wide receiver Bernard Berrian from back off the bench and transform him back into a productive receiver.  That mission failed.
Poor Improvement of the Offensive Line
The Minnesota Vikings' offensive line was in need of help before the season began.  First, the Vikings' front office released Pro Bowl offensive tackle Bryant McKinnie.  The release of McKinnie may have been understandable as he was overweight, had a reputation of laziness and seemingly carried a lot of bad news around, but they failed to properly replace him.
His replacement, Charlie Johnson, has been insufficient in protecting the blind side and very mediocre, allowing numerous sacks.
It seems the Vikings are still waiting for 2009 second-round draft pick Phil Loadholt to reach his full "potential" at the tackle position.  Loadholt has been a work in progress for a few years now, and shows signs of improvement at times, but is still rather inconsistent and injury prone.
Anthony Herrera still struggles with his knee injury week in and week out, hindering his performance.
Steve Hutchinson and center John Sullivan have arguably been the best two offensive linemen, but Hutchinson is getting up there and the Vikings have no replacement for him in sight.
This is a huge problem area that the Vikings should have either addressed through the draft, free agency or even before the trade deadline.