Washington Capitals: When Will Fans Start to Expect the Cup?
November 11, 2011
Greg Fiume/Getty Images
Sports fans in Washington have been starved for a winner for two decades, as none of the city's four major professional teams have brought home a championship since the Redskins' last Super Bowl victory in 1991.  
Since then, the team that came closest to bringing home serious hardware was the Washington Capitals, who were swept in the 1998 Stanley Cup Finals.  
More than a decade later, the city's best chance at a championship parade is still the Capitals, as the Nationals, Wizards and Redskins are all far from being contenders.  
Fortunately for fans in D.C., this current Capitals teams is, at least on paper, more than capable of capturing the franchise's first Stanley Cup.  They have skill, size, grit and experience from top-to-bottom, but time is of the essence for this group.  
No longer are the Capitals a team of inexperienced, baby-faced phenoms.  Now, coming off their fourth straight disappointing postseason, the Caps are testing the patience of what has become a remarkably devoted fanbase.
The team boasts the undisputed biggest sports figure in town in Alex Ovechkin, but in order for him to become a legend in a city historically light on superstars, he has to end D.C.'s championship drought. 
Since Ovechkin, Nicklas Backstrom, Mike Green and Alexander Semin helped the Caps win their first of four consecutive Southeast Division titles in 2007-08, fans have flocked to the Verizon Center, selling out 112 straight home games.  
However, the honeymoon won't last forever if this team doesn't win something meaningful soon.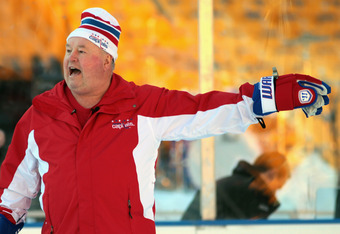 Jamie Squire/Getty Images
After the team's utter collapse during the 2010 quarterfinals against Montreal, fans were calling for head coach Bruce Boudreau's job, but two years later, the lovable bench boss remains.  If this group doesn't do some serious damage in the postseason in 2012, Boudreau will certainly lose the support of the fanbase.  
In addition to Boudreau, stars like Semin and Green, are adored for their play during the regular season, but have frequently been poster boys for the team's postseason shortcomings.  
In Washington, a city that isn't a traditional hockey market, for the team to continue to receive such rabid support, they need to win, or at least look like they've come close to living up to their potential as a group.
If they don't, fans will simply turn their attention to one of the city's other three under-performing teams.
Division titles and President's Trophy banners are nice, but for a city that has gone so long without being able to lay claim to a winner, a Stanley Cup would go along way towards keeping fans interested for the long haul.  
With a number of key players such as Semin, Green, Tomas Vokoun, Mike Knuble, Dennis Wideman and John Carlson up for free agency at the end of the season, the team's best window of opportunity to win is closing.  That's not to say they couldn't win a Cup after 2012, but there are a number of question marks looming this offseason, and the Caps could look very different this time next year.  
Ted Leonsis, George McPhee and the team says they expect to win, so the fanbase expects to see results in the near future.  Their widespread popularity in the city could depend on their ability to do more than flirt with a Conference Finals appearance this spring.