New York Islanders Seek Some Wins on 2-Game Northwest Trip
November 10, 2011
Jim McIsaac/Getty Images
The New York Islanders will look to rebound after a 6-2 defeat at the hands of the defending Stanley Cup Champion Boston Bruins Monday night.
The story of that game for the Islanders wasn't pretty.  Sloppy defensive plays led to numerous Bruin goals.
The only bright spot was that the top line looked amazing. 
Matt Moulson scored a goal on a beautiful tip from Steve Staios.  Then, later in the period, Michael Grabner made a great play to keep the puck in the offensive zone.  John Tavares took the puck and passed it back to Grabner, who found some room in the high slot, and ripped it over Tukka Rask.
Heading out to the Northwest to play games against the Colorado Avalanche and Vancouver Canucks, the Isles don't want points.
They want wins.
The Islanders find themselves in the bottom of the Eastern Conference with a 4-6-2 record. Colorado has a record of 7-7-1, but have found themselves slumping of late.
Historically very successful against the Avs, New York has posted a 7-0-1-1 record against them since 2001.
The Islanders' starting goaltender will be Al Montoya; the top line will remain Moulson, Tavares and Grabner.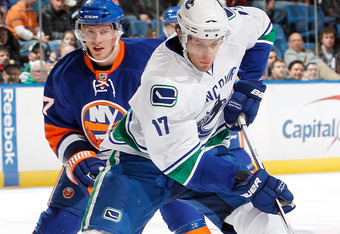 Paul Bereswill/Getty Images
The Islanders can beat the Avs if they don't give up the first goal early.  If the Isles can get on the board quickly against the Avalanche, they'll be able to get into the heads of the already slumping team.
After the Colorado game, the Islanders head north to take on the Canucks, who have the same record as the Avs, 7-7-1.
After a slow start, last year's Western Conference champs look like they're back on track. 
The Canucks should be a very tough match for the Islanders, with big scorers like the Sedin twins threatening every shift.
Either way, the Islanders need to win at least one of the two games before they return home if they don't want to fall a few more stairs into the cellar.