WWE: 10 Reasons Why Air Boom Is Headed for a Split
Is Air Boom about to go Air Bust? I know the Internet Wrestling Community isn't exactly abuzz with this rumor.
Nevertheless, if you stop and think about it for a minute, a split between the electrifying tag team of Kofi Kingston and Evan Bourne isn't so inconceivable. In fact, you may call it downright inevitable.
Why do I say so? Well, here are 10 reasons why.
Begin Slideshow

»
Everyone knows by now that Evan Bourne is serving a 30-day suspension from WWE for violating the company's Talent Wellness Program. Following the suspension, Bourne tweeted an interesting zinger aimed at the company.
Now I understand that professional sports aren't your everyday business. All I'm saying is that if I'm suspended from my job and insult my employer via social media for an encore, chances are I'm dusting off my resume looking for another job.
It wouldn't surprise me if Bourne (real name Matthew Korklan) soon receives a letter from WWE headquarters wishing him well in his "future endeavors;" hence, that would be the end of Air Boom.
If Evan Bourne ends up surviving his suspension for violation of the wellness policy, WWE could use it as the perfect opportunity to turn him heel. For years, younger fans in the WWE Universe have adored Bourne largely for his squeaky-clean image.
After being suspended for using a controlled substance (supposedly synthetic marijuana) Bourne clearly isn't the model citizen everybody thought he was. So, why not use that in a storyline?
The WWE writers could use the suspension as a springboard to develop a bad boy image for Bourne. And obviously the best way to make the switch would be to have him turn on his partner, Kofi Kingston.
Picture this: a WWE superstar oozing with athleticism and upside sees his talents underutilized. Instead of being taken seriously and pushing for a spot in the main event, he spends his time prancing around foolishly, much to the delight of the kiddies in the crowd.
Then, he ditches the dancing and prancing and turns heel. As a result, he gains credibility among many appreciative fans and earns the biggest push in his WWE career.
Yes, I'm talking about R Truth, and yes, the same path can unfold for Kofi Kingston. After he stopped rapping for the Little Jimmies, Truth saw himself in the main event at Capitol Punishment.
If Kingston ditches the stupid "boom, boom, boom" chants and turns on Evan Bourne, his career could take off, too.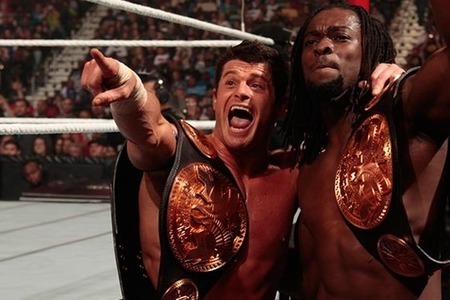 Upon their formation, Air Boom had a pretty good feud going with the heel tag team of the Miz and R Truth, better known as Awesome Truth. However, they've got bigger fish to fry at the moment, as they're preparing to face the Dream Team tag team of the Rock and John Cena at Survivor Series.
So, who's next in line to challenge Air Boom for the Tag Team titles? Better yet, is there anybody out there worthy of challenging them?
It could be the Usos. However, Jimmy Uso was recently arrested for D.U.I. Because of that, his time in the company may be short-lived. It could be the duo of David Otunga and Michael McGillicutty. But they may not be able to generate enough heat in a potential rivalry with Air Boom, since they're "the bland leading the bland," according to Jerry Lawler.
Another tag team could form to challenge Air Boom, like the duo of Dolph Ziggler and Jack Swagger. Been there, done that (Vengeance). Plus, it looks like a Ziggler-Zach Ryder rivalry is poised for takeoff. If Air Boom doesn't find serious competition soon, there may be no reason to keep them together.
There's no doubt we're living in what I like to call the A.D.D era. It's an era where younger generations can't stay focused long enough on one thing before they're quickly onto something completely new: a new channel; a new website; a new trending topic.
I doubt WWE hasn't taken notice. Why do you think the company's major titles change so often? It's because they're afraid that the youngest fans of the WWE Universe—a demographic whose members (or I should say members' parents) shell out countless dollars for merchandise—will grow board and find something else to occupy themselves with.
Maybe for these same reasons WWE will fear that it's only a matter of time before the youngest fans grow bored of Air Boom and change the channel mentally. If that's the case, expect an Air Boom split soon.
The brass at WWE could break up Air Boom to allow both Kofi Kingston and Evan Bourne back into the secondary title races (Intercontinental, United States). Personally, I think Kingston and Bourne have earned opportunities to maneuver their way back into contention for these titles. And, of course, the matches themselves would be brilliant.
I would love to see a Kingston-Cody Rhodes Intercontinental title match or a Bourne-Dolph Ziggler United States championship showdown. Of course, you could still give each competitor a big push in singles competition while keeping Air Boom intact. However, if you give either Bourne or Kingston a singles boost, I'd rather see them go all in, as opposed to dabbling between singles and tag team action.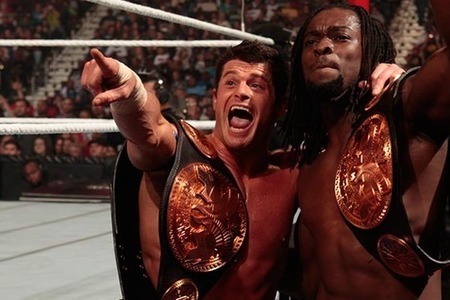 Everything's good in moderation, right? That's another way of saying balance is good.
Unfortunately, Air Boom is a tag team lacking balance. Both Kofi Kingston and Evan Bourne are high-flyers, meaning there's a lack of diversity between them. Perhaps WWE could eventually believe that a team consisting of two high-flying Superstars may not work. Before you dismiss this notion as stupid, let's not forget that it was WWE that scrapped its once-heralded Light Heavyweight/Cruiserweight division for no reason.
That division produced exciting undercard matches week after week, and it was one where the likes of Kingston and Bourne would've thrived in. They eliminated the Cruiserweight division out of thin air. Maybe they'll do the same to the Cruiserweight tandem of Kingston and Bourne.
What's better than one exciting tag team? Well two, of course. Perhaps WWE is better off splitting up Air Boom and placing Evan Bourne and Kofi Kingston in two separate, yet equally energetic tag teams.
It would not only be a way for WWE to piggyback the success of Air Boom, but also give two other Superstars an opportunity for greater exposure. New face Mason Ryan appears to be having trouble getting over with the fans. A great way to do so would be to team him with either Kingston or Bourne. You want to get Alex Riley back into the mix? Pair him up with either Air Boom member.
A Daniel Bryan-Kofi Kingston marriage would be a greatly balanced team (between Bryan's unbridled technical skills and Kingston's pure athleticism) and could give Bryan some momentum heading into his inevitable cashing in of Money in the Bank in the near future. No matter how you picture it, two new incredible tag teams could rise from the ashes of a defunct Air Boom.
When Triple H was appointed WWE Chief Operating Officer, he vowed to make a conscious effort (although not on the air) to revive the company's stagnant tag team division. Now that Triple H has been stripped of his governing powers on the air, it's no coincidence (in my opinion, at least) that the tag team division has hit a wall once again.
For starters, the tag titles haven't been defended in a while, obviously because Evan Bourne is serving a 30-day suspension in real life. Even so, there aren't many legitimate contenders out there right now worthy of giving Air Boom a great run at their titles. Awesome Truth is facing the Rock and John Cena at Summer Slam.
After that, there's either David Otunga and Michael McGillicutty or the Usos, and neither of those teams are going to provide the shot in the arm the tag team circuit needs. It wouldn't surprise me if WWE scraps their tag team revolution campaign soon, and breaks up Air Boom in the process.
While some fans would find it rather odd to hear that Air Boom was to suddenly split, let's remember who we're dealing with here. The folks at WWE always seem to make questionable decisions that leave their fans baffled.
This is the company that had a computer serving as its anonymous Raw General Manager for over a year, only to have it randomly disappear without explanation. This is the company that gives promising Superstars (like Alex Riley and Wade Barrett) incredible pushes, only to bury them on the roster a short time later.
This is the company that ping pongs titles between Superstars as often as Kim Kardashian changes partners. This is the company that gave us Zach Gowen, Katie Vick and Million Dollar Mania.
So if you call the possible end of Air Boom a head-scratcher, keep in mind the track record of the people behind it.