Sidney Rice Injury: Updates on Seahawks Star's Week 10 Status and Fantasy Stock
November 9, 2011
Rich Schultz/Getty Images
As a general rule, the Seattle Seahawks and their offensive players aren't exactly fantasy gold. 
Sidney Rice is an exception to that. When he's on the field, his numbers are generally pretty good. In the six games he's played this season, Rice has had better than 60 yards receiving in all but two. In two of those games, he's gone over 100 yards. 
Still, there is some doubt as to whether or not he will play this Sunday vs. the Ravens.
Wednesday, Nov. 9 at 4:16 p.m. ET
John Boyle is reporting via Twitter that Rice didn't practice, but is expected to play.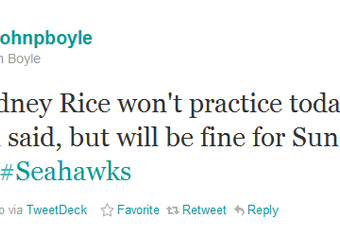 Here's the problem with that, from a fantasy perspective. 
He's facing the Ravens defense. This is a hard-enough team to face when you are 100 percent healthy and have had a full week of practice. When neither of those apply, leaving said player on your fantasy bench is probably for the best. 
But it doesn't even stop there.
Wednesday, Nov. 9 at 3:22 p.m. ET
The Seahawks report on their Twitter page that quarterback Tarvaris Jackson's status is still unclear.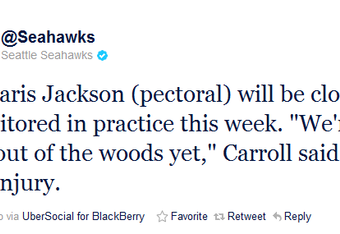 Now, let's look at Rice's week from a fantasy perspective:
He's going to miss at least one practice.
He's not likely to be 100 percent.
His normal starting quarterback may miss the game. If he doesn't, he won't be healthy.
That starting quarterback isn't exactly a great quarterback to begin with.
They are facing the Ravens.
Now, also consider that the entire NFL is playing this week. There are no bye weeks. Your group of receivers should be good enough to leave Rice on the bench. 
Stay tuned for more information about Rice's health. As of right now, there is no reason to disbelieve that he'll play. 
But will he make a difference for his team? That's doubtful. The Ravens have been a little vulnerable at times this year, but are certainly a better team than the Seahawks.
Should you play Rice on your fantasy team? Not unless you're very desperate. Even then, search the waiver wire.
Just because he's playing and was probably drafted as a starter doesn't mean that he should start this week.