Florida Football Recruiting 2012: 4-Star Antonio Morrison in All-American Bowl
November 9, 2011
Antonio Morrison, a 4-star Rivals.com recruit to the Florida Gators football team, was selected to play in the Semper Fidelis All-American Bowl game at Chase Field in Phoenix, Arizona. 
The game is sponsored by the United States Marine Corps and JuniorRank Sports and will air at 4 p.m. Mountain Standard Time January 3 on CBS Sports Network.
"It's a great honor," Morrison said in a Bleacher Report exclusive interview. "I'm pretty excited for that."
Morrison, a three-year varsity starter for Illinois' Bolingbrook, was highly sought after with 20 other schools making offers, including the Alabama Crimson Tide and Oregon Ducks. However, he accepted Florida's offer in August.
"It's a good program," Morrison said. "I like the coaches. I just want to play football. I've just been doing what I'm doing for high school. I'm not getting ready for college yet because I'm still focusing on high school."
Morrison played defensive end as a sophomore. During his junior and senior years, the 6'3", 220-pound Morrison has played outside linebacker.
When Florida recruited him, the Gators project him to be their future middle linebacker.
"He's fast, strong and good-sized," Bolingbrook head coach John Ivlow told Bleacher Report. "He's got all the tools to play Division I football."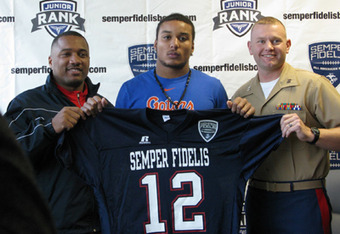 Morrison is a big reason why the Raiders (10-1) are in the quarterfinals of the 8A state playoffs. He has led a stellar defensive unit that gives up 12.3 points a game. In the playoffs, the Raiders shut down an offensively potent Mount Carmel team in a 21-7 win.
During the 2011 regular season Morrison had 77 tackles (six for loss), a sack, a forced fumble and two fumble recoveries.
Morrison is also the teammate of junior Aaron Bailey, an impressive dual-threat quarterback who is getting heavily recruited by five Big Ten schools.
Bob Bajek is a Bleacher Report writing intern. All quotes, unless stated otherwise, are first hand or attributed to their source material.