Matt Millen: Detroit Lions Former General Manager Is Now Empathetic Figure
November 9, 2011
Doug Pensinger/Getty Images
In my wildest dreams, I never thought I would be saying this; I feel sorry for Matt Millen.
The one man most responsible for the demise of the Detroit Lions over the past decade is now an empathetic character as we watch his beloved alma mater meltdown in the national spotlight.
As the pillars of Joe Paterno's football pantheon begin to crumble under the unprecedented child molestation scandal at Penn State, Millen must feel betrayed.
The systemic corruption in the middle of Pennsylvania is beyond disturbing and everything that Matt Millen once adored, now has transformed into the most heinous scandal in the history of college football. It makes a few tattoos at Ohio State utterly laughable.
The actual sexual predator Jerry Sandusky, who if I was the Pennsylvania Governor would soon be scheduled for castration, was Millen's defensive coordinator from 1977-79 and was the man responsible for the "Linebacker U" moniker.
If you're like me, at some point you played organized athletics. Whether it was pee-wee, high school or if you were lucky enough, collegiate athletics; you have a reference point of relationships between players and coaches and the family dynamic that evolves.
How many conversations between the former All-American and Sandusky over the years are now running through Millen's head as he reads account after account of how this man methodically took advantage of young boys for more than 40 years under the protective cloak of Penn State football?
The alumni dinners, fund raising events, even Sandusky's troubled youth Second Mile Foundation; my God, Matt must be questioning everything and anything he ever deemed pure and righteous. Like Millen said, "Man's inhumanity toward man is just mind-boggling. Where do we stop this stuff?"
Great question Matt and the answer is, with calamitous irony, the man in the mirror.
Graduate Assistant Mike McQueary, who used his eye-witness account of the shower sodomizing for his personal advancement, is nearly as culpable as Sandusky.
From a no-name GA, he was promoted to wide receivers coach and now recruiting coordinator. Are you kidding me? His promotional path was faster than a Japanese bullet train and nobody is connecting the dots here?
Who is responsible for this lottery-like ascension through the coaching ranks? Mr. Joe Paterno.
The iconic head coach apparently is more Tony Soprano than Tony Dungy. Joe Paterno tried to sweep all of this under the rug for the benefit of his winning football tradition. He protected Sandusky for years and turned a blind-eye for his dear friend as accounts of his actions were brought to Paterno in the past.
How do I know he knew? He testified that McQueary came to him and told him of the crime he witnessed in the locker room to a Grand freaking Jury!!!
How self-centered can this immortal or should I say immoral coach be? Putting his victory tally ahead of the safety of the youth of Pennsylvania?
Let me ask you this: How often do you think JoPa let Sandusky take his grandchildren out for ice cream? The answer most likely is never.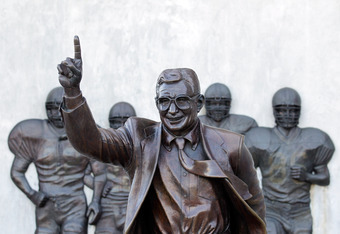 Rob Carr/Getty Images
I thought the cornerstones of winning football were self-sacrifice and selflessness? Apparently not, self-preservation and self-advancement seem to be the life lessons taught in Happy Valley.
The end for Penn State football as we knew it is right around the corner. Days, weeks, it doesn't really matter; what is most important is what happens next and the healing for all affiliated with PSU will start when that last person associated with the Joe Paterno regime is finally shown the door and all criminal proceedings are completed.
They say nobody can hurt you more than family. Coaches for whom you've exhausted every last ounce of your mental and physical limits become father figures or at worst lovable uncles; Matt Millen, as shown by his breakdown on ESPN, has been scarred by the leaders of his Nittany Lions Pride.
Regardless of the managerial snafus perpetrated on behalf of the Detroit Lions organization by Matt Millen, I do genuinely feel sorry for the Pennsylvania State University Alumnus.