NHL Trades: Ryan McDonagh and Looking Back at the Rangers Trade of Scott Gomez
November 9, 2011
Nick Laham/Getty Images
Before I start talking about Ryan McDonagh and what he means to this hockey team, here is an excerpt from the Daily News dated June 30,2009.
"Glen Sather said at the NHL draft last weekend that his goal was to 'change the mix a little bit' this offseason. He changed the mix a lot Tuesday—and at the same time made the Rangers a player in the free-agency free-for-all that begins at noon today.

Sather Tuesday climbed out from under one of his worst missteps, trading center Scott Gomez—and his bloated contrac—to Montreal in a seven-player deal that brings winger Chris Higgins to Broadway. The deal sheds the Rangers of Gomez's $7.357 million cap hit that would have lasted through 2014 and gives them some flexibility to jump into a free-agent pool that features Marian Hossa, Marian Gaborik and Martin Havlat, among others". — BY MICHAEL OBERNAUER
When Rangers fans heard that Sather unloaded Gomez and his $7.357 million cap hit, they instantly took back every ill word uttered against the man. This is the man who also had signed Wade Redden and Chris Drury to "generous" contracts.
Unloading the hefty contract of Gomez was an amazing feat in itself. However, the return that Sather orchestrated is something truly noteworthy. The magician had struck again and had now put his team in a position to land a top player in the free agent or trade market. 
Fans now know that Marian Gaborík was signed, but many glossed over the other pluses of the Gomez trade until now.
In the trade, Bob Gainey not only gift wrapped a solid defensive prospect in Pavel Valentenko, but he hand-delivered current defensive stud Ryan McDonagh to the New York Rangers.
In hindsight, it is easy to see why Gainey wanted Gomez.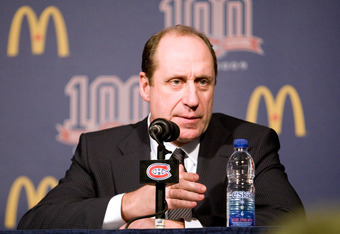 Richard Wolowicz/Getty Images
Gainey was seeking to acquire him to rekindle some old chemistry with current captain Brian Gionta. During their New Jersey Devil days, the duo was a solid tandem. 
He thought he was making a good trade by giving the Rangers Higgins and some prospects. At the time, Gomez was a 55- 60 point player. His offensive production, however, has severely dropped as Gomez had a mere 38 points last season.
It is now clearer than ever before that the Rangers made out like robber barons in the trade. This clear reason is rising defensive stud Ryan McDonagh. McDonagh is a player who came from a true hockey powerhouse led by a talented coach.
McDonagh was coached by Mike Eaves at the University of Wisconsin. Some of players that benefited from the tutelage of Eaves include Derek Stepan, Jack Skille, Rene Bourque, Ryan Suter and Joe Pavelski—just to name a few.
These players all are known for their work ethic and their innate talent that was displayed on the college, AHL and NHL level.
This may only be McDonagh's first full season in the NHL, but he has already displayed that he can be depended on. 
When it was announced that top defenseman and alternate captain Marc Staal was going to be sidelined, many fans panicked. The Rangers came into this season being touted for their strong defensive core.
The loss of Staal was supposed to put a spike in the wheel that is the Rangers' defensive machine. However, McDonagh and the Rangers' core would have no part of that.
McDonagh is currently 15th overall in the entire league averaging 25:05 minutes of ice time. He is also a plus-six with three goals and three assists. McDonagh has been asked to perform above and beyond the call of duty, considering he appeared in only 40 games last season.
He has truly learned by the means of trial by fire. He has looked comfortable in his own zone, has joined the rush and has played smart hockey. After all, McDonagh was drafted 12th overall in the 2007 draft. Montreal obviously saw something in him.
He is now displaying the talent he has.
Some have compared McDonagh to a young Brian Leetch. While it is way too early to make any comparisons, McDonagh is a breath of fresh air on this team. How many times did fans complain about not having young defenders on the blue line?
How long ago was it when players like Marek Malik and Michael Rozsival were patrolling the back end? Now the Rangers have a young and promising core of Dan Girardi, McDonagh, Michael Del Zotto and Michael Sauer occupying the top spots with Tim Erixon, Pavel Valentenko and Blake Parlett all in Hartford developing their craft.
McDonagh was strong defensively last year, as he posted a plus-16 rating. If he can continue to contribute offensively, he will develop into a solid two-way defenseman. He already stands out as a shutdown defender on the penalty kill, and has had some limited power play minutes in his NHL career.
For now, he will continue to play his role as the Rangers No. 2 defenseman alongside Dan Girardi. 
If the Rangers can continue to be led by stalwarts Dan Girardi and Ryan McDonagh, they could be a deadly shutdown pairing as the season goes on
Not many 22-year-olds can say they are the No.2 defenseman on an NHL hockey club. It is an honor, but it comes with a lot of responsibility. Looking at the entire rundown of trades and moves that were made by both sides, one has to wonder if this trade could go down as one of the most lopsided trades in history.
Gainey thought he was receiving a top player in Gomez, but he really gave away too much for an aging player. This trade could be a potential reason he is no longer in office in Montreal.
Fans can only hope that McDonagh continues his strong play and that Marc Staal has a speedy recovery. The Rangers are 7-3-3 and sit a point out of second in the Atlantic Division. The offense is starting to click and things are starting to look up.
Tom Urtz Jr. is an NHL Featured Columnist. For more NHL free-agent news, updates and alerts about players: