Michigan State vs. Iowa: TV Schedule, Live Stream, Radio, Game Time and More
November 8, 2011
David Purdy/Getty Images
An important Big Ten showdown will take place this Saturday when the Michigan State Spartans go on the road to take on the Iowa Hawkeyes.
A season ago, Michigan State was undefeated and ranked No. 5, but lost 37-6 to Iowa, which derailed their season. 
They will be out for revenge this weekend.
Where: Kinnick Stadium. Iowa City, Iowa
When: Saturday, Nov. 12 at 12pm EST
Watch: ESPN2. Streamed live on ESPN3.
Listen: 94.9 WMMQ FM in East Lansing. KXIC 800 AM in Iowa City
Betting Line
Michigan State (-3) according to Bodog.
With that spread, you are basically picking the winner. Iowa is a different team at home. I like them to pull the upset here. Three points aren't a lot, but I like them as a security blanket.
Key Storyline
Can Iowa wreck another season for a Michigan school?
They beat the Wolverines last week in Iowa City. A win here would be a significant blow to Michigan's in-state rival.
Who Might Not Play for Michigan State?
CB Darqueze Dennard, LB Chris Norman, RB Larry Caper and C Travis Jackson are questionable.
T Skyler Burkland, NT Antonio Jeremiah, S Jarius Jones and G Zach Hueter are all out.
Who Might Not Play for Iowa?
LB Anthony Hitchens, OL Nolan MacMillan and RB Mika'il McCall are questionable.
DL Dominic Alvins is doubtful.
LB Shane DiBona is out.
BCS/Top 25 Implications
Michigan State enters the game at No. 17. When Iowa beat Michigan, the Wolverines dropped from 17 to 24. A similar drop would hit the Spartans. Conversely, winning would vault them into the Top 15. 
Iowa isn't really likely to be ranked this year. If they do get ranked at some point, it won't be after this week.
A win would put Iowa in reasonable contention in the Big Ten Legends division. If Michigan State wins, they will have a virtual lock on that division.
What They're Saying
Dave Dye of Fox Sports Detroit wrote about the memory that the Spartans have of last season's blowout at the hands of Iowa that essentially ruined their 2010 season.
Coach Mark Dantonio doesn't want them to forget what happened. He wants them to use it as motivation now, a chance for redemption...That's why when they're watching video these next few days, the Kinnick Stadium scoreboard will be spliced into each of the clips.

"Every time they watch film, there's a reminder there," Dantonio said Tuesday during his weekly news conference. "That scoreboard flashes."

Michigan State Player to Watch
QB Kirk Cousins. As he goes, the Spartans go.
Iowa Player to Watch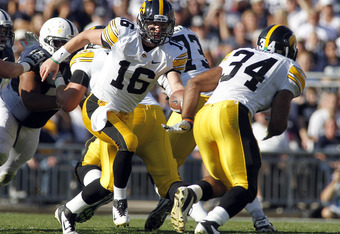 Justin K. Aller/Getty Images
RB Marcus Coker already has over 1,000 yards this year. If Iowa is going to win this game, they will need a good showing against him.
Key Matchup
Coker vs. the Michigan State defense. The Spartans do have a good defense. James Vandenberg is a capable passer, but Iowa's offense will need to be balanced.
On the Hotseat
It's hard to imagine that anyone's job is really in danger here. Both Mark Dantonio and Kirk Ferentz are in good standing at their schools. But a blowout loss would really send these teams on a bad road and may well hurt their standing in 2012.
Prediction: Iowa 24, Michigan State 20
Iowa is just a different team at home. I don't expect a blowout like we got last season, but I am expecting Iowa's 2011 domination over the state of Michigan to continue.