Week 10 Waiver Wire: Earl Bennett and Others to Add
November 8, 2011
Nick Laham/Getty Images
This fantasy football waiver-wire column is all about wide receivers.
Maybe you're unsatisfied with the ones already on your roster, maybe you're preparing for the Week 11 bye and maybe you just want to grab value simply because it's there.
Either way, here are three wide receivers who could provide serious benefits to your fantasy team and are worth immediate and regular starts.
Earl Bennett, Chicago Bears (vs. Detroit Lions)
Earl Bennett is Bears quarterback Jay Cutler's old college target, and it's clear that Cutler is extremely comfortable throwing to him.
Bennett returned in Week 9 after recovering from a chest injury—his first game since Week 2—to lead his team in passing yards in their Monday night win over the Philadelphia Eagles. 
Bennett caught all five balls thrown his way for 95 yards and a touchdown, immediately improving a Bears receiving corps that had been struggling to make big plays. 
Now that he's healthy, he should be Cutler's main target from here on out. His status as a slot receiver keeps a lot of corner pressure off of him, but keep in mind it will also limit his yards after the catch.
Regardless, any team's top receiver is worth owning, and Bennett is rapidly working his way up the Bears' depth chart.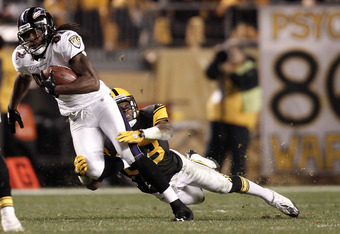 Jared Wickerham/Getty Images
Torrey Smith, Baltimore Ravens (at Seattle Seahawks)
Ravens wide receiver Torrey Smith is a boom-or-bust fantasy player, as he's prone to drops as much as he is to making the big play.
However, with the Seahawks' poor pass defense up ahead, he's worth adding to your roster this week and giving him the start when he faces an advantageous matchup, as he does this Sunday.
Smith had five catches for 71 yards and a touchdown in the Ravens' Week 9 win over the Pittsburgh Steelers, but he also dropped two passes. However, he's averaging 20 yards per catch when he does snag the passes thrown his way, with 20 receptions for 397 yards and four touchdowns on the season.
If you start Smith every week, you're likely to get frustrated. But when he's on, he's on, and he'll be a major target for Joe Flacco in Week 10.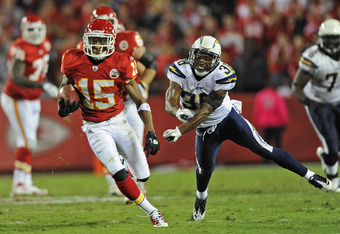 Peter Aiken/Getty Images
Steve Breaston, Kansas City Chiefs (vs. Denver Broncos)
Chiefs receiver Steve Breaston is also a boom-or-bust fantasy player, but for different reasons than Smith.
He doesn't have issues with dropping passes, but with the Chiefs' quarterback play being as unreliable as it is and rookie receiver Jonathan Baldwin showing flashes of greatness here and there, it's hard to predict what the Kansas City offense will look like week to week.
However, that doesn't discount Breaston's important role nor his significant contributions to his team. He caught seven passes for 115 yards in his team's Week 9 loss to the Miami Dolphins, leading the team in targets with 11.
He has 26 catches on the year for 408 yards and two scores, and against the Broncos this Sunday, he's primed to add to both totals.
If your league starts three wide receivers, Breaston's worth one of those spots this week and for the rest of the season, based upon the matchup.