Lions vs. Bears: 10 Keys to Watch During Huge NFC North Contest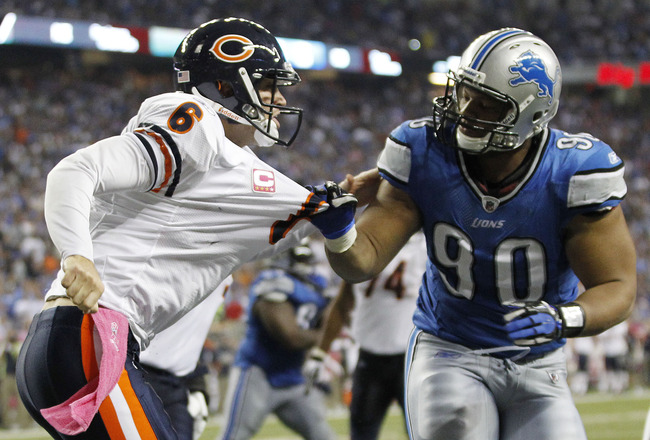 Leon Halip/Getty Images
Several keys to this Week 10 matchup between the Chicago Bears (5-3) and Detroit Lions (6-2) will pave the way to the NFL playoffs for one of these NFC North foes.
Detroit's forthcoming divisional rematch with the Bears has become rather intriguing after Chicago beat (upset?) the Philadelphia Eagles on Monday Night Football.
It is important the Lions win this game because the rest of their second-half schedule is daunting.
They still have two games with the Green Bay Packers plus meetings with the New Orleans Saints and San Diego Chargers.
Here are ten keys that will determine the outcome of this NFC North matchup.
10. Can Chicago Avoid a Monday Night Hangover?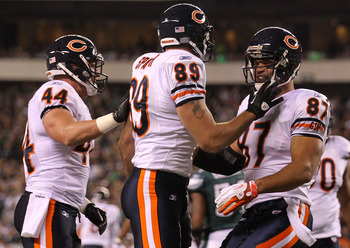 Nick Laham/Getty Images
After the excitement of a Monday Night Football win some teams tend to have a let down in their next game.
Maybe it's the short recovery week, the lack of preparation time or the emotional fall off after a win on a national stage.
Whatever the reason, letdowns happen.
The Lions suffered this fate as they lost to the San Francisco 49ers in Week 6 after their MNF victory earlier this season.
Chicago is a mentally tough team with strong defensive leadership.
It is doubtful Brian Urlacher would let this team have a letdown, but it is something to watch out for nonetheless.
9. Will the Chicago Crowd Play Any Factor?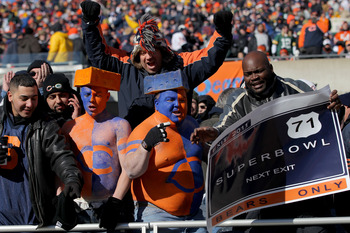 Doug Pensinger/Getty Images
Home-field advantage is hit-or-miss in the NFL.
In Week 5 it was most advantageous for the Lions.
The Ford Field faithful did everything possible to help the Lions to victory.
This included nine false starts by the Bears.
Nine!
Will Soldier Field's rowdiest play as much of a factor?
It will be hard for them to be quite as riled up as a group of fans witnessing their first Monday Night Football game in a decade, but the Bears can hope right?
8. Will the Bears Once Again Dominate Time of Possession?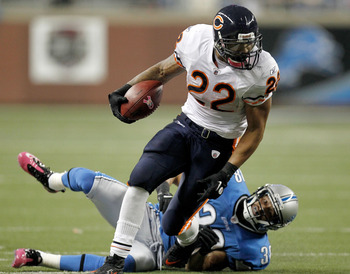 Gregory Shamus/Getty Images
It is rare to see a team win after being dominated in time of possession as the Lions were on Monday Night Football.
So it would just be foolish for the Lions to expect the same result in the rematch if they let Chicago have the ball for another 39 minutes of game action.
The Bears have too good an offense to muster only 13 points if they win the possession battle again in this game.
Especially since they don't have to deal with the hostile Detroit environment.
7. Will the Calvin Johnson Show Continue?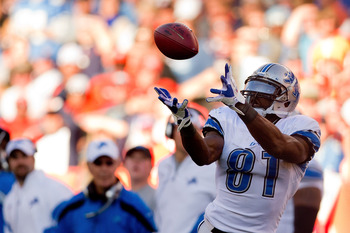 Justin Edmonds/Getty Images
What Calvin Johnson has done so far this season is well documented.
The moral of this fairy tale story is that Megatron is nearly un-guardable.
That was clearly evident as he caught five passes for 130 yards and a touchdown in a Week 5 meeting with the Bears.
So the question now turns to whether or not the Bears will be able to slow Johnson down in round two.
It is highly unlikely that Chicago will find success slowing down Johnson, but doing so would be an obvious victory for the Bears secondary.
6. Can Jeff Backus Stop Julius Peppers?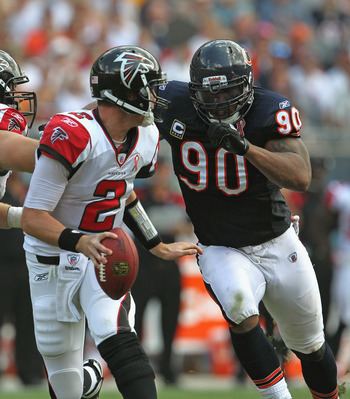 Jonathan Daniel/Getty Images
Julius Peppers was injured in the first half against the Lions in Week 5.
He returned to the game but was not playing at the level expected of the perennial Pro Bowler.
That means Jeff Backus was lucky enough to avoid blocking one of the best defensive ends in all of football.
This time around Peppers is healthy and even while battling his knee injury he still leads the Bears team with four sacks.
Backus receives his fair share of criticism and rightfully so, Jared Allen made him look like a pylon earlier this season.
But keeping Matthew Stafford upright this week would go a long way to proving his worth at the position.
5. Can Chicago Figure Out a Snap Count?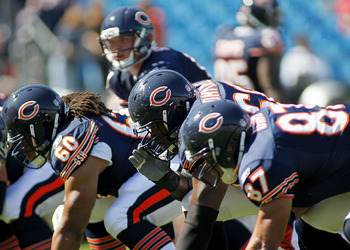 Geoff Burke/Getty Images
The Bears committed nine false start penalties in their last meeting with the Lions.
Granted, Ford Field was a deafening environment for Jay Cutler to try and operate in, but nine false starts is simply inexcusable.
This is an NFL team that should know how to operate a silent snap count.
The Bears massive advantage in time of possession did not matter because they spent so much time going in reverse.
How else can a team have 359 yards of offense and only score one touchdown?
Chicago must make sure the offense spends most of their time moving forward in order to win.
4. Who Will Cause Turnovers?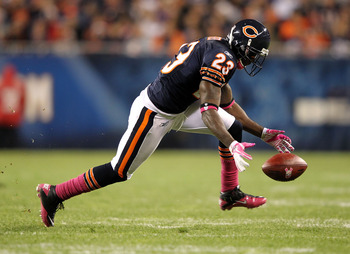 Jamie Squire/Getty Images
Turnovers decide football games.
This fact goes back as far as pigskins and leather helmets.
But there are exceptions to every rule. Sometimes both teams play sound football and largely avoid turnovers.
Such was the case in Week 5 as the Lions and Bears played a game with only one turnover.
That Matthew Stafford interception was irrelevant as the Lions won 24-13.
In their second matchup of the season turnovers will likely matter and whichever team causes more of them is likely to win.
Detroit has to force Jay Cutler to make bad decisions and Chicago must take advantage of the Lions lackluster running game.
It is basic math really.
3. Which Jay Cutler Will Show Up?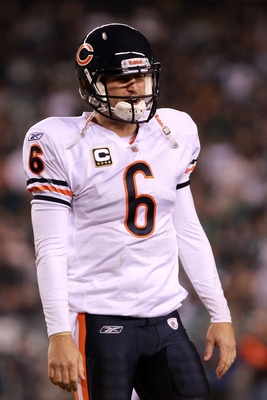 Nick Laham/Getty Images
There are two versions of Jay Cutler.
The one who stands tall in the pocket and delivers a perfectly placed howling spiral to open receivers, and the one who is scared to get hit and loves throwing to opposing defenses.
Cutler is one of the most polarizing figures in the NFL. The guy just lacks any sort of charisma.
Last season he was almost universally shunned on Twitter after leaving a postseason game with a knee injury.
And the way in which he never shows any emotion in front of the press does not help his case.
But the fact remains that he can play when he wants to.
Cutler had a 73.7 completion percentage in these teams' first meeting.
Detroit better hope that version stays home this Sunday.
2. Will Someone Emerge out of the Lions Backfield?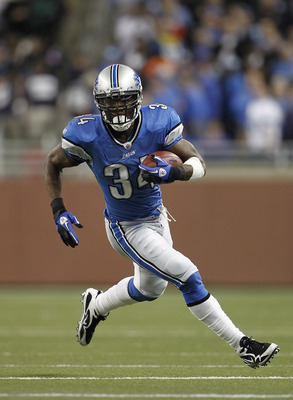 Leon Halip/Getty Images
The Lions backfield is like a revolving door of mediocrity.
Jahvid Best had a great showing against the Bears.
Outside of that no one has performed exceptionally well at any point this season.
Maurice Morris has been average.
Keiland Williams has not seen enough carries to really prove himself.
And Kevin Smith has only just been signed back to the team.
Detroit has clearly shown an ability to win without a running game, but things would just be so much easier if they had one.
Best rushed for 163 yards in that first meeting this season.
Another performance like that out of anyone receiving hand-offs from Matthew Stafford could give this team the balance they crave.
1. Can the Lions D-Line Stop the Run?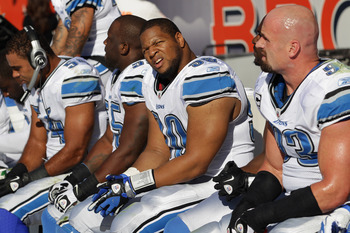 Doug Pensinger/Getty Images
Why aren't the Lions stopping opposing running attacks?
This defensive line is one of the most talented in the league and they have been great at getting to the quarterback.
Yet when it comes to the ground-n-pound they have consistently been on the losing end.
Detroit ranks 28th in the NFL giving up 137 rushing yards per game.
Matt Forte of the Bears had a great performance in these teams' Week 5 meeting but it was overshadowed because Jahvid Best had the most prolific game of his young career.
With Best injured and the Lions running game currently non-existent, the defensive line will have to prevent Forte from averaging another 5.3 yards a carry.
Keep Reading

Detroit Lions: Like this team?