Weekly Roundup: Tides Turning Before Manny Pacquiao vs. Juan Manuel Marquez
November 9, 2011
Markus Boesch/Getty Images
Obviously, the main stories this week are the death of Smokin' Joe Frazier, and anticipation of the most significant fight in boxing this year: Manny Pacquiao vs. Juan Manuel Marquez, to complete one of the finest modern trilogies of boxing.
However, if you're a casual fan, or just happened to miss this past weekend, you'll see that—aside from the loss of a ring legend—there have been some very positive signs for boxing in the recent weeks. 
Some of the headlines:
Smokin' Joe Frazier Passes Away at 67
One of the sport's all-time great fighters, and more importantly, great people, passed away this week at age 67 of liver cancer, just days after it was announced that he had entered hospice care.
Joe Frazier was the first person I ever considered to be my favorite fighter, and I expect an emotional farewell when the memorial 10-count is rung for him prior to the main event this Saturday. Smokin' Joe—you will be missed. More than you ever could imagine.
James Kirkland stuns Alfredo Angulo in Fight of the Year candidate
Bleacher Report recap by Briggs Seekins
A year ago, James Kirkland was the subject of a much heralded return after a two year prison stint for a gun possession charge. Max Kellerman declared him possibly the next great middleweight opponent for reigning champion Sergio Martinez.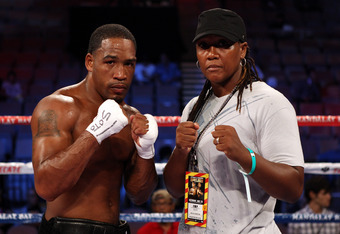 Scott Heavey/Getty Images
Like many recipients of the "Kellerman Curse" (see Jorge Linares, Juan Manuel Lopez, Devon Alexander), Kirkland ended up faltering—getting stunned in a 1st round KO versus unknown Japanese challenger Nobuhiro Ishida.
But Kirkland has given us a good blueprint for how to re-start a career after a crushing loss like that. He brought back long-time trainer Ann Wolfe (former women's champion notable for being avoided by Laila Ali), and has fought three times since his loss this past April.
It turns out third time was the charm. Against rugged, gritty Alfredo Angulo (currently ranked No. 2 light middleweight by Ring magazine), Kirkland went down 30 seconds into the fight and it looked like we might be seeing a repeat of his Ishida fight. However, Kirkland weathered the storm, and about two minutes later, Angulo had punched himself out, and it was Kirkland's turn to knock his opponent to the canvas.
Angulo fought with as much heart as you'll ever see in the ring, but he was simply outclassed and outgunned by Kirkland en route to a sixth round stoppage. Kirkland has re-established himself as a top fighter in the division with this stunning performance in a Fight of the Year candidate.
Main Events Boxing Signs Major Deal with NBC/Versus Sports for 2012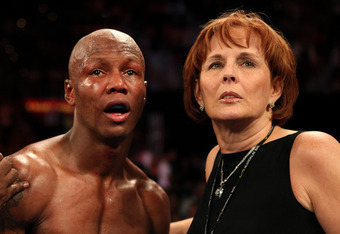 Scott Heavey/Getty Images
Main Events boxing—home of fighters such as Tomasz Adamek and Zab Judah—has signed a deal to have a weekly series of fights aired on Versus and NBC. The series will start January 21, 2012.
This is obviously a great development for boxing—getting some major cable and network coverage will be great for the sport—and more importantly, it cements something I've been saying for a while: Kathy Duva is the best promoter in boxing. She manages to do more with minimal resources than most major promoters can do with a house chock-full of talented boxers. I hope this brings more fighters into Duva's camp—we need some action outside of the Arum and De La Hoya camps.
With the successes of Duva and Wolfe, it was a great week for women in boxing.
Lucian Bute Outclasses Glen Johnson, Awaits Super Six Winner
"The Road Warrior" Glen Johnson is one of the fighters most beloved by boxing fans. The Jamaican-born Miami resident, who turns 43 in a few months, delivers constant action and doesn't back down from any opponent, no matter how steep the odds are against him.
But on Saturday's Showtime card, Johnson was out of tricks against Lucian Bute—widely regarded as one of the two finest super middleweights in the world along with Andre Ward. Bute outclassed and outlanded Johnson in a fight that occasionally looked competitive, but in which Johnson could have lost every single round. Bute was elusive, exciting, quick, and powerful, and though it's clear Johnson has tremendous heart, he might not have the talent anymore to contend with the big stars of the division.
Lucian Bute awaits the winner of the December 17 finale of Showtime's exceptional Super Six tournament, pitting finalists Carl Froch and Andre Ward against each other in an early Christmas present for boxing fans. Bute said he expected Ward to win a decision over Froch, and it's clear that Bute wants a piece of whoever wins the Super Six tournament.