Tampa Bay Buccaneers vs. New Orleans Saints: A (Distant) Fan's Reaction
November 7, 2011
Streeter Lecka/Getty Images
Hello, there, friends, and greetings to you from the Frozen Tundra of Wisconsin!
I have to say this first, as full disclosure is always good, right?
I am a Green Bay Packers fan and have had an on-again/off-again relationship with the team.  However, for about 15 years of my life, I was a die-hard Tampa Bay Buccaneers fan.  You know, the fan that actually wore the pirate ship hat?  Yeah, that was me.
Now, if you are living in the Tampa/St.Pete/Clearwater/Largo area, you probably are saying to yourself right now: "What's the big deal?  I wear the pirate hat!"
But add this to the equation: I have lived in Wisconsin for the past 15 years.  I initially grew up as a Packers fan, moved to Florida and watched the Bucs—then returned to Wisconsin.  Even though I moved back to Wisconsin, the Bucs were my team of choice.
Yes—I wore a Mike Alstott jersey to a Packers-Bucs game at Lambeau Field.  One lone red jersey in a sea of green and gold.  After the Bucs won, much to my glee, I found myself nearly having to flee for my life from a drunken mob of deranged Packers fans. I started to realize my appreciation of the Tampa Bay Buccaneers was possibly life threatening when I had to ride HOME with the drunken mob—a.k.a my family.
That is, until the NFC split happened, and the Bucs went into the NFC South, thereby guaranteeing that I would never again see a Bucs game unless it was on Monday night, or a Packers bye week.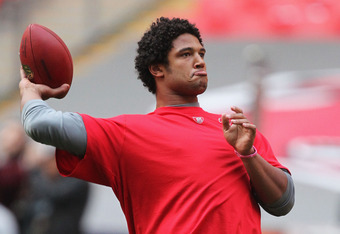 Streeter Lecka/Getty Images
If you have never been to Wisconsin, we take our football very seriously here.  I know a few kids who were named after Brett Favre.  Yes, it is that serious.
After returning to Wisconsin, I decided to watch Packers games just to have football in my life.  And soon, I started to actually cheer for the Packers.  And the next thing I know, I was ASKING for an Aaron Rodgers jersey for Christmas!
With the transformation complete, it was time to address the Bucs situation.  IF the Packers play the Bucs at any time, I am not able to cheer for either side, per my family.  As a matter of fact, I may get kicked out of my house during that game since I was unfaithful to the Packers for about a decade-and-a-half. 
If you have ever been to Wisconsin in November, you know it is a tad bit chilly.  The Packers play the Bucs this year on November 20.  I am not looking forward to this game.
But, I digress.
I watched the Bucs-Saints game yesterday.  And after seeing the behavior of some of the team yesterday, I wondered what in the world was going on?
Josh Freeman was going ballistic.  One member of the offense was being, literally, led to his correct field position by the arm.  The offense looked like they didn't know if they were coming or going.  They couldn't find the end zone to save their lives, and that was troubling.
And Josh Freeman?  A tremendously talented young man, to be sure, but an easily frustrated one.  You, young Freeman, are the leader of your team.  If you get frustrated and start making mistakes, your receivers get frustrated and start dropping balls. This was evident in the many missed opportunities that occurred yesterday.
Take heart, Bucs fans, your team is young and you are building them into a powerhouse who could potentially be playoff, and possibly Super Bowl, contenders in the years to come.  But first, someone needs to tell this young team to calm down.
Raheem?  Are you up for that?