MLB Trade Rumors: Martin Prado Might Be the Tigers' Best Option
November 8, 2011
Joe Murphy/Getty Images
According to MLB.com reporter Mark Bowman, the Atlanta Braves have shown interest in trading Martin Prado and Jair Jurrjens.
If this is true, the Detroit Tigers' Dave Dombrowski should be on the phone as we speak with his Atlanta counterpart, trying to put a deal together.
Here is the quote from MLB.com:
"According to a Major League source, the Braves have already approached some teams about the possibility of trading Jurrjens or Prado. Both players could see their respective salaries rise from the $3 million range to the $5 million range through arbitration this offseason."
If the Tigers are not going to be in the Jose Reyes market, then signing Prado might be the best option out there for them.
He's one year removed from a season with the Braves in which he was arguably their best player, hitting .307 with 15 home runs and earning his first NL All-Star Game selection.
But his 2011 performance was disappointing. Largely due to health-related issues. He started the year trying to recover from injuries suffered at the end of 2010, while trying to learn a new position: left field. But in June he developed a staph infection that kept him sidelined for a month.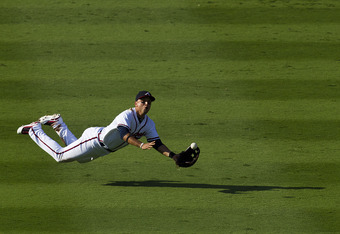 Daniel Shirey/Getty Images
He never recovered, hitting only .244 after the All-Star break.
If you look at his career numbers, you have to believe that performance was an outlier. The Tigers would bank on him putting up numbers somewhere in the middle.
This kind of production would be a revelation at second base!
Some believe Prado could hit leadoff also. He has plenty of experience doing so and he would be an improvement over Austin Jackson. But he lacks the speed of a true leadoff hitter.
He only swiped four bags last year and his career average is five.
Having said that, I believe he could be successful hitting leadoff for the Tigers. He is a contact hitter, with some pop, with a career average of .291 and OBP of .340.
Realistically, he could see increases in both numbers hitting into the vast outfield of Comerica Park—where pop flies turn into bloop singles.
From a financial standpoint Prado makes sense too. It wouldn't cost too much to sign him, and the Tigers wouldn't have to give up a prized prospect to get him.
Prado is from Venezuela, which might make Detroit an attractive destination given its current nucleus of Venezuelan born stars: Miguel Cabrera and Victor Martinez. They would no doubt welcome their countryman with open arms and make him feel right at home.
Others think Jamey Carroll would be the better signing for Detroit, but I disagree.
Carroll's OBP might be better than Prado's, but he gives you very little else. He played in almost every game last year and only had 17 RBI. Plus, Prado is younger and his career average, home run and RBI numbers are much better.
Prado is the better choice for the Tigers. He would address many of their needs simultaneously and has the flexibility of playing multiple positions.
Unlike Detroit's other utility men—Brandon Inge and Ramon Santiago—Prado can actually hit over .250.