WWE: Superplexing Big Show & the 10 Biggest Feats of Strength in WWE History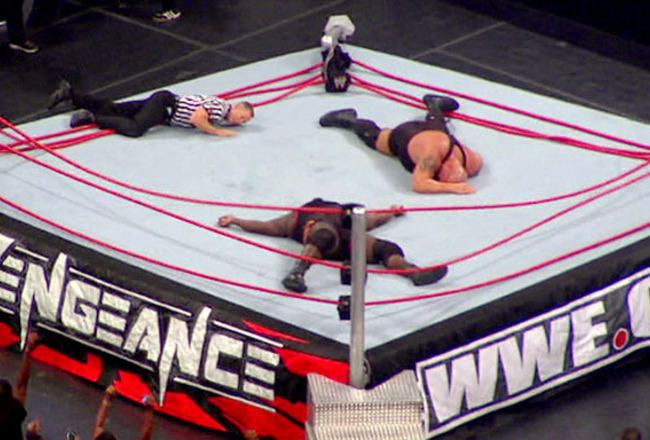 One of the main reasons we watch professional wrestling is that it makes everything seem bigger and better.
Pro wrestlers are typically larger-than-life characters, absolute animals in the gym and superhumanly strong, and we pay $50 bucks to watch them on pay-per-view because we don't think we'll ever see someone like them in real life.
It's not always true, but it often is.
We see these guys do things that almost no average joe can do, and the No. 1 reason why they can do it and we can't is because of the unbelievable strength they possess.
So, let's celebrate the strong men of the WWE today by looking at the 10 biggest feats of strength in WWE history.
10. Goldberg Jackhammers Mark Henry
In the years since he left professional wrestling, Goldberg has developed a reputation as someone who "can't wrestle."
He definitely wasn't the greatest wrestler we've ever seen, but when I was a kid, he was still one of my favorites to watch for one reason: The jackhammer.
The way that Goldberg hoisted up his opponents, held them above his head and then drove them to the mat with such incredible quickness was a sight to see just about every time he did it.
Godberg was able to jackhammer The Giant (a.k.a. The Big Show) while in WCW, but his most memorable jackhammer in the WWE came against the current World Heavyweight Champion, Mark Henry.
Yep, "Sexual Chocolate" got turned into pudding.
9. Dino Bravo Is a Bench-Pressing Beast
At the 1988 Royal Rumble, Dino Bravo loaded a barbell with what he claimed to be 715 pounds and attempted to set the world bench press record.
You can clearly see though, that, his spotter Jesse "The Body" Ventura helped him lift the weight and that there probably wasn't 715 pounds on the bar anyway.
But Bravo was still known as one of the strongest wrestlers around at the time, and he certainly did his part in lifting a lot of weight—no matter how much it actually was.
Even though he wasn't quite as strong as made himself out to be, Bravo used this lift to start referring to himself as "The World's Strongest Man."
Something tells me a certain current WWE star will refute that claim, however.
8. Brock Lesnar and Mark Henry Superplex the Big Show
At last month's Vengeance pay-per-view, Mark Henry superplexed The Big Show in an amazing display of strength that many pundits are saying was a copycat of Brock Lesnar's superplex on Show from 2003.
Yeah, it was. But so what?
It's amazing to watch such a large man like The Big Show take such a big bump from the turnbuckle, and it's even more amazing that Henry and Lesnar were able to help guide him over.
I'm not going to complain if we see this exact same spot eight years from now because it's something that will always stick out in mind as one of those unreal "WTF?" moments.
7. Ezekiel Jackson Body Slams the Big Show
Ezekiel Jackson certainly wasn't the first wrestler to body slam a big man, and he definitely won't be the last.
But his slam on The Big Show from earlier this year was extremely underrated.
Whereas numerous other memorable body slams looked like they were intense struggles, Big Zeke picked up show with relative ease and even held him up for a few seconds before slamming him to the mat.
It was almost as if he was saying, "Anything you can do, I can do better" to those whose famous body slams came before him.
6. Lex Luger Body Slams Yokozuna
On Jule 4, 1993 aboard the U.S.S. Intrepid, numerous men—from professional football players to professional wrestlers—all failed in their attempts to body slam the WWE's resident colossus, Yokozuna.
All except one man, Lex Luger.
Though some might say that Luger's slam looked weak or that he got too much assistance from Yokozuna, I don't think they realize exactly how much strength it took for Luger to do that.
Wrestling is all about guys helping make each other look good, and that's what Yokozuna did here.
But give Luger some credit, because he was the one who did most of the work and one of the few guys in wrestling history who could have pulled that move off.
5. Brock Lesnar Hits F5 on Mark Henry and the Big Show
There's no other way to put it—Brock Lesnar is an absolute monster.
I don't think there's ever been a wrestler who showed the brute force and strength that "The Next Big Thing" showed on a consistent basis. He looked like he could pick up a house and move it himself if he really needed to.
While he may not have actually done that, he came pretty close.
During his brief run in the WWE, Lesnar hit his F5 finishing maneuver on just about everyone who came into his path, and that list included some of the biggest behemoths in company history.
Just ask Mark Henry or The Big Show.
4. John Cena's Unbeliable FUs
John Cena is often called "Super Cena" in a derogatory manner because of the way he often comes back in magical fashion during his matches.
But he could just as easily be called that because his strength rivals that of Superman himself.
At Wrestlemania 25, Cena managed to hoist both Edge and The Big Show on his shoulders before hitting Show with a huge FU. Though he only managed to hold up Edge for a few seconds before he fell off, I don't care—and unless you can put 700 pounds on your shoulders, then neither should you.
I know, though, that some of you won't be all that impressed by Cena's FU, so take a look at this one or this one or this one.
If you still aren't convinced that Cena's got a ton of strength, you're just a Cena-hater.
3. Hulk Hogan Body Slams Andre the Giant at Wrestlemania III
Hulk Hogan's body slam on Andre the Giant at Wrestlemania III is the single most iconic moment in the history of professional wrestling.
Nothing has ever topped it. Nothing ever will
2. A Jeep Is No Match for the Big Show
Yes, this list could almost exclusively feature The Big Show, but anytime you have a man of his size working for the WWE, you can only expect big things to happen.
And you can almost assume that almost any type of vehicle is no match for The Big Show.
The guy was actually able to push over a Jeep that Michael Cole says weighed 4,400 pounds. I mean, I don't really like to believe anything that Cole says, so I wonder if that's really how much the Jeep weighed.
If so (and probably even if not), The Big Show's strength is absolutely ridiculous.
1. Brock Lesnar Hits a Running Powerbomb on the Big Show
I feel like no one ever talks about this move, and I have no idea why.
Think about it—Brock Lesnar picked up The Big Show, put him in position for a powerbomb, actually ran across the ring while still holding Show and then power bombed him.
How freaking sick was that?
I don't know how one man can show three outrageous displays of strength in a five-second clip, yet that's exactly what Lesnar managed to do.
I'm pretty sure we'll never see anyone like him in the WWE ever again.
Keep Reading