Miami Dolphins: Brandon Marshall-Vontae Davis Fight Means Sparano Must Go
November 7, 2011
Nick Laham/Getty Images
The Miami Dolphins won on Sunday, but head coach Tony Sparano may have lost his locker room during a practice earlier in the week.
According to Jeff Darlington, reporter for NFL.com, Brandon Marshall and Vontae Davis got into a huge scuffle after it was revealed that Davis and some other players spent a late night out before an important practice.
Marshall took offense to this and told Davis that he was unprofessional for partying when the Dolphins had yet to win.
After a heated verbal exchange, Marshall launched a football from close proximity right into the CB's face and sources say that Davis had to be restrained from "ripping Marshall's head off for crossing the line."
Davis ended up missing the trip to Kansas City for "non-injury" reasons while Marshall helped the Dolphins get their first win of the season in a 31-3 blowout against the Chiefs.
Marshall had eight receptions for 106 yards and a TD, showing that he might have been right to take the practices seriously and is proving that he leads by example and isn't afraid to call out the lazy players who don't care on his team.
Why is Marshall taking it upon himself to do this though? Should this not be coach Sparano's job?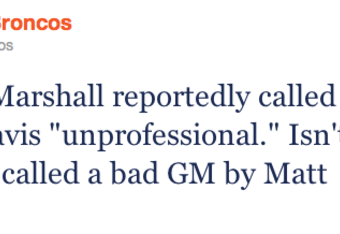 Of course it is. Unfortunately for Dolphins fans, it seems that the ownership is too delusional to fire him or really believe that they are in full "Suck for Luck" mode and Sparano gives the team the best chance to lose.
Whatever the reasons are, Sparano is certainly not doing his job and Marshall is doing a better job of rallying the troops and enforcing curfews than a man who is paid to do that as well as draw up the game plan.
I almost think Marshall should start calling the plays at this point, as anyone could be a better coach than Sparano this season.