Oklahoma Sooners Football: Top 5 Adrian Peterson Runs of OU Career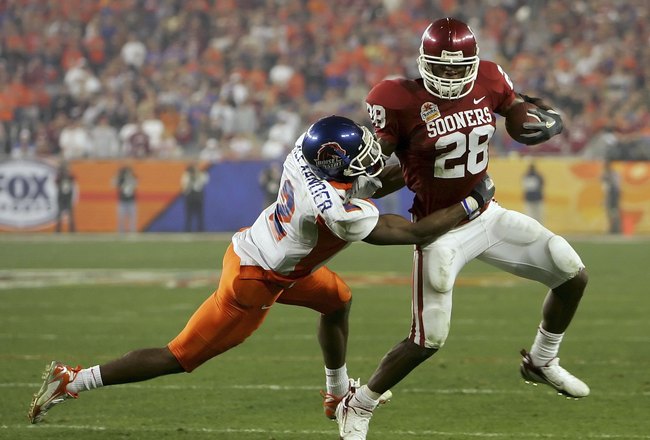 Jonathan Ferrey/Getty Images
Sooners fans will never forget the splendid career Adrian Peterson had at OU. In his time at Oklahoma, just shy of three full seasons, he electrified everyone around him en route to 4,045 rushing yards and 42 total touchdowns.
Peterson's highlight runs from his days at OU are in ample supply. But, to make things interesting, here are the top five runs of his glorious days in Norman.
5. 69-Yard Receiving Touchdown vs. UAB-September 2, 2006
Peterson's only collegiate receiving touchdown was a memorable one. Just one cut to the outside and a nice block was all he needed before his blazing speed took over and humbled the Blazer defense.
Note: The run can be found at the 1:17 point in the video.
4. 32-Yard Touchdown vs. Colorado-December 4, 2004
Although this touchdown was only from 32 yards out, it was one of the most impressive runs of Peterson's OU career because of the sheer domination he exhibited. He broke no less than five tackles, the last one with a beautiful stiff arm, to seal the deal against Colorado in the Big 12 Championship Game.
3. 41-Yard Touchdown vs. Tulsa-September 10, 2005
He only broke three tackles on this one ("only" is a relative term, of course), but the sheer grace and poetry of this run are simply overwhelming. Three times Adrian Peterson was tested, and three times Peterson punished.
2. 84-Yard Touchdown vs. Oklahoma State-November 26, 2005
Pure speed was all it took here. No moves were necessary; that's how overwhelming AD's speed was to the OSU defense. Enjoy.
1. 80-Yard Touchdown vs. Oklahoma State-October 30, 2004
A rare execution of the spin accounted for Peterson's most memorable run as a Sooner. In a big game late in his freshman season, he took the pitch from Jason White, eluded about five defenders with the beautiful spin and simply outran the rest of the Cowboy defense for an 80-yard touchdown. Not a bad start for his first Bedlam Game.
Honorable Mention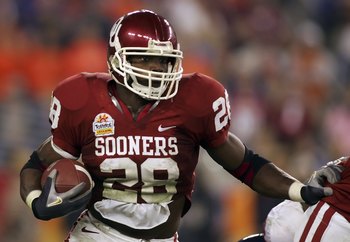 Jonathan Ferrey/Getty Images
1. 44-yard run vs. Texas, 2004
2. 53-yard touchdown vs. Iowa State, 2006
3. 25-yard touchdown vs. Boise State, 2007
Keep Reading

Oklahoma Sooners Football: Like this team?