Toronto Maple Leafs Goaltending: How Brian Burke Is Building from the Back
November 7, 2011
Kevin C. Cox/Getty Images
The Toronto Maple Leafs are currently atop the NHL, dominating when no one thought it was possible.
James Reimer, Jonas Gustavsson and Ben Scrivens have all started between the pipes this season and represent the future of goaltending in Toronto. And the future looks bright. 
Toronto now has five legitimate goaltending prospects in their system (Jussi Rynnas and Mark Owuya with a few others around for depth) and it has created a stable backbone from which the organization will grow.
Toronto GM Brian Burke has noted this backbone ("Build from the net out") as an important part of building a franchise. Yet, he hasn't wasted resources/assets in achieving it; he didn't use high draft picks or trade away talent for goaltending. Look at Reimer. He was a fourth-round pick by the Leafs. What a steal!
The biggest avenue of acquiring goaltending depth for the Leafs though, was free agency and the signing of undrafted young talent.  
One of the reasons these free agent goalies are signing with Toronto is to be taught by the likes of Francois Allaire. Allaire mentored Patrick Roy and pioneered the butterfly goaltending style. He knows how to coach big athletic goalies into NHL talent. He has the pedigree and players want his coaching. 
Gustavsson, Rynnas, Scrivens and Oduya all signed with the Leafs, and Allaire probably had something to do with it. All these guys have high ceilings when it comes to potential.
Let's take a closer look at each goalie.
Ben Scrivens
A standout at Cornell University, he never got the opportunities in Canada to make it as an elite goaltender. He only started to compete at a high level as a walk-on at Cornell, and has proved many doubters wrong in the process. Not the best athlete by any means, if you were to meet him on the street, you'd question his professional athlete build. But make no mistake about it, the guy is an elite prospect and is very coachable.
Jonas Gustavsson
Once hailed as the top goaltender outside the NHL, and a player with a bright future ahead of him, Gustavsson has never reached his potential. With many serious setbacks, including heart procedures and various injuries, he hasn't had long stretches to get consistent in his play. Still looked at as a prospect, his potential to be a  No. 1 goaltender is dropping, and fast.
Jussi Rynnas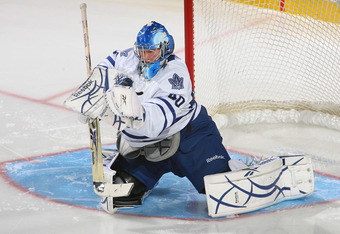 Rick Stewart/Getty Images
A Finland native, Rynnas was not considered a high-level prospect as a youth player. He went undrafted and ended up playing third division hockey in Finland. This rapidly changed as he made his way into a starting role for a top Finnish league team, attributed to him finally filling out into his huge frame. NHL teams lined up for his signature, and he eventually chose Toronto as his successful suitor.
Mark Owuya
Maybe known to some as "Mark In Da Park" (from his rap fans), Owuya is the most recent addition to the depth charts. The eccentric goaltender is as athletic as they get. He is still raw, but after playing some good hockey in Sweden, Toronto management hopes he can continue to form his game around the butterfly style. He could be unreal!
James Reimer
As solid as they come, Reimer has taken Toronto by storm. His composure is second to none and his game is based on great body positioning.
He has become a fan favourite and there hasn't been a more likeable guy since the likes of Mats Sundin and Tie Domi took to the ice at the ACC. As long as Reimer can stay healthy, he has a chance to be the No. 1 guy here for a long time. 
This is depth, folks.
This is how you build a team. Clearly all these guys can't (and won't) fit into the future plans of the team, but as they mature their value will skyrocket. They will become valued assets and have high returns. They are investments that Toronto can use to continue to build their team both now and in the future.
What do you think the depth chart should look like in Toronto?