Virginia Football: What Will David Watford's Future Be?
November 6, 2011
Joel Auerbach/Getty Images
Lost in all the hoopla of Virginia's bowl eligibility for the first time since 2007 is the handling of true freshman David Watford.
While the Cavaliers were celebrating their sixth victory and an outside chance of claiming the Coastal crown of the ACC, Watford could only sit and wonder whether the rebirth of Virginia's program will include him in the plan.
Watford came into Virginia with lofty expectations. As a grey-shirt, head coach Mike London got an early glimpse at the promising youngster. His mobility was impressive but so was his ability to pick up the playbook.
So enamored with Watford was London that he climbed his way up the depth chart and even made him a guaranteed factor in the quarterback rotation.
London believed so much in his play-making ability that he forcibly inserted Watford into the line-up in every single game this season, even to the detriment of the Virginia offense.
Before the game, the Virginia coaching staff selected certain drives that would be Watford's. When the staff was ignoring the previous success or failures of the earlier drives, Watford became the goat instead of the hero.
The offense stagnated and Virginia appeared on the precipice of throwing away a promising season.
The chaos climaxed in the Southern Mississippi game when starting quarterback Michael Rocco was benched in the second half after throwing three interceptions.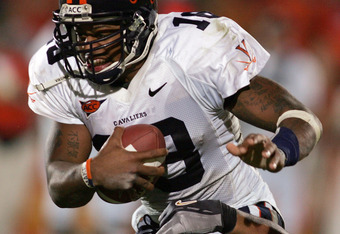 Doug Benc/Getty Images
Watford knew this was his chance and he nearly pulled it off with a late drive. However, before he wowed fans with his legs and strong arm, Watford showed great inconsistency connecting on his targets.
The following week against Idaho, Watford and Rocco were switched at will and although the true freshman led the game-winning drive in overtime he was also 10-of-20 for 95 yards with a touchdown and an interception.
The truth is that Watford's number have not gotten better with more experience, they have gotten worse.
Against Georgia Tech, Virginia got out to a 14-0 lead before finally breaking tradition and letting Rocco play the fourth drive of the game. As a reward, Rocco threw a pick six and the quarterback carousel was back into motion.
It took a poor showing against North Carolina State where the Virginia offense could only muster 249 yards before coach London finally made a change.
He picked a quarterback decisively and that choice was not the one Watford wanted to hear.
The true freshman could only sit back and hear his coach say that he did not want to overwhelm him early on his career.
College football is full of scarred quarterbacks who were not given the right culture to succeed.
Since leading Virginia to an overtime victory against Idaho, Watford is five-of-21 with one touchdown and three interceptions.
Watford played one snap against Miami and against Maryland rushed for minus seven yards and had a costly fumble in the red zone.
His counterpart, on the other hand, threw for over 300 yards against the Terrapins and looks to be rewarding coach London for believing in him.
Considering that Rocco is just a sophomore and that Virginia has a highly touted quarterback prospect Greyson Lambert coming into Charlottesville, what does the future hold for a regressing Watford?
Maryland is perfect evidence that college football is a fickle game. Danny O'Brien went from ACC Freshman of the Year and a leader of a team that won nine games, to a man fighting for his job.
Watford, however, need only look to Virginia to see the two routes he could go.
Marques Hagans, a current graduate assistant who graduated from the same high school as Watford, had a similar journey.
Hagans started as a true freshman in the opening game of the season in 2002, nearly willing the Cavaliers to victory before being supplanted by future ACC Offensive Player of the Year Matt Schaub.
Rather than whine, complain or transfer, Hagans made the transition to wide receiver for two years before becoming the starting quarterback in 2004-05.
Hagans led Virginia to two bowl games and only the second victory against Florida State in school history.
Bryson Spinner was another young quarterback involved in a two-horse race with Matt Schaub. Spinner went 5-1 in 2001 as the starter, including a dramatic victory against Georgia Tech on a hook-and-ladder play. Still, the lack of consistent playing time took its toll on the young talent.
Spinner could not handle sharing the load and transferred to Richmond. There his numbers actually got worse, throwing more interceptions than touchdowns and never realizing his potential.
Both men had promise, both had bright spots in their Virginia careers but while will go down as one of the greatest athletes in program history, the other is a cautionary tale of what could have been.
Watford now finds himself at an eerily similar crossroads. Will he find a new road out of Charlottesville like Spinner, or will he bide his time and find his moment to make an impact on the program like Hagans?
Watford is lucky to have many teammates from the same area and an assistant coach who faced a similar challenge.
Still, if this season has proven anything, no one knows what the future has in store.