Ohio State Football: Winners and Losers from the Buckeyes' Win over Indiana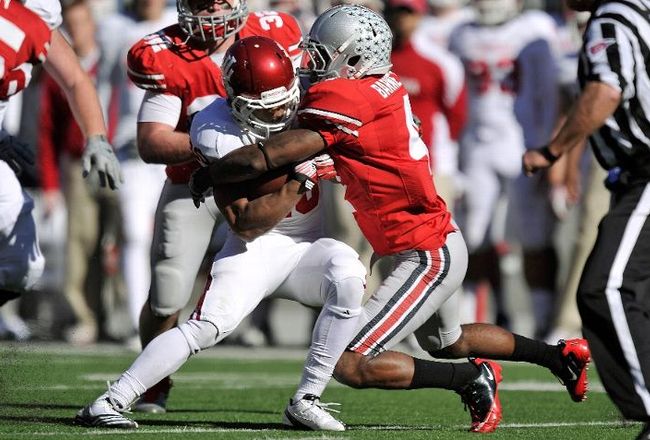 Ohio State football survived a close call against Big Ten opponent Indiana with winners and losers to tell the story.
The Buckeyes (6-3, 3-2 Big Ten) won 34-20, but they needed some late heroics to wrap up what should have been an easy victory against a horrid Hoosiers team (1-9, 0-6).
Which Buckeyes came out as winners, and who else came up short?
Winner: RB Carlos Hyde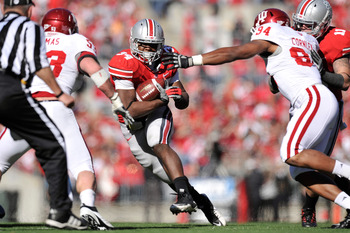 Jamie Sabau/Getty Images
It almost seemed Ohio State sophomore running back Carlos Hyde disappeared when senior running back Dan Herron returned from his five-game suspension.
The coach staff buried Hyde on the depth chart, giving him three carries against the llinois Fighting Illini and zero against the Wisconsin Badgers.
Against the Indiana Hoosiers, Hyde finally got a chance to shine. The 6'1", 238-pound back pounded for 105 yards on 15 carries, including a 47-yard run.
Hyde's biggest carry was a 2-yard touchdown to make it 34-20 Buckeyes with under three minutes in the fourth.
With Herron graduating, the Buckeyes need to give Hyde more touches since he and junior running back Jordan Hall will take over in 2012.
Loser: QB Braxton Miller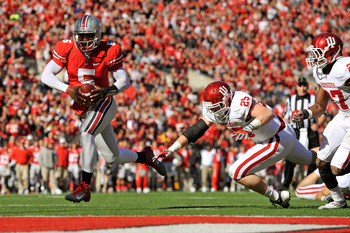 Jamie Sabau/Getty Images
Ohio State Buckeyes quarterback Braxton Miller had a great game on the ground (105 yards, two touchdowns), and his team had a run-first offensive game plan.
However, Miller did not take advantage of his few passing opportunities against an unimpressive Hoosiers secondary.
Indiana's pass-defense was ranked 62nd in the nation, giving up more than 220 yards and two touchdowns a game through the air.
Miller was 5-of-11 for 55 yards and threw an interception to Hoosier junior defensive back Alexander Webb in the third quarter. That was Webb's first career pick.
In the first, Miller fumbled the ball after a sack that Indiana senior linebacker Jeff Thomas recovered.
The freshman is gaining valuable experience this year, but he needs to really work on his passing so he can become a more complete player.
Winner: CB Travis Howard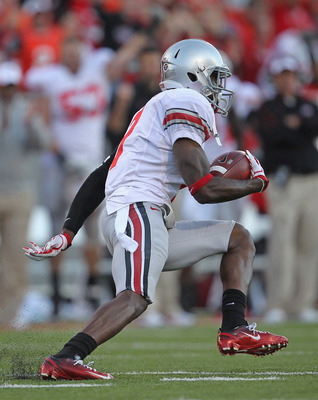 Jonathan Daniel/Getty Images
Ohio State's Travis Howard may have saved the game for the Buckeyes.
The junior cornerback intercepted Indiana freshman quarterback Tre Roberson at the Ohio State 28-yard line with 4:07 remaining in the fourth. Roberson and the Hoosiers were driving at the Ohio State 44, down 27-20.
The interception was Howard's second of 2011 and the fourth of his career.
Loser: The Offensive Line in Pass Protection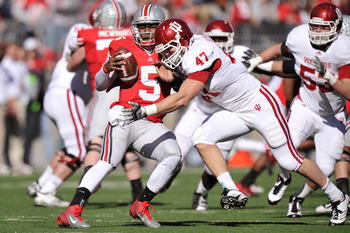 Jamie Sabau/Getty Images
The Indiana Hoosiers' defense is simply horrible, so Ohio State's offensive line was primed to dominate Indiana's defensive line.
The Buckeyes' O-line did a great job in run protection (346 yards and four scores), but the unit fell short in protecting freshman quarterback Braxton Miller.
Miller was sacked five times and lost a fumble on a vicious hit from Indiana freshman defensive lineman Bobby Richardson.
The line needs to protect Miller better, especially when the Buckeyes face the Penn State Nittany Lions Nov. 19.
Winner: DT John Simon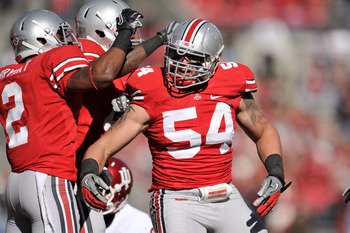 Jamie Sabau/Getty Images
Junior defensive tackle John Simon continues to have a solid season.
Simon was one of the lone bright spots for a Buckeyes' defense that did not play well against an offensively weak team in the Indiana Hoosiers. He had 10 tackles (three for a loss) and a sack.
In 2011, Simon has 39 tackles (12 for a loss) and six sacks.
If he continues dominating, Simon could be a strong candidate for Big Ten Defensive Player of the Year.
Loser: Ohio State's Defensive Unit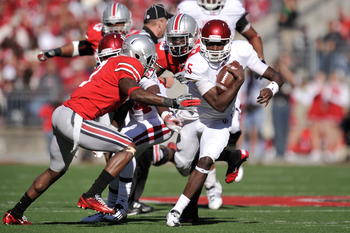 Jamie Sabau/Getty Images
While juniors John Simon and Travis Howard had nice performances, the Buckeyes' defensive unit was not impressive as a whole.
The unit can be wildly inconsistent. Ohio State shut down the Illinois Fighting Illini to a lone touchdown Oct. 15 and contained an explosive Wisconsin Badgers offense to 29 points last week.
The Indiana Hoosiers struggle to put points on the board, but they scored 20 points and were primed to tie the game late in the fourth quarter if not for Howard's pick.
Indiana freshman quarterback Tre Roberson had 244 total yards (174 passing, 70 rushing), while having a passing touchdown. Overall, the Buckeyes allowed 159 yards on the ground.
The Hoosiers do not have any impressive receivers, but sophomore Kofi Hughes sure played like one, with eight catches for 147 yards and a touchdown. Before Saturday, Hughes struggled with 12 catches for 151 yards and a score.
Bob Bajek is a writing intern at Bleacher Report. He is also a freelance reporter and can be followed at Patch.com and Twitter.
Keep Reading

Ohio State Football: Like this team?