UFC 138: Mark Munoz vs. Anderson Silva Head-to-Toe Breakdown
With his impressive victory over Chris Leben at UFC 138, Mark Munoz should definitely be considered "in the mix."
Munoz brings an exciting fighting style that's highlighted by some of the most vicious ground and in the UFC today. He also has a very likable personality and provides the UFC with an outlet into the Filipino market.
He could find himself next in line for a title depending on what happens with the Chael Sonnen situation. With that in mind, how does the Filipino Wrecking Machine stack up against the Spider?
Striking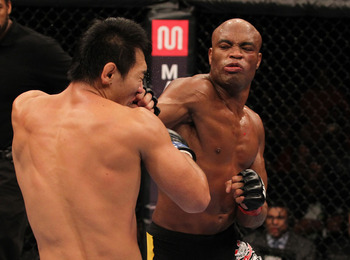 Anderson Silva is the apex of striking in MMA. He's virtually untouchable when the fight is on the feet. He has Matrix-like reflexes and has pinpoint punches and kicks.
We haven't seen Silva fight in the clinch, but no one should forget Silva's powerful knees.
Mark Munoz has been developing his striking as each fight progresses. He still has the tendency to wind up from his waist and attempt to put everything behind one swing.
He has powerful strikes but doesn't work combinations enough to be as effective as he should be.
Advantage: Silva
Clinch Fighting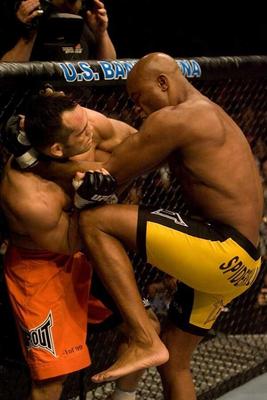 We haven't seen Anderson Silva be forced into a clinch battle in quite some time. He was briefly put against the cage by Yushin Okami, but Okami was unable to mount any offense from that position.
Mark Munoz usually ends up in the clinch as a result of some sloppy striking exchanges or from a failed takedown.
He usually works heavy body punches and rips through his opponent's ribs. Munoz would need to take Silva down immediately in order to avoid the Spider's deadly knees.
Advantage: Silva
Wrestling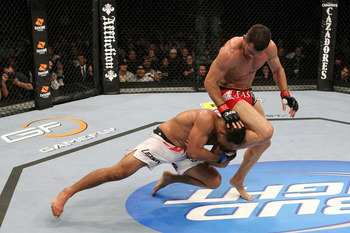 Anderson Silva's main weakness is wrestling. For years now, fans have known the best way to defeat him is to take him down. Silva was taken down at will it seemed by Chael Sonnen, but Sonnen also possesses some of the best wrestling in all of MMA.
When Dan Henderson became the first man to win a round (yes, that's an accomplishment in the UFC) against Silva in the UFC, it was due to his being able to take the Spider down.
Mark Munoz has an excellent wrestling background. Unfortunately, that hasn't translated into an excellent "MMA wrestling" base. Munoz's takedowns routinely look sloppier as the fight goes along.
If he could mix his strikes in with his takedowns better, he wouldn't have to scramble from the bottom.
Advantage: Munoz
Submissions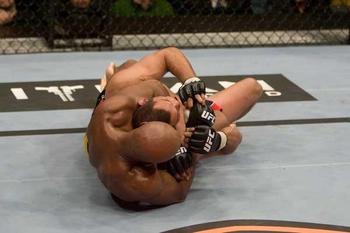 Anderson Silva has a black belt in Brazilian jiu-jitsu and has won six of his bouts by submission. He's shown the ability to submit people not only from offensive positions (Dan Henderson; rear-naked choke) but also from his back (Chael Sonnen/Travis Lutter; triangle choke).
Silva would prefer to keep the fight standing, but he no doubt would feel confident if Munoz were to take him down.
Munoz hasn't won a fight yet by submission, but that's not due to a lack of knowledge. He would rather just rain punches than work for a submission.
I give Munoz props for avoiding the jiu-jitsu game of Demian Maia. It's the only thing that gives me hope that he could survive the Spider's attack.
Advantage: Silva
Prediction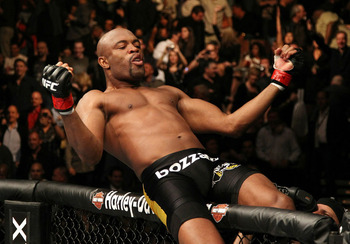 To be honest, Munoz doesn't have a chance against Anderson. Munoz would need to land a lucky haymaker or somehow manage to get a TKO.
Silva would more than capable of keeping the fight standing and dismissing Munoz in a short amount of time.
Munoz has the wrestling and offense to beat Silva on the ground, but his takedowns need a lot of work if he wants to dethrone the 185-lb king.
Keep Reading