Ryan Broyles Injury: Torn ACL Will Shatter an Already Broken Sooners Season
November 6, 2011
Doug Benc/Getty Images
The Oklahoma Sooners season just went from broken to shattered with the news that star wide receiver Ryan Broyles will end his season.
The sad news is that not only will this end the season for Broyles, but it will be the final note of the tune that was his career at Oklahoma.
KOCO Oklahoma City reports on Broyles' injury:
The all-time leading receiver in NCAA history, Oklahoma's Ryan Broyles, suffered an ACL injury during a 41-25 win over Texas A&M on Saturday, the university confirmed.

The injury not only ends Broyles' season, it ends his college career.

Broyles bypassed the NFL draft this year to play his senior season for the Sooners. He came to Oklahoma by way of Norman High School and was the subject of a recruiting battle between the Sooners and Oklahoma State Cowboys. It was long thought he would sign with the Cowboys until, at the last moment, he committed to Oklahoma.

The OU star is projected to be an NFL pick perhaps in one of the early rounds.
This is horrible news for Broyles and his teammates, who will dearly miss his presence on the field moving forward.
It could be argued that Broyles is the piece of the Sooners offense that allows it to run so smoothly. He spreads the field for the running game and makes quarterback Landry Jones look good with some of the catches he makes.
The Sooners should be able to survive without him against Baylor and Iowa State, but their season ending matchup with the No. 3 Oklahoma State Cowboys is going to be quite a challenge without his down-field presence.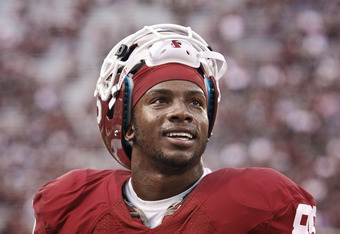 Brett Deering/Getty Images
With one loss Oklahoma is definitely hurting, but they still had a shot to rectify their season by beating the Cowboys at the end of the year.
It was a goal worth playing for, but without Broyles on the field, it's going to be a goal that will be very hard to reach for the Sooners.
Finishing his career with 347 catches, 4,499 yards and 45 touchdowns, Broyles will undoubtedly go down as one of the better receivers to play at the collegiate level.