Virginia Football: How the Cavaliers Beat Maryland and Became Bowl Eligible
November 6, 2011
Joel Auerbach/Getty Images
The Cavaliers needed a half to get going, but now they are bowl eligible for the first time since 2007.
Entering 2011, Virginia had not won an ACC road game since 2009 when they defeated Maryland at Byrd Stadium.
Now the Cavaliers have won two big road games in a row with a 31-13 shellacking of the Terrapins.
Virginia, a team that needed overtime to beat Idaho at home, actually controls its destiny in the ACC Coastal Division. They have won their first game in November in four years.
What happened to a program that had one ACC victory last season?
Well, one thing is that the Cavaliers have found an identity.
Head coach Mike London needed to change the culture after a three-win season in 2009 under former coach Al Groh.
London brought in a pro-style offense, a 4-3 defense and has used his passion and enthusiasm to bring in good recruiting classes along the way.
This year, Virginia has been built on its running game. The three-headed monster of Perry Jones, Clifton Richardson and Kevin Parks make the Cavaliers a threat on offense for the first time in a long time.
Against the Terrapins, the Cavaliers rushed for 220 yards. It was the third time in the last four games that Virginia has run for over 200 yards in a contest. This allows them to run out the clock and impose their will with an experienced and big offensive line.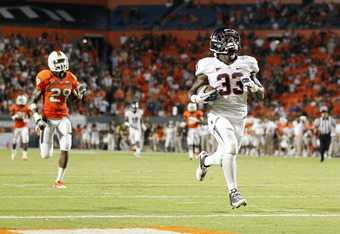 Joel Auerbach/Getty Images
Second, Virginia has chosen a quarterback.
The Cavaliers played the shell game throughout this season between Michael Rocco and David Watford.
Rocco has started every game but the forced insertion of Watford sporadically and unpredictably made for an inconsistent attack.
After Virginia lost at home to North Carolina State, London finally committed to the sophomore Rocco and the Cavaliers have not looked back.
Two big road victories and the Virginia Cavaliers actually control their destiny in the topsy turvy ACC.
The Cavaliers have more than just wins, they have a winning attitude. They know that while they are flawed, that their strengths can make them competitive.
The insertion of the true freshmen are now paying dividends late in the season.
Cornerback Demetrious Nicholson has benefited under the tutelage of future NFL player Chase Minnifield.
Darius Jennings and Dominique Terrell are becoming more acclimated to the college game and may be poised to take a step forward.
Sophomore wide receiver Tim Smith took a big step forward this weekend with five receptions for 101 yards.
In summary, Virginia looks like a bowl team. They play hard, they play to their strengths and they know how to come back from challenges.
The Cavaliers have already achieved on November 5th their goal for the entire season, to become bowl eligible.
They have won more ACC games already than they have since 2008.
Now that coach London has the team ahead of schedule, can they overachieve and really make some noise down the stretch?
If so, Virginia's victory against Maryland will be much more than just a win on some box score.
It could be the beginning of a new era.