Wilkes-Barre/Scranton Penguins News and Notes: Nov. 4, 2011
November 4, 2011
The Wilkes-Barre/Scranton Penguins get to start off November in a big way, as they are returning home to Mohegan Sun Arena for the first time in three weeks. The Penguins are the only team in the American Hockey League without a home win, and they will be looking to change that tonight.
So what do you have to look for as the Penguins kick off the month with a trio of divisional games?
Keep reading and get caught up on all the latest news in this week's edition of Wilkes-Barre/Scranton Penguins News and Notes.
Road Warriors
The Penguins maintained their perfect road record last weekend, starting with a 5-3 win against the Syracuse Crunch at Onondaga War Memorial on Friday.
Jason Williams scored his first goal in a Penguins uniform, and Geoff Walker gave the Pens a 2-0 lead with four minutes left in the first period.
Peter Holland of the Crunch tied the score with two goals six minutes apart in the second period, but in the third, Nick Petersen broke the tie 51 seconds into the period. Brandon DeFazio scored a minute later to make the score 4-2.
Although former Penguin Jean-Francois Jacques scored a shorthanded goal at 3:51 of the third, Syracuse would not pull any closer. Eric Tangradi got the win with an empty-net goal with 12 seconds left in the game.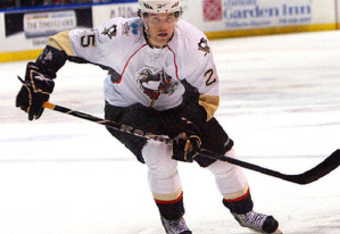 On Saturday, the Penguins defeated the Manchester Monarchs by a score of 4-1. Brian Gibbons led the way with three points, while Tangradi, Petersen and Niko Dimitrakos also scored. Colin McDonald had two assists in the win as the Penguins won their fifth-straight away from Wilkes-Barre.
Walker Day-to-Day and Other Injury Updates

Geoff Walker suffered an injury in the first period of Saturday's game with Manchester and did not return. It was later announced by Jonathan Bombulie of The Citizens Voice that he is day-to-day with a shoulder injury.
Walker, who has five points in nine games this year, is not expected to play in this weekend's contests with the Hershey Bears and Binghamton Senators.
Bombulie also reported that Matt Rust has been cleared to return after fully recovering from a small fracture in his hand. Captain Ryan Craig, who is recovering from knee surgery, is skating in a red no-contact jersey. There is currently no date for his return.
Picard Called Up to Pittsburgh
On Thursday, the Pittsburgh Penguins recalled defenseman Alexandre Picard. Picard was likely brought up as an insurance policy in case Kris Letang could not play in last night's Penguins game against the San Jose Sharks.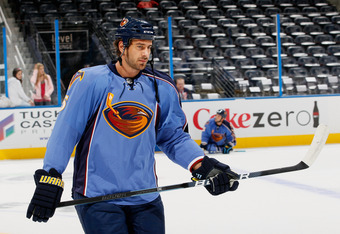 Kevin C. Cox/Getty Images
Picard had three assists and a plus-seven rating in nine games with Wilkes-Barre before being called up. He has previously played in the NHL for the Ottawa Senators, Tampa Bay Lightning and Montreal Canadiens.
Picard could likely be up longer than expected now that defenseman Ben Lovejoy has a broken wrist.
Boris Valabik Clears Waivers
Defenseman Boris Valabik, who signed with the Penguins this past summer, cleared waivers earlier this week and was assigned to Wilkes-Barre/Scranton. However, he is not yet ready to play due to a knee injury. He is practicing with the team, though, and a return date will be set when he is closer to getting into game shape.
Before coming to Pittsburgh, Valabik was part of the Atlanta Thrashers organization. He has seven assists and 210 penalty minutes in 80 NHL games.
He spent last season with the Chicago Wolves and the Providence Bruins of the AHL. In 59 games, he had 11 points and 189 penalty minutes.
Current Record and Upcoming Schedule
The Penguins currently have a record of 5-2-1-1, good for 12 points and third place in the AHL's East Division.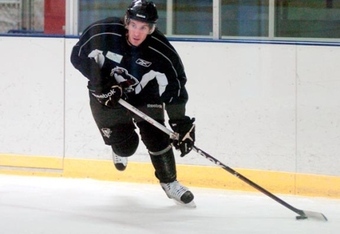 Their next five games are as follows:
Friday, Nov. 4: vs. Hershey Bears, 7:05 p.m.
Saturday, Nov. 5: at Binghamton Senators, 7:05 p.m.
Wednesday, Nov. 9: at Norfolk Admirals, 7:15 p.m.
Friday, Nov. 11: at Hershey, 7 p.m.
Saturday, Nov. 12: vs. Norfolk, 7:05 p.m.
As always, fans can listen to the game on 102.3 the Mountain, the Penguins' flagship radio station. Tom Grace will call the action, and Mike O'Brien will act as color commentator.
The game can also be viewed on AHL Live for the cost of $6 per game. A variety of season packages are available as well. 
This article also appears on Bottom Line Hockey.