Nebraska Football: Will Defensive Success Continue Against Northwestern?
November 4, 2011
Eric Francis/Getty Images
The Nebraska Cornhuskers are coming off their best overall win of the season, a surprise 24-3 win over the Michigan State Spartans, the same team that upset the Wisconsin Badgers, who thumped Nebraska earlier in the year.
The Blackshirts showed signs of life against the Spartans after struggling to some extent in the previous seven games. They held Michigan State to three points and 187 total yards, far below both teams' average in both categories.
As Nebraska prepares to take on the Northwestern Wildcats at home this weekend, people will be wondering whether the defensive dominance was just a mirage, or whether they finally did wake up and start playing up to their potential.
Despite the fact that the Blackshirts have had a lot more struggles than success this year, I don't think last week's performance was a fluke.
Although Michigan State is not known for great offense (they are 60th, 81st and 73rd in passing, rushing and scoring offense, respectively), Nebraska's performance was extremely encouraging because of their performances against offenses similar to or worse than Michigan State's.
The Huskers have struggled against other average offenses earlier in the year, giving up 29 points to Fresno State, 38 points to Washington, 14 points to Wyoming and Minnesota and 27 points to Ohio State.
Despite the Spartans' struggles to get numbers, offensive weapons such as Kirk Cousins, BJ Cunningham, Le'Veon Bell and Edwin Baker cannot go unnoticed, and you have to think this team would have marched all over the Blackshirts a few short weeks before.
Husker coaches credited the performance to a great week of practice, and claimed that the light finally came on for many young Huskers, such as cornerback Andrew Green, who had a phenomenal game. The defense finally started playing like a single unit rather than a bunch of talented individuals.
With a performance like that comes confidence, and with confidence generally comes much, much better on-field play. 
The Blackshirts were playing cautiously in weeks before, but if they continue to play with confidence and aggressiveness, this will be a completely different unit in the second half of the season.
That shouldn't be too difficult with linebacker Lavonte David continuing to play at a high level and cornerback Alfonzo Dennard seemingly back to his old self. David continued to be his dominant self, while Dennard had an extra pep in his step that we haven't seen from him since the 2010 season.
The rest of the young defense followed Dennard's example and showed how much of a difference a little bit of swagger can make.
The Blackshirts will be tested more heavily this week as they take on the Wildcats of Northwestern, and we'll see whether or not they are truly back.
The Wildcats are ranked 49th, 35th in passing and rushing offense and score 31.6 points per game, but those numbers don't really do their offense justice. Star quarterback Dan Persa's absence likely put a dent in those numbers, but now that he's back, Northwestern features a double-headed monster that includes Persa and athletic back-up Kain Colter.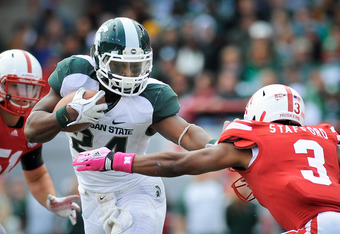 Eric Francis/Getty Images
Nebraska's Achilles' heel has been rushing quarterbacks this year, and Colter's running ability should be a nice warm-up for the high-stakes tilt with Denard Robinson and the Michigan Wolverines in a few weeks.
If the Huskers can contain Colter and Persa and pull out a win, things will get very interesting when Nebraska enters a tough road stretch that includes the Penn State Nittany Lions in Happy Valley and the Wolverines in the Big House.
Nebraska had better not overlook the 3-5 'Cats though, because this offense should be the best the Huskers have seen this season outside of Wisconsin. We all remember what happened that game.
I'm convinced the Huskers are a different team than they were four weeks ago though, specifically on defense.
We'll find out if that's true against Northwestern.
Nebraska 41, Northwestern 21