Ravens vs. Steelers: Why Pittsburgh Will Avenge the Loss from Week 1
November 4, 2011
Rob Carr/Getty Images
One look on the face of Steelers head coach Mike Tomlin, after his team lost 34-7 to the Ravens, and you knew what was coming.
The Steelers knew after the first week of the season, and know now as the two teams meet again, this is time for revenge. Time to prove that last season's Super Bowl runner-up is still a viable team to get that elusive seventh Super Bowl ring.
Maybe that run to the gold starts for real this week against their nemesis.
Tomlin was short and to the point, almost monotone in his words back in September. His players got outplayed in every sense of the word, looking like they were still hung over from the Super Bowl and the off-season.
The Ravens, however, have not been the team that screamed out the gate to a 4-1 record. They have had issues with their offense, especially at quarterback, and scrambled to come back to beat the Cardinals last week after an embarrassing loss to the Jacksonville Jaguars last Monday night.
Everything happens for a reason. This time, that reason is revenge.
And who can blame the Steelers?
Right now these are two teams in seemingly opposite flight patterns, looking for new ways to either move forward or correct missing components to game plans that were thought to be flawless.
Steelers quarterback Ben Roethlisberger is arguably an MVP candidate and is on pace for 4,600 yards this season. The running game has gotten better and the three headed monster of Antonio Brown, Mike Wallace and Hines Ward has been nearly as good as the man throwing balls to them.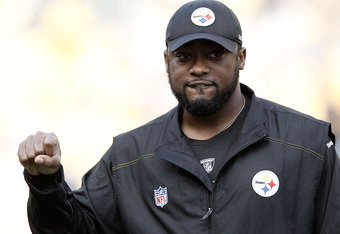 Jared Wickerham/Getty Images
Some said, mainly the Ravens and the media, that this team was older and may have lost a step.
Try telling that to Lamar Woodley and Lawrence Timmons, linebackers who anchor this defense.
Try telling that to the offensive line and try telling that to Tomlin himself.
This team is good. They soundly beat New England and have shown their defense, with "aging" stars, are still second best overall in the NFL. The Ravens may be the best right now, but they have not proven it the past few weeks.
Understand, we are not taking away the stoutness of the Ravens' front seven on defense or the secondary and special teams play that was just 'stupid sick' against the New York Jets. We are not taking away the play of Ray Lewis and Ed Reed, the rushing ability of Terrell Suggs and the line domination of Haloti Ngata.
We aren't taking away the fact that Ray Rice is still a great runner or that the skill positions on the team may be improved.
What we are saying is that when it comes right down to it, revenge is the one thing that keeps the Steelers focused.
And it will be the one thing that carries them to a victory this weekend.