West Point Football: Can Army Leading the Nation in Rushing Upset Air Force?
November 3, 2011
The Air Force game week is always different for Army and its fans.  Most weeks leading up to West Point games the talk is universally respectful.  This week at Air Force you will see and hear "Beat Army" and at West Point there will be a constant repetition of their goal for the week "Beat Air Force" amid the ubiquitous year round "Beat Navy" cheers.
If you cruise around some of the Air Force Academy and West Point pages on Facebook and the Internet you will probably find a few "Spirit videos' made by cadets of each school poking some fun at their counterparts at the opposing Academy.  These tend to end with one of the timeless cheers or one of the fight songs. 
With the game in Colorado Springs this year a sizable number of Army cadets, cheerleaders, and their band will accompany the team west for the game.  It is worth pointing out that the cheerleaders at Army are called the "Rabble-rousers", as this distinction has been described to me on more than one occasion.  The banter back and for between the bands and cadets of each school is half the fun of watching the game.
Amid all the competition and rambunctious activity is the very evident respect that the service academies have for one another.  Only someone who has been a student at Air Force, Navy, or Army understands the daily challenges that are made of those who choose to attend these academies not part of life at civilian colleges.  There is also the understanding that in the years to come the graduates will be serving together shoulder-to-shoulder as officers in the US Armed Forces.
This is the second game of the "Commanders In Chief" competition between the three service academies.  In October in Annapolis, Air Force defeated Navy in overtime 35-34.  Air Force won the trophy last year which carries with it a trip to the White House to be greeted by the President.  Army has not won the CIC since 1996, the last year the Black Knights went to a bowl game before last year.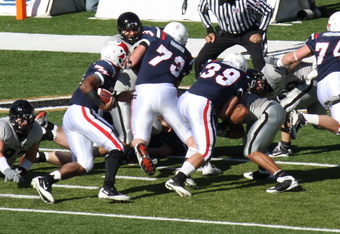 Air Force (4-4) comes home to play Army (3-5) after a shutout win 42-0 at New Mexico last week. Prior to that the Falcons had lost three straight to Notre Dame (59-33), San Diego State (41-27) and Boise State (37-26).  Air Force is dealing with a number of injuries including a broken nose suffered last week to junior quarterback Tim Jefferson. The defensive line for Air Force is also shorthanded with an injury to defensive end Harry Kehs, and from prior injuries to Ben Kopacka and end Zack Payne according to the Colorado Springs Gazette.
Indications from Air Force coach Troy Calhoun at his Monday press conference were that Tim Jefferson would play unless tests determined a serious condition. A nemesis to Army last year, the Atlanta, Georgia native scored two touchdowns running the ball and threw for two more both to the now senior wide out Johnathan Warzeka.
Army has regained momentum on the year with the dominating win against Fordham in the snow last week.  The Black Knights lead the NCAA in rushing with an average of 369 yards per game on the ground. The set backs on the season have been the 15 fumbles lost in the eight games and not playing well on the road. 
Army Head Coach Rich Ellerson has gotten quite good at handling the regular questions he receives from 'Voices" as he calls them surrounding the program about the Air Force and Navy games.  He is quite pointed at saying he teaches the players to think about the coming week only and to focus on the games one play at a time.  At his weekly Tuesday press conference he tried to put this week's game with Air Force into a coaches perspective: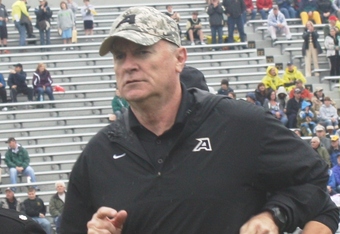 "It's the most important game of the year, because it's the one that we play this week. We're 100 percent committed to staying in the moment and working overtime trying to find a way to be 1-0 this week.
Acknowledging that the players, their friends, their classmates in the barracks as the dormitories at West Point are called are getting excited about the game, he said:
"Obviously, there's a little bit of a buzz. Guys are excited to go. We're going to stay in the moment and try to have fun with this next adventure."
On my radio show this week, I described that Coach Ellerson describes every upcoming opponents like they are all the Green Bay Packers.  He commented about the Air Force team on Tuesday:
"It's going to be a tough one. (Air Force) is a very gifted outfit. They've had some challenges on defense, a little bit like we have, but they're getting some guys back. Offensively, they're an absolute nightmare. They've made a bunch of plays in the kicking game. They're a complete outfit, and it's going to be a great challenge."
The hot topic of the week is if junior quarterback Trent Steelman would be able to return from a high ankle sprain he received in the Vanderbilt game two weeks ago.  Against Fordham, with Steelman in the press box, senior Max Jenkins ably guided the Black Knights to an impressive victory.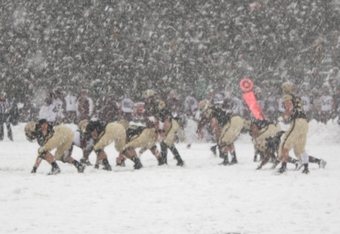 Jenkins ran for two touchdowns and completed a pass to Anthony Stephens for another score as Army ran for 514 yards on the snowy afternoon. Highly touted freshman Angel Santiago played the third quarter seeing his second action for Army after handling himself well in his initial varsity action against Vanderbilt.
Coach Ellerson said that Trent Steelman would have to practice on Wednesday in order to play on Saturday, commenting: 
 "Want to make sure we aren't just dumb-tough. Obviously, we'd love for him to play. He desperately wants to play. We just need to be smart and make sure we don't set him back and lose him for some games that we might otherwise have him for."
I asked the coach if he could clarify the QB plan if Trent Steelman is unable to play?
"We'll start Max (Jenkins). Our intention was that Angel (Santiago) would play earlier and more than what he did on Saturday. The conditions were the determining factor there. I'm just not sure how meaningful the turns under those conditions would have been developmentally, so we kind of got away from our script. Our plan would be to start Max and play Angel relatively quickly"
Max Jenkins showed against Fordham that he can lead the offense and run the ball himself inside on short age plays when needed such as in goal line situations.  Santiago offers more running speed and outside quickness, two qualities highly valued by Ellerson and the Army coaches who have successfully implemented the option offense.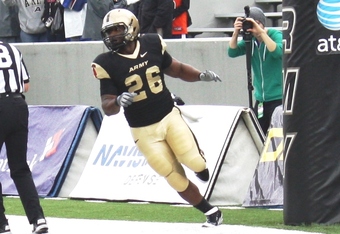 About the Air Force defense,  coach Ellerson commented:
"They're comfortable trying to defend the triple option. They see it in house. They see it routinely in their schedule. Those are the things about this that are challenging.
The Army defense has been inconsistent this year giving up an average of 491 yards per game and 27.4 points.  Stats obviously improved by the Fordham shutout.  I asked coach Ellerson about how Army will approach stopping the Air Force offense:
 "It's a tough deal. They can be a devastating triple option attack if they choose to be. And yet, (Tim Jefferson) is really having a good year throwing the football. They have a go-to running back in Asher Clark. He's the real deal. They've got a lot of things in their playbook they can go to.
"If you try to defend everything on every snap against these guys, good luck. Added Ellerson, "They're really good, so you're going to have to pick your spots. And, when you guess wrong, you're going to have to survive it so you can line up again. Last year, we guessed wrong and they got us for a bunch. "
Sometimes it is helpful when an out of town writer asks a question providing a fresh perspective about an ongoing topic, in this case the somewhat struggling season of junior fullback Jared Hassin. After gaining over 1,000 yards last Hassin has struggled overcoming injuries.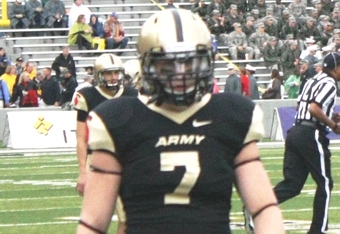 The Delafield, Wisconsin native started his college and military career at Air Force then decided to leave and apply to West Point.  He sat out two years waiting to be eligible play again in 2010.   So this will be a meaningful return to a past chapter of his life.  Coach Ellerson addressed the Colorado based reporter's question:
 "Jared's part of the starting rotation. We're playing a couple of fullbacks. Larry Dixon is off to a great start, but Jared's right in the middle of it. He's still in the starting rotation.  Jared just took such a beating last year as a wishbone fullback for 13 games with really not much time off, and frankly he's still paying the dues for that. He has some chronic health issues that are kind of making us struggle to get him ready to play without getting him behind the curve physically. He's still a huge part of it, and is very, very capable.
A question that frequently comes up as the Army football program is improving is how long and what will it take to catches up to Air Force which has won the last five games and 20 of the last 22 contests played between the two.  Some have said Air Force has a recruiting advantage being the only service academy in the western half of the country, Coach Ellerson responded:
"Obviously, we really like the path we've chosen. If you're narrowing the track, that implies that we're on the same track. The truth is, we have our own vision for Army football. We think we're gaining on that objective. We really feel strongly about the voice we've chosen and the path we've chosen for Army football. We're going to be competitive week in and week out.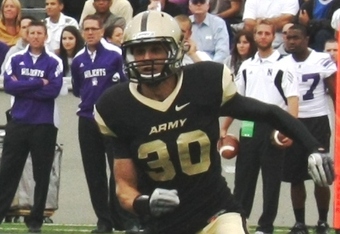 Will Army be competitive against Air Force this week considering that the strong probability of not having the starting quarterback available and playing four freshman on defense, Ellerson added:
"For that you have to tune in. I have so much respect for their program and what they do with it. You look at that senior outfit on offense and how much they do and how well they do with it and how well and efficiently they execute. You could argue that the physical maturity side of it very much stands on their side of the field, but we're gaining on it."
Max Jenkins, the senior from Houston, Texas is the likely starting quarterback for Army.  Max who is as polite an individual as you will ever meet, also serves as the deputy brigade commander in the Corps of Cadets talked about the opportunity to play for the Commander in Chief Trophy:  
"It's exciting, it's a great opportunity. Like you said, we haven't really had success against them in the past, but it's over, it's a new team, new season and one of our team goals is to win the CIC so this is the first step in that process.
Well, there you have some of the pregame analysis and I am left to give you my prediction on the outcome.
As can be expected, Army should be able to use its strong ground game to move the ball against Air Force.  Not hard to predict that the Falcons will score points against the young Army defense.  Watch how Army tries to close the gaps in their defensive line with linebackers and even safeties.  How about a late fourth quarter scenario, its all tied 28 all, Army has the ball on the Air Force 20 yard line, its fourth down and in comes senior Alex Carlton to attempt a field goal.  The ball is snapped, the hold is good, the kick is up….
Army pulls a 31-28 upset!
Ken Kraetzer produces the West Point Football Report by Sons of the American Legion Radio broadcast from New Rochelle, NY Tuesdays during the season at 5:30 PM on WVOX 1460 AM and heard around the world on WVOX.com.  Reach Ken on kgk914@aol.com.