LSU vs. Alabama: 10 Players to Watch During Saturday's Epic Clash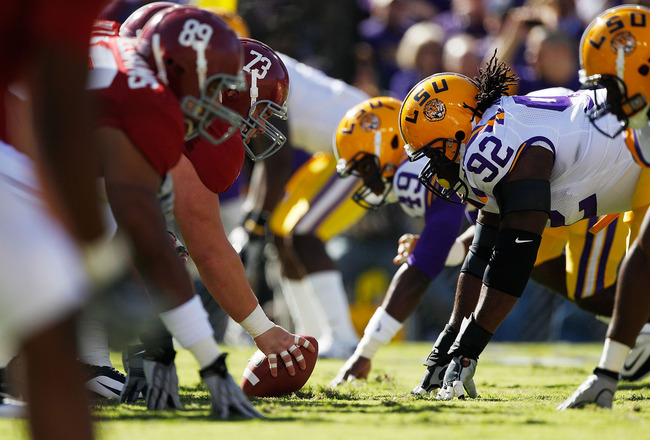 Chris Graythen/Getty Images
Saturday's SEC showdown between the LSU Tigers and Alabama Crimson Tide is not just about the outcome. The game will also be a huge showcase of talented players.
Both the Tigers and Crimson Tide boast some of the nation's top athletes on both sides of the ball.
Many are attracting attention from NFL scouts for this and next year's drafts.
Here are the 10 players to watch out for Saturday night's epic showdown.
LSU Safety Brandon Taylor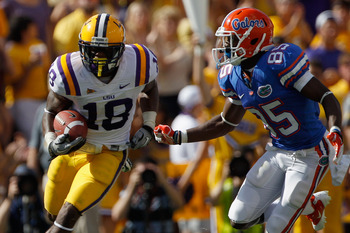 Chris Graythen/Getty Images
Brandon Taylor has shown continual improvement during his college career.
The senior strong safety had 45 tackles in his first two years, but then had 44 tackles as a junior.
Coming off a foot injury, Taylor has been nothing but stellar in 2011. He has 48 tackles, six broken up passes and two picks.
Taylor will have a big responsibility to contain Alabama running back Trent Richardson, who has 989 rushing yards this season.
Alabama Linebacker Dont'a Hightower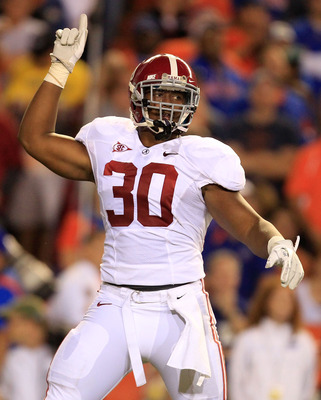 Sam Greenwood/Getty Images
Alabama junior linebacker Dont'a Hightower is one of the nation's top defenders.
The 6'4", 260-pound Hightower is a three-year starter and came back strong from an ACL tear in his left knee that shortened his 2009 season.
Last year, Hightower had 69 tackles, nine quarterback hurries and three broken up passes.
He is continuing his defensive excellence in 2011, helping the Crimson Tide's defense lead the nation in points allowed (6.9 per game). He has 48 tackles (six for loss), six quarterback hits, three broken up passes and an interception.
Hightower is the leader of Alabama's defense, and he needs to make sure LSU running backs Spencer Ware and Michael Ford do not establish a strong running game.
LSU Cornerback Tyrann Mathieu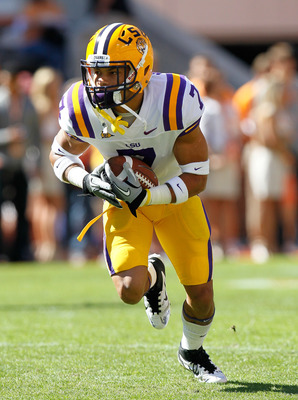 Kevin C. Cox/Getty Images
LSU has one of the nation's top cornerbacks in sophomore Tyrann Mathieu
As a freshman, Mathieu exploded onto the scene with 57 tackles, 10 total turnovers, 4.5 sacks and seven pass breakups. He was named the Cotton Bowl Defensive Most Outstanding Player and was voted First-Team Freshman All-America.
In 2011, Mathieu has continued to be a shutdown corner.
No. 7 has 42 tackles (five for loss), seven pass breakups, two picks and 1.5 sacks.
Mathieu is an extremely physical corner who can force fumbles (four this year) and make wide receivers think twice about catching a tough pass. He also needs a big game after serving a one-game team suspension against Auburn.
Alabama Cornerback Dee Milliner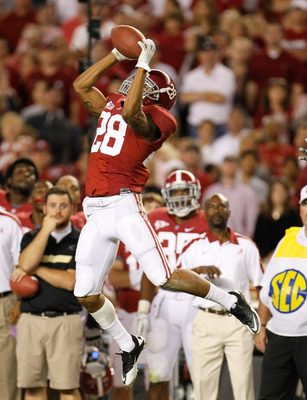 Kevin C. Cox/Getty Images
Sophomore Dee Milliner is Alabama's nickel and dime cornerback who was a starter in 2010.
Milliner had 55 tackles, seven broken up passes and two turnovers as a freshman, earning freshman All-SEC honors.
Even in a backup role this year, Milliner has been a stud. He has 18 tackles, nine broken up passes and two interceptions.
With senior cornerback DeQuan Menzie and junior cornerback Dre Kirkpatrick probably going to the NFL, Milliner could be Alabama's top corner in 2012.
LSU Wide Receiver Rueben Randle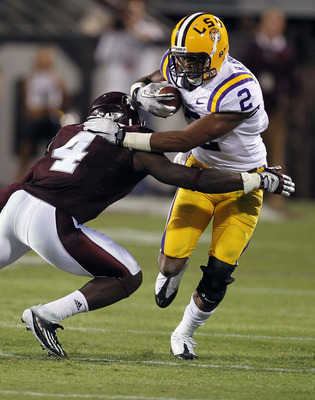 Butch Dill/Getty Images
LSU junior wide receiver Rueben Randle is having a breakout season.
After a solid sophomore year (33 catches, 549 yards, three touchdowns), Randle has come into his own, and has 33 catches for 638 yards and seven touchdowns.
He is third in receiving yards in the SEC and tied with Arkansas senior Jarius Wright in receiving touchdowns.
Randle is coming off his best game of the year, in which he had five catches for 106 yards and two scores against Auburn.
He will be key in getting the Tigers on the board against Alabama's tough defense, and he must do that against Alabama junior cornerback Dre Kirkpatrick.
Alabama Cornerback Dre Kirkpatrick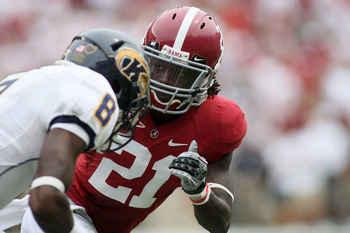 Greg McWilliams/Getty Images
Alabama's Dre Kirkpatrick is another shut-down cornerback that will be featured during Saturday's game.
Along with LSU's Tyrann Mathieu, Kirkpatrick does not let opposing receivers have easy catches.
Kirkpatrick has 18 tackles, two tackles for a loss, eight pass breakups and two forced fumbles on the season.
No. 21 will draw LSU's Rueben Randle, the Tigers' top receiver. Whoever wins this matchup might determine Saturday's outcome.
LSU Running Back Spencer Ware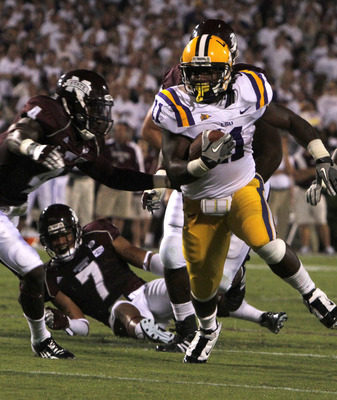 Butch Dill/Getty Images
The Crimson Tide are the best team in the country against the run, giving up 44.9 yards a game and only two touchdowns this season.
For the Tigers to compete, sophomore running back Spencer Ware needs to overcome Alabama's front seven.
Ware has 530 yards on 128 attempts (4.0 yards a carry) and six touchdowns.
Coming off a team suspension against Auburn, Ware needs to get past defensive ends Nick Gentry (13 tackles, 2.5 sacks) and Ed Stinson (14 tackles and five for loss).
Alabama Running Back Trent Richardson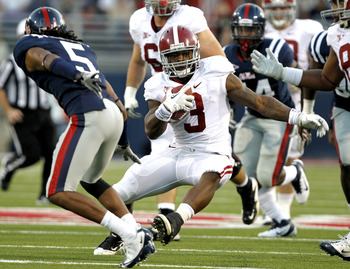 Butch Dill/Getty Images
Alabama's Trent Richardson is one of the leading Heisman Trophy candidates, and is playing like a beast.
The junior running back has 989 rushing yards (seventh in the nation) on 149 carries (a 6.6-yard average). His 17 rushing touchdowns are second only to Wisconsin's Montee Ball and Temple's Bernard Pierce (both have 18).
Richardson has six games with 100 or more rushing yards and two games with three or more scores.
LSU presents a tough challenge for Richardson, as the Tigers are third against the run (76.9 yards a game).
LSU Quarterback Jarrett Lee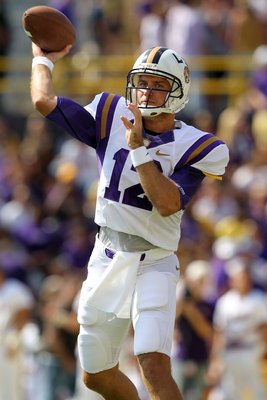 Jamie Squire/Getty Images
LSU senior quarterback Jarrett Lee has had no success against Alabama during his career.
In three games, Lee was 21-of-51 for 272 yards, a touchdown and five interceptions, while going 1-2.
Lee has matured as a passer, throwing for 1,250 yards, 13 touchdowns and a pick this year.
The senior will have to contend with Alabama's strong corners and must try not to turn the ball over.
Alabama Quarterback A.J. McCarron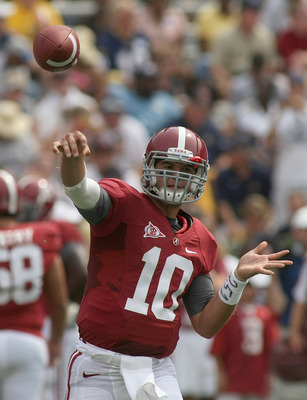 Greg McWilliams/Getty Images
Sophomore quarterback A.J. McCarron is having a solid year as the Crimson Tide's signal caller.
McCarron, after throwing 30 passes as a freshman, is 134-of-200 for 1,664 yards, 10 touchdowns and three interceptions in 2011.
He had his best game against Vanderbilt on Oct. 8, throwing for 237 yards and four scores.
McCarron, like LSU quarterback Jarrett Lee, will face a stiff secondary and will be asked to manage the game.
Bob Bajek is a writing intern at Bleacher Report. He is also a freelance reporter and can be followed at Patch.com and Twitter.
Keep Reading