5 Ways to Keep North Carolina off the Ladder in the 2012 Final Four
The University of North Carolina men's basketball team will don new uniforms this season.
And with a near unanimous No. 1 ranking in the preseason, those jerseys might as well have a bulls-eye superimposed over the Tar Heel blue.
We know Harrison Barnes is back. We know the Tar Heels will return all five starters from last season's Elite 8 run. We know that top recruits James McAdoo and PJ Hairston figure to add depth to an already deep team.
And at first glance, we don't know how anyone will beat them. Let's examine the potential weaknesses of a team that figures to win 95 percent of its games on talent alone.
Note: I will be rooting for UNC in every game this season (and for the rest of eternity), so here's to hoping that executing these tactics proves more difficult than naming them.
Enroll Dale Ellis, Jeff Hornacek and Steve Kerr

PJ Hairston brings a saturated approach to Chapel Hill.

Unleash the most dangerous weapon in college basketball: Shoot the three-ball. And shoot it well. UNC's outside shooting last season would be generously described as "streaky." They were out-shot from behind the arc in all seven of their losses.
A Roy Williams coached team will run. The book on how to stop North Carolina has been and will be forcing them into a half-court game. The talking heads will be dusting that one off on many a pre-game show this season. What they will probably leave out, due to time and brainwave constraints, is that you do this by knocking down the long ball.
Freshman PJ Hairston has arrived at Chapel Hill with his sharp-shooter reputation in tow. And with last season's leading three-point shooter Leslie McDonald likely lost for the season, Harrison Barnes, Reggie Bullock and Kendall Marshall must improve their consistency from the outside.
Enroll Charles Barkley, Dennis Rodman and a Group of Goons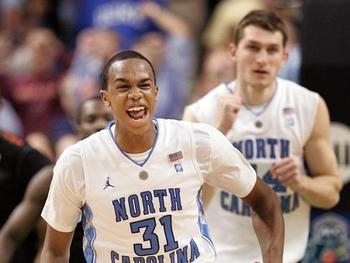 "Hey Zeller! Cookies! Gimme 'em!"
You'll probably hear this gem from television analysts this season: North Carolina's frontcourt is tall. Thank you, talking tape measure.
But what isn't Carolina's frontcourt? Nasty.
John Henson and Tyler Zeller are nice players with a combined 14 feet of height. Henson's athleticism and Zeller's footwork have received high praise, and deservedly so. But they can be pushed around. You want to beat Carolina? Punk their big men. Slap the cookies out of their hands and stomp on them.
Perhaps UNC's most touted freshman, James McAdoo, can counterbalance the cookie taking with his own nastiness. McAdoo, Zeller, Henson and Barnes give the Tar Heels four rotation players that go 6'8'' and up. If they have any nastiness in them, they won't be out-rebounded this season.
Employ the Kobe Philosophy: Have the Best Player on the Court

HB puts up his jersey number.

This was the Lakers' strategy from 2005-2007. Anyone who told you that was the triangle offense lied to you. When you have the best player on the court, you have a chance to win any game.
During the second half of last season, Harrison Barnes remembered that the best player on the court was himself. His bio on TarHeelBlue.com makes no mention of amnesia, so this mentality should continue through this season.
Unfortunately, only a few teams in America have the personnel to implement this game plan. Duke has the phenomenon that is Austin Rivers.
Of course, Subzero will spend most of the season fending off Coach K's attempts to systemize and destroy him, so he may grow weary by the time the UNC games roll around.
Get Kendall Marshall out of the Game

Acquire, Mr. Curry.

Generally speaking, I'm not an advocate of kidnapping. And should a coach choose to take my advice, I may have to go all Liam Neeson on him. But if you really want to even up the odds against this Carolina team, get Marshall out of there. By any means necessary.
Harrison Barnes may be the best player on the team (in the country), but Kendall Marshall is the most important player on the team (in the country). K-Butter embodies Roy's fast-breaking offense. His court vision and passing abilities are second to none. If any of you young bucks out there want to learn how to play point guard, watch him.
Without Marshall, the Heels don't run. They can't run. North Carolina hasn't had a competent backup point guard in quite some time. Maybe Bobby Frasor. Or Ronald Curry. And Curry was better known for running the option (and skinny posts in the NFL) than for running a fast break.
Behind Marshall, UNC boasts a hodgepodge of athletic wings. With true freshman Stilman White as the only other true point guard on the roster, I'd imagine that Dexter Strickland and Harrison Barnes would handle the ball quite a bit, should Marshall go down.
Pray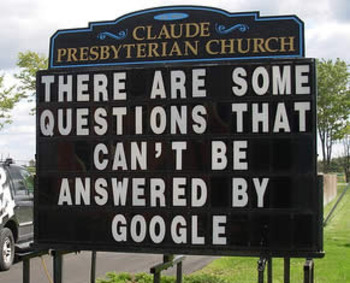 Google vehemently denies this.
What do you want? I gave you four legitimate ways to beat the Tar Heels this season. If I asked you for five strategies to employ to beat this team, you're telling me that one of them wouldn't be pray?
The truth is most teams won't beat the Heels this year. That's nothing to be ashamed of. They have arguably the best player and the best true point guard in the country. They have two seven-footers. They have two of the top 15 recruits in the nation. And they have Dexter Strickland's smile.
Hopefully that smile will be front and center this April with North Carolina cutting down the nets.
Tweet @SpiceFreeman to scream at the writer for jinxing Carolina's season.
Keep Reading

UNC Basketball: Like this team?