Grading the 2011 Detroit Lions Acquisitions: Stephen Tulloch Leads the Class
November 1, 2011
Justin Edmonds/Getty Images
Despite the lockout, the Detroit Lions made quite a splash with their offseason acquisitions. With the Lions entering their bye week, and half the season in the books, now seems like a good time to take a look at the new Lions and how they have fared so far in 2011.
I have broken the free-agent signings and draft class into grading brackets, A, B, C, D and IC. The "A" bracket, obviously, are the players who have had the most impact, "B" decent impact, and so on. The IC stands for incomplete, and is reserved for players who have not been able to perform due to injury.
The "A" group:
This group is headed by MLB Stephen Tulloch. He has had a major impact for the Lions linebacker group, recording 52 tackles, 3 sacks, 2 passes defensed and an interception.
If Tulloch is player 1A than LB Justin Durant is 1B. Durant might have supplanted Tulloch if he hadn't miss three games due to a concussion. Durant had been leading the team in tackles at the time of his injury. Through eight games Durant has 27 tackles, 3 TFL, and a pass defensed.
The ability of Tulloch and Durant to defend both the pass and the run has allowed the defensive line to be more aggressive. Eric Wright is one of the CB's who has benefited from the aggressiveness of the defensive line. Wright is the final player in the "A" bracket. He's done a solid job covering receivers, and has recorded 36 tackles, 3 TFL, a forced fumble, 5 passes defensed and 2 interceptions.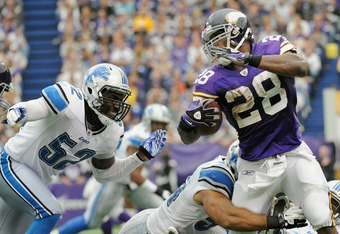 Hannah Foslien/Getty Images
The "B" group:
Undrafted rookie punter Ryan Donahue leads this bracket. Donahue has done an excellent job handling the punting responsibilities and being the holder for veteran place kicker Jason Hanson. He is averaging over 42.5 yards per punt and placing 26.5 percent inside the 20.
Rookie wide receiver Titus Young is the only other player in this bracket. Young is fourth among Lions receivers in yards and already has nearly as many receptions as Bryant Johnson and Derrick Williams combined for all of last year.
The "C" group:
This is where it starts to get difficult. I'm placing Keiland Williams and Maurice Stovall on this list because they've played a role on special teams, and Williams has played some fullback which doesn't show up on the stats. Stovall has been decent on special teams, but has made no impact in the receiving game.
The "D" group:
I'm sure there are some arguments for some of these guys either being bumped up a slot or moved down to "IC." However, I think these guys have had opportunities, and simply have either not taken advantage of them, or simply weren't good enough. Doug Hogue, Maurice Leggett, Quinton Pitcock and Jerome Harrison (yes I know he's was diagnosed with a brain tumor, but he had been benched before that). Hogue had an opportunity when Isaiah Ekejiuba and John Wendling were hurt but did nothing with it.
The "IC" group:
This group comprises those just recently signed and those who have missed all, or most of the season due to injury. Leading this group (because of his potential) is DT Nick Fairley. Fairley looked pretty good in limited action, but has since re-injured his foot and did not play against Denver. Mikel Leshoure was lost to the Lions during training camp. He was supposed to be the thunder to Jahvid Best's flash, hopefully he'll make a full recovery and be ready for training camp next year. Johnny Culbreath was the other Lions draft pick who will miss the entire year with an injury.
Erik Coleman was supposed to be the safety opposite Louis Delmas, but injuries have completely derailed his season. Rashied Davis is another player who has yet to play this year because of injury. Don Carey, Anthony Mason, and Chris Harris have all recently signed so the verdict on them will have to wait until the end of the season.
Overall the Lions had a very successful 2011 offseason. Tulloch and Durant have taken the linebackers from being a weakness to being a strength. Titus Young looks like he will continue to develop into the number three receiver the Lions needed. Detroit is finally in a position where they don't have gaping holes everywhere. Another offseason like 2011 and Detroit will move from a contender to a powerhouse.