The Best Athletes with the Coolest Hair
While the best athletes are often revered for their remarkable ability and relentless determination, there are some who are remembered as much for their eccentric hair as they are for their production on the field.
These individuals not only had the talent and statistics to garner worldwide acclaim, but they improved their resumes with adventurous hairdos that attracted even the most skeptical fans.
As these athletes become immortal in the world of sports, their hair takes on a new role.
Rather than focusing on the player, the media dissects his dominant hair.
Here we look at the best athletes with the coolest hair.
Enjoy.
Begin Slideshow

»
A crucial part of the illustrious Steel Curtain of the 1970s, Ernie Holmes dominated alongside Joe Greene, Dwight White and L.C. Greenwood.
At a time when sacks weren't recorded, the massive defensive tackle was credited with 40 career sacks, eighth on the Steelers' all-time list.
Arguably the most fierce player on that defense, Holmes was nicknamed "Arrowhead Holmes" in 1974 when he shaved his head in this unique manner.
This may seem like a mix between a rat tail hairstyle and a bad hair day, but it's realistically another dominant performance from this Hall of Famer.
Known as the "Big Redhead," Bill Walton won three straight College Player of the Year Awards and two Division I national titles with UCLA before being drafted by the Portland Trail Blazers with the first-overall pick in the 1974 NBA draft.
In the pros, he impressed with his moves and wild hair, winning two MVPs and two NBA championships.
He is one of only two men to have won the FIFA Player of the Year award three times, along with French footballer and notorious head-butter Zinedine Zidane, but Ronaldo is also remembered for a certain haircut he tinkered with.
With 62 goals in 97 international matches, one might expect the two-time World Cup winner with Brazil to have better judgement.
However, the half-bowl is somewhat intriguing.
The former World No. 1 wasn't only an eight-time Grand Slam single champion and Olympic gold medalist, but he also sported one of the most charismatic hairstyles in sports.
While Andre Agassi was the first male player to win all four Grand Slams on three different surfaces (hard, clay and grass), he was recognized by BBC as "perhaps the biggest worldwide star in the sport's history."
His outlandish characteristics and his stellar lack of a haircut led to tennis immortality.
After the Marshall wide receiver dropped to the No. 21 pick in the 1998 NFL draft due to alleged legal concerns, he went on to hold the single-season touchdown reception record with 23 in 2007.
Known for his pernicious nature, former Minnesota Vikings and New England Patriots wide receiver Randy Moss seemingly always wore his heart on his sleeve.
His hair speaks volumes of his domination on the field.
This Hall of Fame running back for the New York Jets and Washington Redskins was not only the MVP of Super Bowl XVII, but he was seemingly an expert stylist as well.
Inducted into the NFL Hall of Fame in 1992, John Riggins belongs to the the 10,000 Rushing Yards Club and continues to be revered for the creative experimentations he tried on his own hair.
The former USC walk-on may have longer hair than teammates are comfortable with, but the viking-esque look fits perfectly with Clay Matthews' style of play.
2009 Rookie of the Year and a two-time pro bowler, the Green Bay Packers star Linebacker certainly garners plenty of respect around the NFL for more than his athletic prowess.
He intimidates with pure emotion.
This former outfielder and designated hitter played for 17 seasons on seven teams, hitting 200 home runs and driving in 666 runs.
His hair may have done more for fan appreciation than anything he did on the diamond.
The ability to wear his hat on top of his afro separates him from his fellow pioneers.
Many NBA fans undoubtedly consider the former Kansas State standout to be somewhat of a disappointment after being chosen with the second-overall pick of the 2008 NBA craft by Miami Heat, considering he has only averaged 15.9 points per game and is already with his second team (Minnesota Timberwolves).
Minnesota fans are undoubtedly hoping that, like his hair, Michael Beasley's game can begin to develop.
The fifth-overall pick of the 1990 NHL Entry Draft, winger Jaromir Jagr went on to be the league's leading point-scorer five times and win one Hart Trophy as MVP.
One of the few to have won the Stanley Cup (1991, 1992), the Ice Hockey World Championships (2005, 2010) and the Olympic gold medal in ice hockey (1998), Jagr was essentially able to sport any hairdo he pleased.
As long as it brought victory, nobody complained.
A nine-time Silver Slugger and one of 25 players to hit 500 career home runs, the former Boston Red Sox outfielder may have had his image tainted after allegedly testing positive for performance-enhancing drugs, but his unforgettable style is always remembered.
While Ramirez's 21 grand slams are third all-time, and his 28 postseason home runs are the most by any player in MLB history, his hair is still his most recognizable trait.
She may be known in tennis as the first black woman ever to achieve a World No. 1 ranking, but the older Williams sister is surely remembered around the sports world for her colorful hair knots.
Seemingly patriotic, Venus Williams never seems to have a problem sharing her emotions.
The colors are welcoming.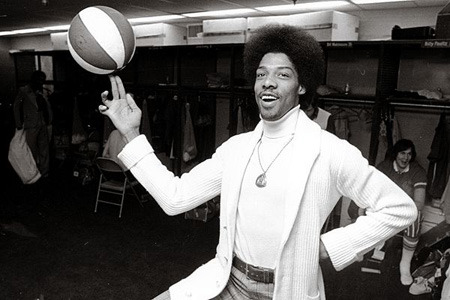 Dr. J may have been a stellar surgeon on the court, but he was precise with his style off it as well.
This Hall of Famer was arguably the best known player in the ABA when they merged with the NBA in 1976.
While Julius Erving has three championships, four Most Valuable Player Awards and three scoring titles combined between the ABA and NBA, his hair was still the most unstoppable part of his game.
With the ability to dunk from near the free-throw line and a clean-cut Afro, Erving could seemingly do it all.
The captain of the Portuguese national team, footballer Cristiano Ronaldo is undoubtedly known more for his plethora of female conquests than for becoming the most expensive player in football history after moving from Manchester United to Real Madrid in a transfer deal worth £80 million.
Evidently with the ability to style his obedient hair any way he pleases, Ronaldo seemingly wanted to mix it up and combine a mohawk with curled bangs.
He may have been known as arguably the greatest hockey player ever, but the man nicknamed "The Great One" is just as respected for the retro hairdos he once sported as he is for his on-ice ability.
Wayne Gretzky's mundane hairstyles of today clearly come with age, but fans will never forget the hair behind the leading scorer in NHL history during his prime.
"Dennis the Menace" may have gotten NBA All-Defensive First Team honors seven times and voted NBA Defensive Player of the Year twice, but he was known for his eccentric hairdos and jaw-dropping photographs that led to his reputation as a "bad boy."
While he led the NBA in rebounds per game for a record seven consecutive years and won five NBA championships, Dennis Rodman shocked basketball with his sculpted-and-died hair, his piercings and tattoos and his in-game disruption.
With all his previous stunts, wearing a wedding dress was the least of his worries.

While he's clearly never afraid to be adventurous with his hair, England footballer David Beckham sets a new trend with this sleek look.
He may be the most illustrious man in the United Kingdom with his power, money and athletic prowess, but it's his hair that continues to entertain even the most skeptical viewers.
Seemingly related to the Fresh Prince of Bel-Air, Hall of Famer Scottie Pippen had the iconic faded flat-top to complement his stellar game.
A significant part of the Michael Jordan-led Chicago Bulls squad that won six NBA Championships and had a record 72 wins in the 1995-1996 season, Pippen was named NBA All-Defensive First Team eight consecutive times and the All-NBA First Team three times.
He undoubtedly helped popularize the NBA around the world in the '90s with his illustrious hairstyle and his winning nature.
With 95.5 career sacks and 12.5 already this season, Minnesota Vikings defensive end Jared Allen is clearly accomplished enough to fashion his hair however he pleases.
Like his hair, he is elusive and isn't intimidated by 300-pound offensive tackles.
A four-time NBA Defensive Player of the Year, Ben Wallace intimidated opponents with sheer determination and a burly afro.
Not only was he signed as an undrafted free agent, but the former Detroit Pistons Center allegedly stood a measly 6'9" at arguably the most physical position in the league.
On the other hand, his hair did undoubtedly add several inches to his height.
While he is a three-time All-Star with 170 career saves and a World Series victory on his resume, Brian Wilson is still respected more for his burly beard and entertaining behavior.
He was the saves leader with the San Francisco Giants last season before the team became champions.
Wilson has somewhat of a classy eccentricity to him.
Not only did he play offense, defense and special teams while he was a Miami Hurricane, but Devin Hester has seemingly transformed the NFL return game since coming into the league.
He holds the NFL record for most all-time kick and punt return touchdowns, and is one of the few players ever willing to detail his own nickname into his already-eccentric hairstyle.
The six-time pro bowler is routinely spotted by his rugged jersey and his iconic hair.
A former linebacker during his days at USC, Troy Polamalu was even tackled by his hair after an interception against the Chiefs in 2006. It was clearly running back Larry Johnson's only hope.
He naturally endorses Head & Shoulders shampoo.
At a time when hair seemingly dominated the game, 7'2" Hall of Famer Artis Gilmore stood tall.
While he was an eleven-time All-Star, the ABA Rookie of the Year, the ABA MVP and is the recorder-holder for NBA career field-goal percentage, Gilmore's 670 consecutive games played was his most illustrious accomplishment.
Following his stellar afro.
While it's still debatable whether he made the hair or the hair made him, Carlos Valderrama (and his hair) was the only Colombian to be featured in FIFA's 125 Top Living Football Players list in March 2004, so he cleared garners plenty of respect.
His hair may dominate him away from the field, but on it he clearly found his groove.
Permanent sun protection never seemed to hinder his ability.