BCS Rankings Week 10: Nebraska and Teams Climbing Back into Title Contention
October 31, 2011
Eric Francis/Getty Images
Teams have been dropping like flies from the ranks of the undefeated in college football, a state of affairs reflected quite strongly in the Week 10 BCS rankings.
The national championship race has opened back up quite a bit now that the likes of Wisconsin, Clemson and Kansas State have added blemishes to their previously pristine records. These teams, in particular, have benefited handsomely from the new reality in the sport and figure to do so even more as LSU, Alabama, Oklahoma State, Stanford and Boise State move forward gingerly with their loss-column donuts.
Nebraska
Remember when Nebraska looked lost, like they didn't belong in the Big Ten, much less the national title conversation?
Yeah...whatever happened to that Wisconsin team that whipped 'em up and down the field on October 1st anyway?
The Cornhuskers have since hustled their way back to respectability with a marquee win over Michigan State. Behind the stellar efforts of Rex Burkhead, Taylor Martinez and the Blackshirt defense, Bo Pelini's boys were pushed back into the spotlight.
Its destiny firmly in hand, Big Red still has two tough road tests, at Penn State and at Michigan, before it can call itself a true contender for the crystal football.
But if the Huskers win out and claim the Big Ten title in the process, they could very well find themselves scampering to New Orleans in January.
Oklahoma
What a difference a fortnight makes.
In just two weeks' time, Oklahoma went from first in line to play for the national title against Alabama or LSU to out of the race following a shocking loss to Texas Tech, to back in the driver's seat among one-loss teams thanks to a convincing road win over Kansas State.
The Sooners shouldn't have too much trouble holding the fort against Texas A&M, Baylor and Iowa State over the next three weeks. If they do, then Landry Jones and company will have a golden opportunity play their way into the BCS National Championship Game with a trip to Stillwater to play No. 3 Oklahoma State in the annual Bedlam Game.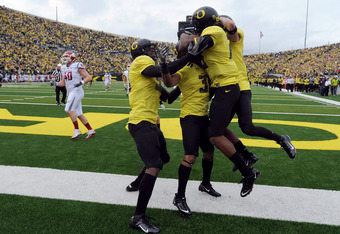 Steve Dykes/Getty Images
Oregon
The Ducks slipped from No. 7 to No. 8 but remain on the precipice of returning to title contention. There's still plenty to worry about in Eugene—LaMichael James' elbow, Darron Thomas' benching, Chip Kelly's crazy signals—but none of that can negate the fact that Oregon is still loaded with super-speedy athletes and a scheme that puts them to good use.
The next three weeks will determine just how close the Ducks get back to the mountaintop, as they'll travel to Washington and Stanford before returning home to play USC.

| Rank | Team | BCS Average |
| --- | --- | --- |
|  1 |  LSU |  .9734 |
|  2 |  Alabama |  .9591 |
|  3 |  Oklahoma State |  .9310 |
|  4 |  Stanford |  .8615 |
|  5 |  Boise State |  .8522 |
|  6 |  Oklahoma |  .7760 |
|  7 |  Arkansas |  .7033 |
|  8 |  Oregon |  .6916 |
|  9 |  South Carolina |  .6177 |
|  10 |  Nebraska |  .6156 |
|  11 |  Clemson |  .596 |
|  12 |  Virginia Tech |  .568 |
|  13 |  Houston |  .470 |
|  14 |  Kansas State |  .460 |
|  15 |  Michigan |  .451 |
|  16 |  Penn State |  .402 |
|  17 |  Michigan State |  .308 |
|  18 |  Georgia |  .290 |
|  19 |  Arizona State |  .236 |
|  20 |  Wisconsin |  .216 |
|  21 |  Texas |  .212 |
|  22 |  Auburn |  .149 |
|  23 |  Georgia Tech |  .128 |
|  24 |  West Virginia |  .114 |
|  25 |  Southern Mississippi |  .094 |