New Orleans Saints' Loss to St. Louis Rams Should Serve as Warning to NFL
October 30, 2011
Scott Boehm/Getty Images
On any given Sunday, any given team can beat any other given team.
That old adage was proven true today by the St. Louis Rams.
The Rams entered the game 0-6. They had scored 56 points all season. They were playing a team coming off a 62-point outburst the previous week. They had scored a combined 10 points in their last two games. They had not had a lead in any game since September 19. They began the day ranked 32nd in rushing defense. By the way, they were also starting a backup quarterback.
In other words, there was no reason under the sun to pick them to beat the New Orleans Saints.
That the Rams beat the Saints 31-21 was a surprise. However, the dominating fashion that they did it in was even more shocking.
This was a game that the Saints were never in. They trailed at the half, 17-0. It was the first time they were scoreless in the first half in four years. The Saints offense didn't score for 50 minutes.
Even though Drew Brees had decent numbers, 30-for-44 for 269 yards, he threw two costly interceptions. The first set the Rams up on a short field just before halftime. The second was a pick-six by Darian Stewart that gave the Rams a 31-14 lead with 2:51 remaining. His only consolation was extending his streak of games with a touchdown pass to 35 straight, with a meaningless touchdown with six seconds left.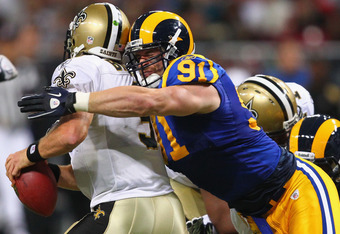 Dilip Vishwanat/Getty Images
The Rams defense was much improved over last week. They sacked Brees six times, including three by Chris Long. They allowed the Saints 56 rushing yards, after surrendering 294 to Dallas last week.
This game should serve notice that any team, any Sunday, can beat any other.
The past six days we have seen a one-win Jacksonville Jaguars team dominate the Baltimore Ravens. We saw Arizona and Miami, both on the road, put a scare into legitimate contenders. Now we have seen what might be considered the upset of the year with the Rams' win today.
This should be a notice to any team that has the Cardinals, Rams, Colts or Dolphins on their schedule. No team can be taken lightly.
No matter the records, no matter the stats, no matter who is playing quarterback, any team can be upset any week.