Real Madrid Debate: Should Kaka Start Over Mesut Ozil?
October 30, 2011
Jasper Juinen/Getty Images
Mesut Ozil has not been in great form for Real Madrid recently.
In 13 games in La Liga and the Champions League this season, Ozil has record no goals and only four assists. His play in Real Madrid's first two league games of the season, as well as Real Madrid's 6-2 thrashing of Rayo Vallecano in Matchday 6 was great, but his remaining performances have left much to be desired.
The effort and running still seems to be there, but the end product—the defense-splitting assist or carefully crafted goal—seems to be missing.
Mesut Ozil's loss of form has coincided with a relatively good spell of form for Kaka. Since that game against Rayo Vellecano, in which Kaka also recorded two assists, Kaka has scored three goals and recorded two assists in seven appearances.
One possible theory as to why Ozil has seemingly lost his form while Kaka has found his is that Kaka has been taking up Ozil's favored central-playmaker position in the starting lineup at Real Madrid, forcing Ozil to adjust to a right-wing position.
In their first game together, Ozil replaced Lassana Diarra while Kaka was still on the field, and both players assisted two goals, thus tempting Jose Mourinho into playing both of them with the hope that they could actually double the fluidity of Real Madrid's attack rather than cut into each other's game.
But as Ozil has been moved from being a deep-lying playmaker alongside another deep-lying playmaker, Xabi Alonso, to right midfield, his efficiency and productive play has been severely hampered.
All this raises the question—should Kaka be preferred over Mesut Ozil?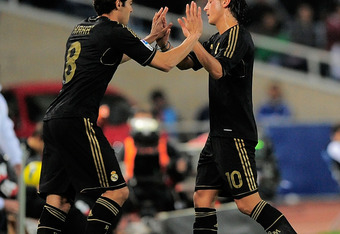 Denis Doyle/Getty Images
Cristiano Ronaldo is an ever-present in the team, who only gets benched on rare occasions when there is a Champions League game coming up or when fixtures begin to pile up.
Angel Di Maria was being overlooked for a while in favor of Mesut Ozil on the right side of midfield but has put in three excellent back-to-back performances that make it impossible to drop him—at least not for the next few games.
So it comes down to Kaka v. Ozil.
Going off last year's numbers, this would be no debate. Ozil recorded 10 goals and 29 assists for Real Madrid last year—amazing numbers that any player aside from Ronaldo and Lionel Messi would love to have.
Kaka, on the other hand, managed only seven goals and six assists in limited game time.
However, even though the saying "form is temporary, class is permanent," is partially applicable here, in that it's practically a certainty that Ozil will eventually return to form if reassigned to his favored position, it must be asked if that is what is best for Madrid.
In the four games prior to the Real Sociedad game, Kaka had started all four, and Madrid scored 15 goals while conceding one. Though Kaka "only" directly contributed two goals, his play added fluidity and danger to Real's game.
Meanwhile, when he was rested against Real Sociedad in favor of Ozil, Madrid didn't do so well. They barely edged a 1-0 win, with Fabio Coentrao being the difference-maker in creating Gonzalo Higuain's goal.
So once again—Kaka or Ozil? It's a question any team would love to have to answer; to pick between two of the best playmakers in the world today.
But it's definitely a hard question to answer, and one that cannot really be definitively answered, as it'd be very harsh to keep either of these world-class players out of the lineup for an extended period of time.
At the moment, I'm leaning toward Kaka—his play currently seems to have given Real Madrid an extra edge in attack, which Ozil has not been able to replicate since the first two games of the season.
I'm backing Ozil to eventually take his spot back, but right now Kaka is deservedly earning his games.