UFC 137 Results: What We Learned from Dennis Siver vs. Donald Cerrone
October 30, 2011
Donald Cerrone was coming into his fourth fight in 2011 at UFC 137, and yet again, he dispatched of yet another good UFC lightweight in the first round.
Cerrone choked out Dennis Siver and brought his name to the forefront of the UFC lightweight division. Now, Cerrone could be on the cusp of title contention and can now let the UFC lightweight division know that he is a force to be reckoned with.
What We'll Remember About This Fight
Cerrone's domination. Cerrone came in and did what he had to do to quickly get rid of Siver. It was an awesome performance by "Cowboy" Cerrone. Also, the post-fight interview where he said he was going to be a pirate for Halloween. I guess we also learned that pirates are better than cowboys.
What We Learned About Dennis Siver
Siver isn't quite at the title-contention level just yet. Cerrone just knocked him down a few pegs and dominated him standing. Siver also had a few takedowns get stuffed while he was hurt.
What We Learned About Donald Cerrone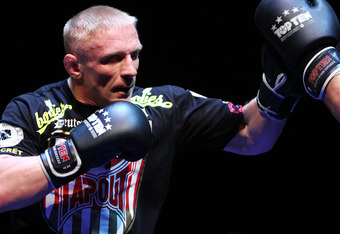 Mark Nolan/Getty Images
That the man is an absolute monster. Cerrone came out and dominated a very skilled Siver in the stand-up game from start to finish. Cerrone made him eat so many kicks and eventually got Siver's back and choked him out for yet another submission.
What's Next for Dennis Siver?
Siver goes back to the drawing board to get back into title contention. He was so close, and now he has to go to the back of the line. I wouldn't count out a possible fight with Melvin Guillard in what could be an awesome rematch.
What's Next for Donald Cerrone?
I don't think anybody but Nam Phan for Cerrone. Cerrone has called him out all week, and now it's put-up or shut-up time. If it is up to Dana and Joe Silva, though, I think Cerrone will most likely fight Ben Henderson or Cole Miller next. Two guys he wants as well.