Why Drew Brees Is the NFL's Biggest Star Maker
October 29, 2011
Chris Graythen/Getty Images
It can be beyond tempting to say that Tom Brady or Aaron Rodgers do the most with the least—especially Brady. Everybody likes to talk about how Brady did great things in his years prior to having an elite receiver—the days when Troy Brown was Brady's No. 1 option. 
The problem is that those days are so far gone, it's hard to really even remember them anymore. And one could make the argument that Rodgers' spectacular season-and-a-half—where he's been the best player on the planet—has taken place with an average supporting cast. But I would beg to differ. 
Rodgers has a better-than-average offensive line, average running backs and receivers who routinely make defensive backs look silly—either by simply out-running them or beating them with some shake-and-bake move that leaves them flailing at their heels.
But whether it's Greg Jennings, Donald Driver, Jordy Nelson, Jermichael Finley or the young Randall Cobb, all were expected to do big things when they got to Green Bay. 
Now let's take a look at the New Orleans Saints' list of playmakers. 
WR Marques Colston, WR Lance Moore, RB Pierre Thomas, RB Darren Sproles, TE Jimmy Graham. Those are arguably Brees' top five targets over the course of this season—and pretty much any season that Drew has been in New Orleans. 
There's something all those guys share in common and likewise, something they all share with their captain, Drew Brees. What quality is that?
They all are under-appreciated. They all at one time or another were told they wouldn't make it, that they couldn't make it. They've all overcome some serious obstacles in their lives and/or careers to become the players they are today.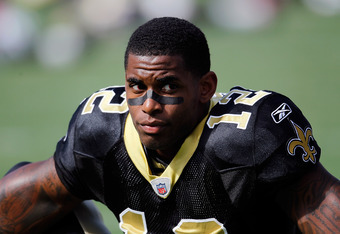 J. Meric/Getty Images
To quickly contrast, look at the player who Drew Brees fostered the past five seasons, who possessed more talent himself than those five players combined—Reggie Bush. Bush was the No. 2 overall pick in 2006, was always told he was the best and didn't have to work to be great. Look how that turned out for him. 
Let's take a moment to see what each of the five players above have overcome to become what they are today.
WR Marques Colston
As the 252nd pick in the 2006 NFL draft, Colston almost didn't get picked at all. He was almost a free agent who could choose which team's camp he wanted to go to. Do you think Colston would've chosen New Orleans? Not if you remember the state of the franchise back then. In hindsight? Of course he would. 
Of the players on this list, none were more unknown prior to pairing with Drew Brees than Hofstra's Marques Colston. Even among draft experts, Colston was a relative unknown. Teams weren't even sure whether to call him a receiver or a tight end. 
Six years later, Colston is the league's best player who has never made a Pro Bowl. That title belongs to him primarily because he and Drew Brees have better chemistry as a duo than any other two players in the entire league. It is the kind of chemistry that only comes from thousands of hours working together in order to perfect their craft. 
Streeter Lecka/Getty Images
WR Lance Moore
Though Moore wasn't drafted, it would be unfair to say he was less known than Colston. Moore's issue was always his height and lack of elite speed. Even in 2011, it is not unreasonable to say that Moore is not the quickest or fastest player. In fact, of all the receivers in the league who would be considered good, none are less sexy (from a football perspective) than Moore. 
But at Toledo, Moore was a great college receiver. He wasn't drafted because of the issues mentioned above. It took him a year on the Saints' practice squad to even see the field in a regular-season game. But in 2007, Moore burst onto the scene, and for a short time he appeared to be the best slot receiver in the league; Wes Welker has since recaptured that title. 
RB Pierre Thomas
No. 23 finished his career at Illinois as the all-time rushing leader in school history. Heck, he caused Steelers first-round pick Rashard Mendenhall to lose carries at the position because Thomas was so good. Yet for some reason, Thomas went undrafted, and a year later Mendenhall was the talk of the running back position in the draft (basically).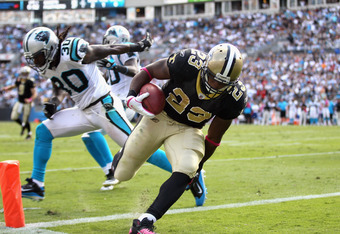 Streeter Lecka/Getty Images
Of course, Thomas' going undrafted was due to pretty much the same reasons as Moore—a lack of elite quickness and burst. Even today, we would all agree Thomas does lack the elite burst that some of the league's great backs have. 
But how many backs fight for every inch like Thomas? And is there a better screen back in the entire league? That is primarily due to a trust he and Drew Brees have with each other. 
RB Darren Sproles
When Sproles left San Diego for New Orleans, most football fans were confused. Yes, the Saints had just gotten rid of Reggie Bush, but most didn't think the Saints were looking to replace Bush. They already had enough running backs, and playmakers. 
But Sproles has brought a dimension to this offense that cannot be replicated by another player in the entire NFL. Yet it's a role Sproles did not hold in San Diego. Sean Payton and Drew Brees have used Sproles in the Reggie Bush role, only they've given Sproles more opportunities to run between the tackles and get him outside on tosses and throws to the flat. 
Remembering that Drew Brees is practically his own offensive coordinator helps us understand that Brees is at least partially responsible just for the way the Saints use Sproles, not to mention that Brees chooses to throw him the ball quite often. From there, the diminutive Sproles is the most exciting player in the league.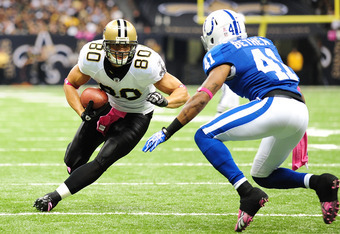 Stacy Revere/Getty Images
TE Jimmy Graham
Since I double as a draft analyst, or scout at least, I remember watching Jimmy Graham at Miami and becoming excited. When he decided to play football his senior year, it was exciting for any football fan. And he was a productive player in his lone season in pads at Miami. 
But no one could have ever expected Graham would be the best tight end in the league in his second season. Truthfully, I guarantee he wouldn't be if it weren't for him joining the New Orleans Saints. It's interesting that the Patriots passed on Graham, only to choose the next best tight ends in that draft. 
But they felt they needed two of them to get the job done. Sean Payton and Mickey Loomis were comfortable with one guy to do the job of two guys. Drew Brees has done the rest. 
Remember back to the Houston game. Brees threw over the middle to Graham and was intercepted when Graham failed to cut across the defender. Common sense would tell a quarterback to avoid that guy for awhile. Not so for Brees. On the next series, Graham, the second-year tight end, was Brees' favorite target. That's called trust. 
Ultimately, that is the point. What makes Brees the best is his ability to trust. No QB trusts others more than Brees. Brees doesn't play favorites. He doesn't lock onto receivers. He simply throws to whoever is open. And he trusts that they will do their job. 
It isn't enough to say that Brees is accurate, though he is. It isn't enough to say that Brees is a great leader, though he is. It isn't enough to say that this offense is well designed and has great continuity, though that is true as well.
You must make the connection to the guy throwing the ball and the relational aspect of the game. If Brees had any doubts in any of his receivers, he wouldn't be nearly the quarterback that he is. But because Brees can drop back and know his receivers will be where they are supposed to be (and when), and that they will catch the ball and make something happen, Brees can sit back and pick apart defenses, with no concerns about numbers.
And that is what makes Brees and this offense so good. Nobody cares who gets the credit. As long as the unit is moving the ball, and the team is winning games, it simply doesn't matter. It's a unique quality to this group. That trust and desire for unity isn't something you find on most teams. 
But with Drew Brees and the Saints, it's exactly what makes them great.