Wrestling Aficionado: Does WWE Need Me or Do I Need WWE?
October 28, 2011
Let me start off by saying that I am ecstatic about writing again, as I have been away from my desk for quite some time now.
I am not sure how many people will care about my input or what I have to say, but I found that pro wrestling isn't fun unless you have someone to discuss it with.
I tend to struggle with this question to myself: "Do I need WWE?"
Four days ago, I turned 28 years old.
Until May of this year, I have never missed an episode of Monday Night Raw. Somewhere along the schedule of my life, I let WWE slip out of my grapple. No, I didn't "lose my smile," but I forgot how fun it was to be an avid wrestling fan.
Starting at the age of six, I became a WWE fan, and quickly became pro-WWE. I have never been very involved with real-life politics, but if you want to debate wrestling, then I would claim WWE's dominance over ECW, WCW, TNA or any other three letters you can think of.
There was nothing like a rainy day, watching for the mail truck coming down the road and getting a new issue of WWE Magazine in the mail or, even better, a brand new Coliseum video.
I owe all of my fun years as a wrestling fan to my wonderful mother. Without her, I would have never been able to enjoy WWE like I did. If she had $30 to her name, she would scrape and claw to order me every single pay-per-view I wanted. I even made her order the In Your House branded events.
As I got older, I never grew out of WWE, as it is truly something for all ages.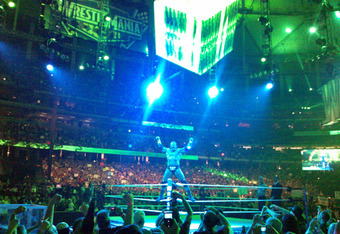 When I got my first job and was able to do things on my own, I started attending events. I don't know the exact number, but I think I have been to at least 10 Monday Night Raw tapings.
How many shows I have been to versus another fan isn't a competition by any means, but it sure is fun to discuss.
My most memorable events have to be the 2002 Royal Rumble, WrestleMania 24, the 2010 Royal Rumble, and WrestleMania 27. I can even be seen on close-up shots on all of these DVDs. That is pretty cool.
There is no telling how much money I have pumped into WWE, but I am sure that the "super fans" of WWE make my donations look very bleak.
There was a point in time last year where there wasn't a USA Region WWE Blu-ray that I didn't own. Now I am missing like six of them.
Time sure does fly by us quickly.
Which brings me to my next point: I never left WWE as a fan, I simply wanted to press the pause button on it and get back on track with other things in my life.
Problem with that is, WWE doesn't wait for anyone. The machine keeps on ticking and my tiny bearing inside one of the wheels is removed.
Thanks to my trusty DVR (which I couldn't live without), I have been able to catch up with things to a certain extent. I'm a little confused at times, but I think I got a grasp of things.
My purpose for coming back to Bleacher Report today and writing this article was to get some things off of my chest and try to open the door to something I dearly loved for so many years.
I will be the first to admit—WWE isn't what it used to be, in my opinion. I know things will change and won't stay the same, and I am okay with that. I just need to adjust to the new WWE.
I am sure there was a twenty-something-year-old fan back in the late '80s who was doing the same adjusting as I am doing now when pretty-boy, mid-sized wrestlers were starting to take the place of the heavyweights they had grown to love.
To answer my question, "Do I need WWE?", it is very simple: No.
I do not need WWE, but that doesn't stop me from the feeling of missing out on something special or looking back and discussing all of the wonderful things I have seen take place in WWE.
It is not the feeling or question of ever needing WWE, it is more of a passion, a want and a desire. Writing is something I have really grown to enjoy over the past few years, and pro wrestling is an amazing canvas to have.
I am hearing and reading that one Dwayne Johnson, always "The Rock" to most of us, will be making an earlier return to the ring than first anticipated, at the 2011 Survivor Series.
Survivor Series has always been a great event.
So many historical things have took place that this event, that I would lose count if I tried to name them all.
You have Undertaker's debut, his first WWE Championship, the now-famous Montreal Screw Job, the debut of the Elimination Chamber and many more great moments.
I always liked how they use to pair Survivor Series with Thanksgiving and cut some pretty cool promos out of that. 
I don't know how many reads this article will generate, but I am looking forward to any comments and reads I get from this to fire my creative engine back up. It is truly a pleasure to be back with WWE's community on Bleacher Report.