Columbus Blue Jackets: Would Michel Therrien Be a Good Fit for Head Coach?
October 28, 2011
Jamie Sabau/Getty Images
When the Columbus Blue Jackets went out this summer and acquired forward Jeff Carter and defenseman James Wisniewski, it appeared as though things were finally looking up for the discouraged franchise. The Jackets had only made the playoffs once in team history, and they were finally getting some stars to play with team captain Rick Nash.
Unfortunately, this season has not turned out like Jackets fans and management have hoped. The team is last in the Western Conference and has a record of just 1-7-1 with three points in nine games.
This has rightfully led some to question if head coach Scott Arniel should be fired.
Arniel became the Jackets coach last season after success with the Manitoba Moose of the American Hockey League. While with the Moose, he won the Louis A.R. Pieri Memorial Award for AHL Coach of the Year in 2009. Manitoba finished first in the AHL's North Division with a record of 50-23-7 and lost to the Hershey Bears in the Calder Cup Finals.
In 2009-10, he once again guided the Moose to the playoffs with a record of 40-33-7. However, they lost in the North Division semifinals.
Last season, his first year with Columbus ended with a 34-35-13 record and a 13th-place finish in the West. Now, they just recently won their first game of the season against the Detroit Red Wings, but they have a long way to go if they want to entertain thoughts of the Stanley Cup Playoffs.
So, if Arniel were to be fired, who would be a good candidate to replace him? 
Enter Michel Therrien.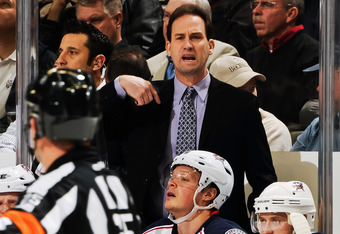 Jamie Sabau/Getty Images
Therrien most recently coached in the Pittsburgh Penguins organization, starting with the Wilkes-Barre/Scranton Penguins of the AHL in 2003-04. His accomplishments in Wilkes-Barre include a Calder Cup Finals berth in his first year in charge, as well as helping the team lay the groundwork for an East Division title in 2005-06.
Prior to being promoted to Pittsburgh that season, he had led the team to a record nine-game winning streak, and the Baby Pens did not lose in regulation until December.
Once in Pittsburgh, Therrien took a team that had been run into the ground by Eddie Olczyk and helped them get back to the playoffs in 2006-07. Although the team was swept by the Ottawa Senators in the Eastern Conference quarterfinals, they gained valuable experience that helped them win the Atlantic Division in 2008 and go on to their first Stanley Cup Finals since 1992.
Therrien was fired in 2009 when the Penguins were in 10th place in the Eastern Conference in February, and he has not coached since. He is currently a scout with the Minnesota Wild, but he could be a good choice to take over the bench in Columbus.
As evidenced in Pittsburgh, he has what it takes to turn around a struggling team. Even if the Jackets did not make the playoffs this year, Therrien would help them develop the skills and attitude they need to become a postseason contender. This would give the team confidence and encourage them to work hard towards their goal.
Therrien does not tolerate less than 100-percent effort in practices or games. He has been known to run boot-camp style practices where his players are doing push-ups and skating until they puke. He would not be happy to hear, for example, that some players are not committed to improving the team, as Blue Jackets forward Vinny Prospal told The Columbus Dispatch just last week.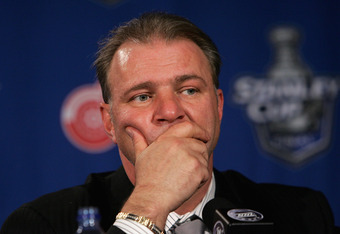 Bruce Bennett/Getty Images
The abrasive style could be just what the Jackets need to get back on track. Although Prospal was brave enough to tell it like it is, he can only do so much as a player. They need a coach to get it into their heads that sitting back and not showing any passion will not bring on the wins.
As both Penguins teams learned during his time with the organization, Therrien would not hesitate to rip the players to the media after a bad game. He has called out specific players who are not doing their jobs and shown that he will do whatever it takes to find a solution to whatever is ailing his squads.
However, there are some downsides to bringing Therrien to Columbus.
He is not a long-term solution for the Jackets' problems. Over time, his tell-it-like-it-is approach and hard practices will wear the team down, and his message will be lost in the locker room. This will lead to his team starting to falter and eventually to his firing, after which a more player-friendly coach would be brought in.
Also, he will not have success overnight. Although he has built teams up in time, Columbus is running out of patience when it comes to putting a competitive team on the ice. They have been building for 10 years and getting nowhere, so they need consistency now. Therrien is not a band-aid, and he should not be hired with the thought that the Jackets will pile up wins as soon as he takes over.
These downsides, though, are a small price to pay. Not many coaches, if any, can lead a team to immediate success, and some do not even make it to the five-year mark with a team.
That said, if the Jackets are truly serious about finding success, they won't look past hiring Michel Therrien.
This article also appears on Bottom Line Hockey.