Army Football: QB Not Named Steelman Starting Against Fordham
October 28, 2011
Army junior quarterback Trent Steelman will miss the game against Fordham on Saturday at Michie Stadium due to injury.  This will end his Academy record 32 consecutive game starting streak.  The Bowling Green, Kentucky native has started every game West Point has played since his freshman year in 2009.
Steelman injured his ankle last week against Vanderbilt and the indications are he could miss much of the rest of the season.  As an option quarterback, Trent is used to playing through the frequent injuries that accompany that role, and will be especially frustrated to miss playing time for the first time in his career.  The coaches and trainers are probably going to have to lock away his helmet and cleats this week to keep him off the field.   
I asked Coach Ellerson at his weekly press conference about Steelman's status for the balance of the season, the only player to start for him in his tenure at the Academy:
"We expect to have him back. We can't say when. It's going to be week to week, but it's not going to be this week. We know that."
Starting at quarterback for the Black Knights will be senior Max Jenkins who has played occasionally over the past two years when Steelman has suffered minor injuries during games.  The Houston, Texas native is an expert in the Black Knight offense and provides the ability to both pass and run the ball. 
In addition Jenkins is the Deputy Brigade Commander in the Corps of Cadets which means he is the number two official in Corps' chain of command.  He is a prospective Army officer who keeps a cool head and is as we find at Army so often, very cordial to talk with after a game, win or lose.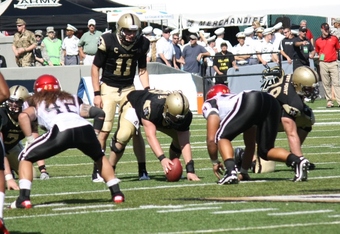 We will likely see freshman Angel Santiago, from Fontana, California get significant playing time at quarterback.  The number three on their depth chart, the 5' 7" 175 pound Santiago is highly regarded by the coaching staff.  Army uses three huddles in practice so that each quarterback has a chance to get in daily repetitions practicing the plays.
In the West Point option offense quickness is valued as well the toughness the quarterback and runnign backs need to demonstrate.  Steelman often carries the football himself in crucial short yardage situations such as near the goal line.  About the overall quarterback situation Coach Ellerson said: 
"Max Jenkins will be the starting quarterback, but we intend to play Angel Santiago.  Max is a senior and he's got thousands of reps and he's the guy that when you're going into a contest where there's a lot of uncertainty about what your opponent's         going to be doing and how you match up it makes all the sense in the world to have           a veteran hand out there. We feel like there's a little more explosiveness in Angel,           and as things get settled down we'll look to get him in."
The Black Knights have not played Fordham since 1949 when the Rams placed little emphasis on the sport.  Army also got their first win in football against Fordham in 1891.  Currently Fordham are trying to upgrade their program with the intention of leaving the Patriot League for perhaps the Colonial League.  The Rams, despite higher quality recruits are 1-6 on the year and lost 45-24 last week at Lafayette.  Commenting on Army's opponent for the last game of the year at Michie Stadium: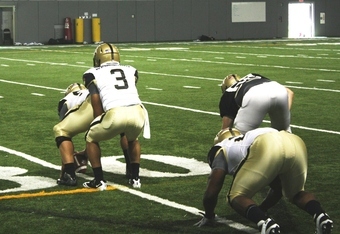 "Another week, another season. Fordham, like us, has struggled on the scoreboard, but when you watch their tape there is an awfully lot to respect. They spread you out and throw the ball. They threw the ball 52 times last week and completed 32 of them. They had a running back get almost 130 yards. Defensively, we're never quite sure what we're going to get"
Army freshman fullback Larry Dixon has been receiving increased playing time for Army and led the team against Vanderbilt with 92 yards including a 57 yard run.   He often shares practice reps with back-up quarterback Angel Santiago.  Commented coach Ellerson about the 6'0" 220 pound Dixon,
"Larry is playing well, and Jared (Hassin) is struggling a little bit physically.  When you have Angel (Santiago) out there, obviously Angel and Larry are just that much more comfortable with one another."
The questions for the West Point staff are: How long they will be without Trent Steelman?  Will he be back for Air Force, Rutgers or Temple?  Will he even be back for Navy in six weeks on December 10th?  Coach Ellerson tends to go with young players with speed and quickness.  That could very well mean Angel Santiago could be the "Go to" QB beyond Fordham.  Commenting further on Santiago:
"Obviously, Angel is going to play. I was encouraged. He got most of his reads. He made some things happen with his feet. He completed a ball. He scored a touchdown. That's not surprising. He's had a million reps in practice. He's prepared well. It's gratifying to see him get into a tough environment and handle it well.  That's not surprising that he handled that."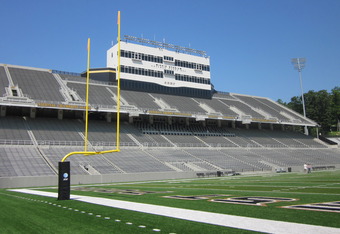 I asked Coach Ellerson if he would have to change or limit the play selection with Jenkins or Santiago in the game:
"So much of what we do is dependent on where our opponent goes. Those guys are competent hands at everything we do offensively."
On defense the Black Knights have to find answers as they gave up 530 yards of offense last week to Vanderbilt.  On the season they are giving up 191 yards per game on the ground and 220 yards in the air.  With extended injuries to starters Antuan Aaron at a corner and Jarrett Mackey at defensive end, defensive Coordinators Payam Saadat and Chris Smeland have been using a number of freshman and sophomores throughout the unit. 
The play of middle linebacker Geoffrey Bacon stood out last week at Vandy as the freshman from Milwaukee led the team with 13 tackles, of which six were solo and he also pulled down an interception.  Also notable additions to the starting lineup in recent games has been Jacob Drozd at right tackle, sophomore Tyler Dickson at free safety, to be backed up by sophomore Thomas Holloway, freshman Haryden Pearce at strong safety. I asked Coach Ellerson about the development of these young defensive players:
"Well, those guys have all been in those spots. It's good to get Geoffrey involved, but that's not new for him. Yeah, we're young, but they're not rookies anymore. The number of reps those guys have had, those experiences they've had out there, and some of those experiences have been hard. Those things need to start to pay off for us. They need to be able to take those experiences and grow and get better. Jacob took a lot more turns this week than what he's taken, but he's been playing pretty much in every game. That's not unusual. Same with Tyler (Dickson) and Thomas Holloway. They're playing all the time, so that's not news."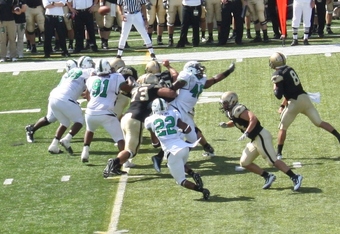 Saturday's game has been a virtual sellout for weeks as it is the last home game at Michie Stadium.  The Black knight have a home game at Yankee Stadium against Rutgers in two weeks, but that is a different situation.  For a visiting team to come the US Military Academy and play in the tight confines of Michie Satdium gives the Cadets a big home field advantage.  I asked Coach Ellerson if the large crowd at Michie Stadium will help provide the team a lift coming off the two road losses:
"It has to be. It's great that we're going to have a great crowd, and it's great that we're at home with our seniors, but we need to love to play the game. And the good news is there's no quit in this bunch. They love to play; they're playing hard. They're frustrated, but they haven't given up on themselves; they haven't given up on each other. They like to play. They're playing hard. We need to play better; we need to play smarter. We need to coach better."
The weather forecast is amazing, three to six inches of snow sometime during the day.  That should not effect the Army running game.  Everyone at West point will be pulling for senior Max Jenkins to have a solid game in his first varsity start.  Watch for freshman quarterback Angel Santiago to come in during the second half and show what he can do for the tough stretch of games coming up against Air Force next week, then Rutgers and Temple. 
And then there will be the snow!  Prediction Army 31, Fordham 17
Ken Kraetzer covers Army football for WVOX 1460 AM in New Rochelle heard nationally on WVOX.com.  He produces the West Point Football Report broadcast every Tuesday night during the season at 5:30 PM EST.  Reach him on kgk914@aol.com