Virginia Tech vs. Duke: Spread Info, Line, BCS Impact and Predictions
October 28, 2011
Ned Dishman/Getty Images
The hits keep coming for the Virginia Tech Hokies who travels to Durham to take on the Duke Blue Devils Saturday. 
The No. 12 team in the nation has been dealt blow after blow from the injury department. The Hokies should rule the day against a severely over-matched Blue Devils squad. 
The intriguing item of note is that you never can tell which Hokies will show up, or if they will give a full four quarters of brilliant football. 
They should be safe from an upset, but it's not completely out of the question. Let's delve deeper into this clash of ACC programs. 
Where: Wallace Wade Stadium, Durham, NC
When: Saturday, October 29th, 12:30 p.m. EDT
Watch: GamePlan/ESPN3
Listen: List of Hokie radio affiliates here. List of Duke radio affiliates here. 
Betting Line: According to betonline.com Virginia Tech -15
Key Storyline: Virginia Tech has to find a way to put teams away early if they are going to be taken more seriously by the BCS. 
Injuries have plagued this team, but this is still a team they should dispatch with early. If they get out with no losses to personnel, that would be an even bigger story. 
Who Might Not Play for Virginia Tech: CB Jayron Hosley (hamstring) Probable, DE James Gayle (ankle) Probable, LB Bruce Taylor (foot) Out
Who Might Not Play for Duke: CB Johnny Williams (leg) Questionable, 
BCS/Top 25 Implications: This only relates to Virginia Tech, and the implications are huge. The Hokies do not have a great deal of time or strong opponents to make a dent as they try to get into the top 10. 
The task is simple, play smart football and bury the rest of the schedule. A fine bowl game will be waiting if they do just that. One slight hiccup would be disastrous. 
What They're Saying: 
Joedy McCreary of The Boston Globe writes on the stadium issues plaguing the ACC. "Wake Forest and Virginia Tech are the only ACC teams whose stadiums have been 100 percent filled–or better. Only three schools have shown significant improvement in attendance: Wake Forest, Maryland and Florida State. At five ACC school–Boston College, Duke, Georgia Tech, Miami and North Carolina–the stands are markedly emptier than they were last year..."
The Washington Post writes on running back David Wilson demanding the ball. "As the first half came to a close Saturday, Virginia Tech running back David Wilson stood on the sideline stewing over the fact that he had just six carries for 21 yards. But Wilson didn't yell or make any demands, even though the Hokies found themselves losing to a Boston College squad that had yet to score a victory over a Football Bowl Subdivision opponent this season. He did, however, offer a suggestion...
Virginia Tech Player to Watch: While the defense continue to be hit with injuries, the offense is rolling thanks in large part to David Wilson.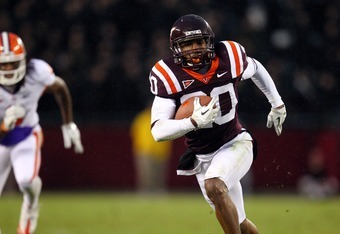 Ned Dishman/Getty Images
The best part is the Hokies running back is hungry to get more touches. Watching this passionate player is a joy. 
Duke Player to Watch: Kelby Brown is the best chance the Blue Devils have of silencing Virginia Tech. The Duke linebacker will be called upon to quiet a dangerous run game. 
Key Matchup: This one is as simple as the ground game. Duke can toss the ball around the yard, but they will get nowhere trying to rack up points. They have to stop the Hokies' run game. 
On the Hotseat: Both coaches are safe for the time being. An upset would change that though. 
Prediction: Virginia Tech 34, Duke 17